The 17th PreCure TV series is set to premiere on February 2, 2020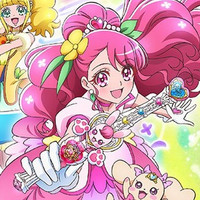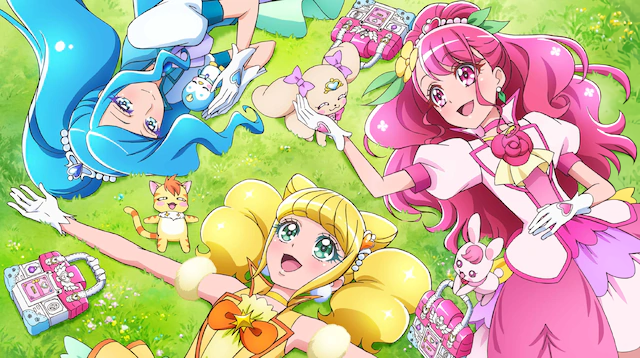 The official website for Healin'Good♡PreCure, the forthcoming 17th TV series from Toei Animation's long-running PreCure magical girl franchise, is hugely updated today with a ton of new information. First of all, watch the first PV to introduce its protagonist girl Nodoka Hanadera / Cure Grace voiced by Aoi Yuki (Madoka Kaname in Puella Magi Madoka Magica) below.
Synopsis:
Healing Garden, a secret world that has healed and treated the earth, is threatened by the attack of Byogenzu, who plans to ravage the earth and make it sick. Three healing animals are the apprentices of the Earth Doctor and try to find their partners on the earth, along with Latte, the princess of Healing Garden who has a special power. Then three ordinary girls meet the healing animals and transform into PreCure. With the desire to protect their precious earth and all lives, the PreCure girls fight against Byogenzu together for the "allowance" of the earth.
Toei Animation's official Twitter has posted a key visual featuring its main characters:
【ヒーリングっど????プリキュア情報】
公式サイトに新情報追加!
メインキャスト、キービジュアル、主題歌の情報と
さらに、告知映像も公開!

詳しくはこちらからhttps://t.co/bvFQ69yqOC#precure #ヒープリ #ヒーリングっどプリキュア #ヒーリングっど pic.twitter.com/hvXL0DMwiE

— 東映アニメーション公式 (@toeianime_info) December 25, 2019
Healin'Good♡PreCure is set to premiere in Japan on on February 2, 2020. Yoko Ikeda (PreCure Super Stars!) is served as series director, alongside series composition writer Junko Koumura (Hugtto! PreCure Futari wa Pretty Cure: All Stars Memories) and character designer Naoko Yamaoka (Hugtto! PreCure chief animation director).
Main voice cast:
Nodoka Hanadera / Cure Grace: Aoi Yuki(Madoka Kaname in Puella Magi Madoka Magica)
Chiyu Sawaizumi / Cure Fontaine: Natsu Yorita (Takuto&Ikuto Amamiya in Star Twinkle PreCure)
Hinata Hiramitsu / Cure Sparkle: Hiyori Kouno (Lenny in Didn't I Say to Make My Abilities Average in the Next Life?!)
Rabirin: Ai Kakuma (Isuzu Sento in Amagi Brilliant Park)
Pegitan: Hana Takeda (6-year-old Satoshi in Pocket Monster)
Nyatoran: Aki Kanada (Ginga Hagane in Metal Fight Beyblade)
Latte: Haruka Shiraishi (Aoi Hinata in Ore wo Suki Nano wa Omae Dake ka yo)
The OP theme song "Healin'Good♡PreCure Touch!!" is performed by Rie Kitagawa, the theme song singer of the 12th series Go! Princess PreCure (2015-2016), the 13th series Maho Girls PreCure! (2016-2017), and the ongoing 16th series Star☆Twinkle PreCure (2019-2020). Meanwhile, the ED theme song "Miracletto▼Link Ring!" is performed by Machico, best known for her theme song works for the KonoSuba: God's Blessing on this Wonderful World! franchise, and this is the first time that she has sung for the PreCure franchise. The CD single including the OP and ED songs is set to be released on March 25, 2020.
OP/ED song preview:
---
Source: Toei Animation official Twitter, "Healin'Good♡PreCure" official website
©ABC-A, Toei Animation