Space Neko Company and Kamikaze Douga co-work on anime production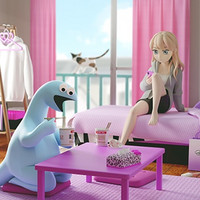 The official website for the forthcoming TV anime adaptations of Moriko Mori (story) and Kota Tomimura's comedy manga Gal to Kyoryu (Gal and Dinosaurs) posted two key visuals and announced its main voice cast and staff, including director Jun Aoki, known for his critically and commercially acclaimed work for the 2018 TV anime Pop Team Epic.
The TV anime is set to premiere in Japan in April 2020, and a live-action adaptation project has been also in production for the same release date.
Key visuals: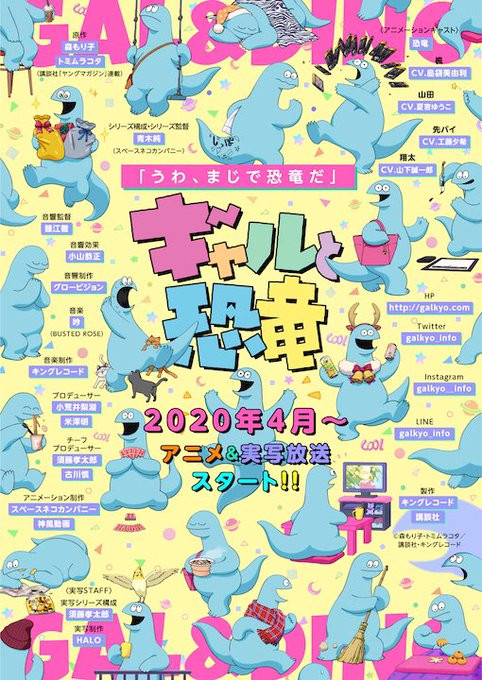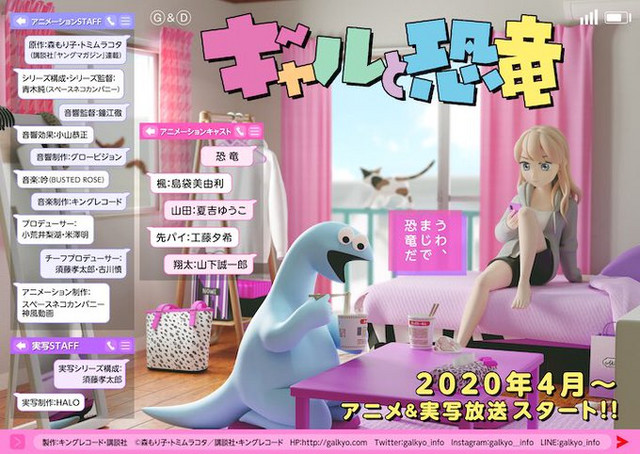 【????マジ注目????】
「ギャルと恐竜」のアニメ&実写メインスタッフの情報が発表されたって!!????
さらにアニメ版「ギャルと恐竜」のメインキャスト情報も解禁だよ!!????????????????????まじ盛り上がってきてんぢゃん☆

とりま詳しくはここチェックな!!https://t.co/M49QrL3lWv#ギャルと恐竜 #アニメ #実写 pic.twitter.com/fl3tsa3MrP

— うごく!ギャルと恐竜 (@galkyo_info) January 6, 2020
Main staff:
Series composition/series director: Jun Aoki from Space Neko Company (Pop Team Epic)
Sound director: Toru Kanae
Sound effects: Yasumasa Koyama
Sound production: Glovision
Music: Gin (BUSTED ROSE)
Music production: King Records
Producer: Riko Koarai, Akira Yonezawa
Chief producer: Kotaro Sudo, Shin Furukawa
Anime production: Space Neko Company, Kamikaze Douga
Production: King Records, Kodansha
Main voice cast:
Kaede: Miyuri Shimabukuro (Yuuna Yunohana in Yuuna and the Haunted Hot Springs)
Yamada: Yuko Natsuyoshi (Himeko Mashima in Show by Rock!! Mashumairesh!!)
Senpai: Yuuki Kudo
Shouta: Seiichiro Yamashita (James Moriarty in Case File nº221: Kabukicho)
---
The manga telling a room-sharing life by a girl (gal) and a dinosaur is created by the wife and husband authors. It was first introduced on Kodansha's manga posting site "DAYS NEO" in April 2018. Only two months after its launch, its serialization in the publisher's Weekly Young Magazine was decided. It has been running in the weekly magazine since October 2018 and so far two tankobon volumes have been available in Japan.
Manga tankobon 1st and 2nd volume covers: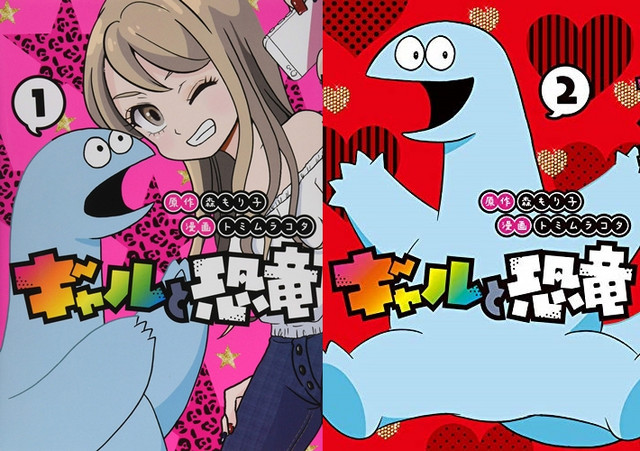 ---
Source: TV anime & live-action"Gal and Dinosaurs" official website / Twitter
© Mori Moriko, Kota Tomimura/Kodansha, King Records