Charlotte et Kevin !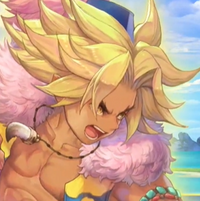 Sqaure Enix repart pour un tour de présentation des personnages de son jeu vidéo Trials of Mana. Aujourd'hui, ce sont donc Charlotte et Kévin qui sont à l'honneur.
Pour rappel, le jeu Trials of Mana n'est autre que le remake de Seiken Densetsu 3, resté officiellement inédit dans nos contrées jusqu'à sa sortie l'été dernier dans l'anthologie Collection of Mana. Il fait suite à un autre remake, celui de Secret of Mana, sorti en début d'année 2018.
Le jeu Trials of Mana est attendu le 24 avril sur PlayStation 4, Switch et PC.
Source : Gematsu