The top-selling series DanMachi follows on the third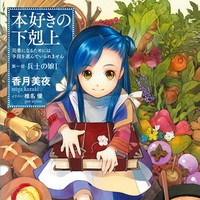 Following the sales ranking reported last month, Japanese general hybrid bookstore service "honto" announced the top five of the popularity poll for the light novel series adapted into TV anime in the fiscal year 2019. As of January 2020, the service has 5.4 million registered members, and the poll was conducted with its members between December 20, 2019, and January 6, 2020.
The most voted series was Miya Kazuki's Ascendance of a Bookworm, which ranked third in the sales ranking (based on the sales data from the "honto" online store, digital bookstores, and major bookstore chains). Its TV anime adaptation was aired for 14 episodes from October 3 to December 26, 2019, also dominated Akiba Souken's online popularity poll for the fall 2019 TV anime series.
Coming in second was Makoto Sanda's The Case Files of Lord El-Melloi II, which ranked fourth in the sale ranking. And Fujino Omori's Is It Wrong to Try to Pick Up Girls in a Dungeon?, the No.1 series in the sales ranking, followed on the third.
According to the survey, more than 60 percent of the readers of the top two series were women. On the other hand, 95 percent of the DanMachi readers were men. The press release concludes based on the fact that the series that were supported by the popularity of women overtook the sales ranking and ranked high, "It could be said that women are more enthusiastic about their favorite series."
---
1 (sales ranking #3). "Ascendance of a Bookworm" (Miya Kazuki / TO Books)
Men - 39% / Women - 61%
30s - 16% / 40s - 38% / 50s - 25%

2 (4). "The Case Files of Lord El-Melloi II" (Makoto Sanda / TYPE-MOON)
Men - 34% / Women - 66%
20s - 17% / 30s - 38% / 50s - 28%

3 (1). "Is It Wrong to Try to Pick Up Girls in a Dungeon?" (Fujino Omori / SB Creative)
Men - 95%
30s - 32% / 40s - 32% / 50s - 23%

4 (8). "Demon Lord, Retry!" (Kurone Kanzaki / Futabasha)
Men - 62% / Women - 38%
40s - 50% / 50s - 25%

5 (2). "Sword Art Online" (Reki Kawahara / KADOKAWA)
Men - 67% / Women - 33%
30s - 22% / 40s - 39%

---
Source: "honto" PR executive office press release