Nigizaka46 members-starring adaptation will open in early summer 2020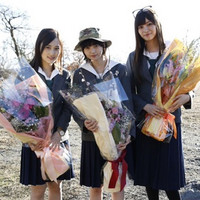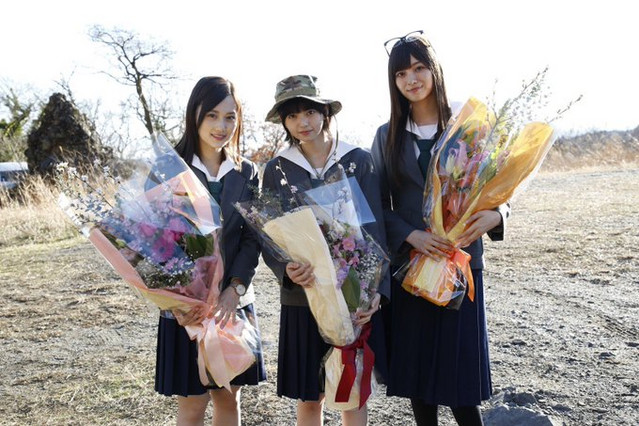 With a picture of its three main actresses holding bouquets of flowers and smiling, the official Twitter for the forthcoming live-action film adaptation of Sumito Oowara's Eizouken niwa Te wo Dasuna!/Keep Your Hands off Eizouken! manga announced that its shooting was finally wrapped up on January 29, 2020. The film is set to be released in Japan in early summer of 2020.
本日クランクアップしました!!!
撮影お疲れ様でした。

スタッフキャストの皆様、エキストラでご参加いただいた方をはじめご協力いただいた皆様、応援していただいた全ての皆様、ありがとうございました。
引き続き、仕上げと映画公開まで全力で取り組んでまいります。#映像研

(東宝の上野) pic.twitter.com/2au9OtYg3G

— 映画『映像研には手を出すな!』公式 (@eizouken_saikyo) January 29, 2020
The shooting for the film directed by Tsutomu Hanabusa, known for his live-action film adaptation works of popular Japanese manga, such as High School Debut (2011), Heroine Shikkaku (2015), Asahinagu (2017), 3D Kanojo: Real Girl (2018), and Kakegurui (2018-2019), reportedly started in late fall of last year. Then the first photo to introduce its three main cast played by the members of Japanese female idol group Nogizaka46: Asuka Saito (21) as Midori Asakusa, Mizuki Yamashita (20) as Tsubame Mizusaki, and Minami Umezawa (20) as Sayaka Kanamori was posted on December 29.
これが実写映像研の浅草、水崎、金森だッッッ!!!#映像研

(東宝の上野) pic.twitter.com/W4yZogvtvY

— 映画『映像研には手を出すな!』公式 (@eizouken_saikyo) December 29, 2019
Since then, the film's official Twitter had been posting various backstage photos from the set. See how the cast enjoyed the shooting below:
坂道テレビにてメイキング初公開記念でオフショット投下!!!

実写映像研もアニメ映像研もよろしくね。

坂道テレビもまだまだやってるからちゃんと見ような。#映像研

(東宝の上野) pic.twitter.com/xKPmfOB8qD

— 映画『映像研には手を出すな!』公式 (@eizouken_saikyo) December 30, 2019
新年一発目の撮影お疲れ様でした!

あらためて、金森さやか役の梅澤さん、誕生日おめでとうございます!

アニメ映像研がしっかりと盛り上がっているので、実写映像研もしっかりと盛り上がっていきたいですな!#映像研#梅澤美波生誕祭 #乃木坂46#梅澤美波#齋藤飛鳥#山下美月

(東宝の上野) pic.twitter.com/fHZbIdripQ

— 映画『映像研には手を出すな!』公式 (@eizouken_saikyo) January 6, 2020
乃木坂46現場マネージャーさんからオフショの差入れをいただきました。

撮影現場はカメラが回ってない時間の方が長い。そのなかで、キャストをケアしつつ盛り上げて、ベストの状態で本番に臨めるように力を尽くすマネージャーさんもまた制作スタッフの一員なのです。#映像研

(東宝の上野) pic.twitter.com/3vUWYA2218

— 映画『映像研には手を出すな!』公式 (@eizouken_saikyo) January 9, 2020
またしても差入れシリーズ。

撮影の過酷さを物語るオフショです。

スタッフ・キャストの皆様、大変寒い中、撮影お疲れ様です。#映像研#齋藤飛鳥 #梅澤美波 #乃木坂46

(東宝の上野) pic.twitter.com/pe0flDxDg5

— 映画『映像研には手を出すな!』公式 (@eizouken_saikyo) January 11, 2020
こちらも3万超えました‼️

ツイッターは!!遊びじゃねえんだよ!!

ということで記念のオフショは音曲浴場です。#映像研#音曲浴場 #齋藤飛鳥#山下美月#梅澤美波 #乃木坂46

(東宝の上野) pic.twitter.com/ktM5GwiXx8

— 映画『映像研には手を出すな!』公式 (@eizouken_saikyo) January 21, 2020
差入れ寝る子は育つシリーズ。
どこでも寝れるらしい。#映像研#齋藤飛鳥#山下美月#梅澤美波 #乃木坂46

(東宝の上野) pic.twitter.com/JdzYcjYXn0

— 映画『映像研には手を出すな!』公式 (@eizouken_saikyo) January 26, 2020
---
Source: "Keep Your Hands off Eizouken!" live-action film official Twitter
(c)2020 "Eizouken" Live-Action Adaptation Strategy Meeting
(c)2016 Sumito Oowara/Shogakukan