A new mystery series begins on April 13th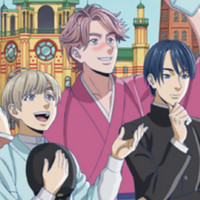 Crunchyroll is excited to uncover additional details for the forthcoming Spring season anime Woodpecker Detective's Office. The TV anime will premiere on April 13, with the series being simulcast worldwide via Crunchyroll, excluding Asia. After the main visual is the brand new the synopsis followed by a cast list with comments by the voice actors and the brand new trailer!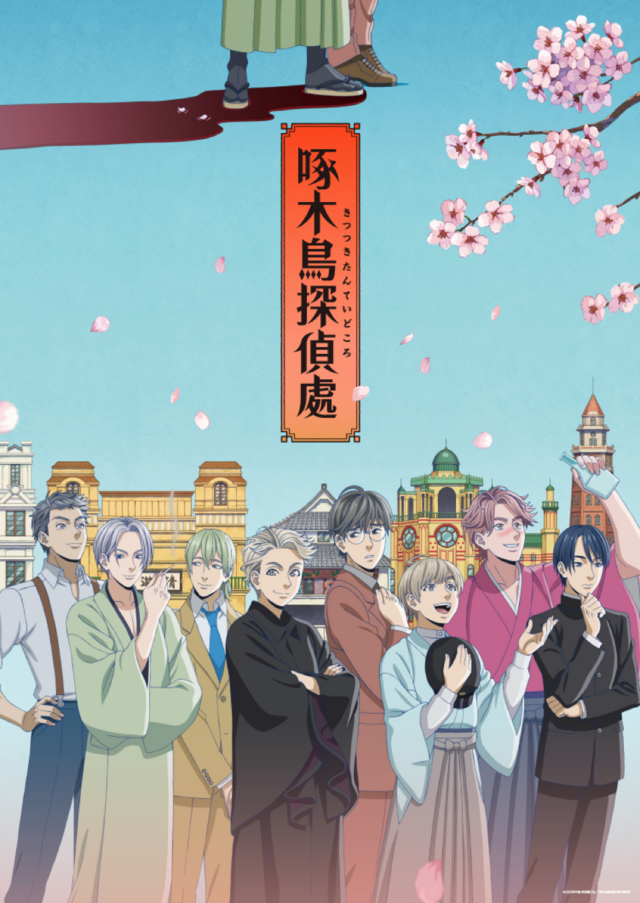 Synopsis:
It is the end of the Meiji Era.
The genius poet Ishikawa Takuboku, who's struggling financially, starts a detective business out of his lodging in response to a certain murder case.
He calls it the Woodpecker Detective's Office.
"The ghosts of the Twelve-Story Tower in Asakusa," "the man-eating figure who wanders the streets on snowy nights"...
Takuboku involves himself in one bizarre case after another with his hometown acquaintance, Kindaichi Kyosuke, as his assistant.
Other literary men such as Nomura Kodo, Yoshii Isamu, Hagiwara Sakutaro, and Wakayama Bokusui are also dragged into Takuboku's exploits as he races all around Tokyo at the height of Westernization!
Cast with Voice Actor Comments:
The genius poet and con man
Ishikawa Takuboku (CV: Asanuma Shintaro)
A genius poet. Attended the same middle school as Kindaichi Kyosuke. Somewhat loose with money and women, but his good looks make him hard to hate.
[Comment from Ishikawa Takuboku voice actor Asanuma Shintaro]
It isn't often you get the opportunity to play the role of a famous historical figure from your hometown, no matter how many years you've been in the business. I'm truly grateful for this blessing, and I intend to have as much fun as I can with it. "The words I failed to say so long ago still remain within my heart..."
The partner who supported Ishikawa Takuboku for all his life
Kindaichi Kyosuke (CV: Sakurai Takahiro)
A part-time university lecturer. He loves Ishikawa Takuboku's talent. Mild-mannered and easily pushed around by Takuboku.
[Comment from Kindaichi Kyosuke voice actor Sakurai Takahiro]
I'm Sakurai Takahiro, and I'll be providing the voice of Kindaichi Kyosuke in Woodpecker Detective's Office. This is a fun series packed with many elements, such as literature, mystery, human relationships, and entertainment. Please be sure to watch.
The empathetic big brother type
Nomura Kodo (CV: Tsuda Kenjiro)
A student at Tokyo Imperial University. Was in the same middle school class as Kyosuke, making him Takuboku's senpai. The empathetic type, good at looking after others. Like an older brother to the literary duo.
[Comment from Nomura Kodo voice actor Tsuda Kenjiro]
I'm having fun playing Nomura Kodo, one of the literary men who frequent the milk bar. I hope everyone will enjoy the historical setting and atmosphere shared among these literary men.
A young literary man striving to be a novelist
Hirai Taro (CV: Ono Kensho)
A young man of literature with insatiable curiosity. He's deeply interested in the cases Takuboku handles. His eagle eye gives him powers of deduction that put adults to shame. Later known as Edogawa Ranpo.
[Comment from Hirai Taro voice actor Ono Kensho]
I'm Ono Kensho, and I play the role of Hirai Taro. Hirai Taro is someone who likes to butt in on interesting cases, and he later becomes known as Edogawa Ranpo. I'll do my best to express his sharp wit and behavior in a way that will give viewers a glimpse of him!
The poet and count of many loves
Yoshii Isamu (CV: Saito Soma)
Well-bred and a bit pretentious. Sees Ishikawa Takuboku as a rival. Later became famous for writing the lyrics to the popular song Gondola no Uta.
[Comment from Yoshii Isamu voice actor Saito Soma]
I love both literature and mysteries, so I'm thrilled to have a part in this project! Aside from the mystery-solving at its core, it's packed with depictions of the daily lives and humor of some very unique young men of literature! I really hope you'll all enjoy it!
A shy, pure poet who can't speak well
Hagiwara Sakutaro (CV: Umehara Yuichiro)
Shy, reclusive, and sensitive by nature, but also deeply cares for his friends. Would later be known as the father of modern poetry.
[Comment from Hagiwara Sakutaro voice actor Umehara Yuichiro]
My character, Sakutaro, is a sentimental guy with a pure heart. I'll do my best to make sure he isn't buried by the unique personalities of the other characters. The series gives very satisfying depictions of the interactions between all these literary masters, so I hope everyone will watch it.
A poet who loves traveling, booze, and taking life at his own pace
Wakayama Bokusui (CV: Furukawa Makoto)
A Waseda University student who's active as a poet. Loves to drink. A free-spirited man who likes to travel and takes life at his own pace. A boundlessly cheerful mood-maker.
[Comment from Wakayama Bokusui voice actor Furukawa Makoto]
Among the many poets featured in the series, Bokusui is depicted as a cheerful, big-hearted guy. I've enjoyed reading poems while feeling immersed in the historical setting of the series, so I hope everyone will have fun watching it. Be sure to check it out.
A proud, aloof high school prodigy
Akutagawa Ryunosuke (CV: Hayashi Yukiya)
A student at First High School. Cool and collected, with a brilliant mind. Often says things that make people's hearts skip a beat. Deeply admires Natsume Soseki.
[Comment from Akutagawa Ryunosuke voice actor Hayashi Yukiya]
Woodpecker Detective's Office will be my anime debut. I've been trying my hardest to keep up with the amazing, experienced voice actors and staff on this series. As for what kind of person my character, Akutagawa Ryunosuke, is... I hope you'll all watch and find out!
The Crunchyroll co-production premieres in Japan on April 13, with a stream following the broadcast shortly after. You'll be able to watch the Meiji Era detective TV anime all over the world (except Asia). Are you ready to uncover the clues?