Inoue: "Everyone is 17 years old in their heart!!"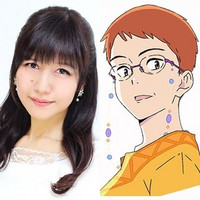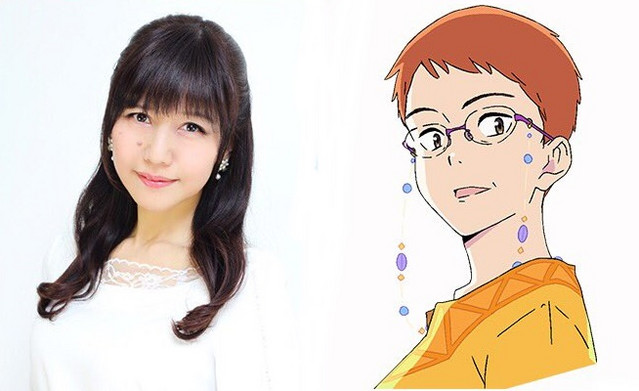 The official website for the upcoming original anime film Cider no You ni Kotoba ga Wakiagaru (Words are boiling up like cider) announced today that 55-year-old voice actress Kikuko Inoue (Belldandy in Oh My Goddess) joins its voice cast as Tsubaki Fujiyama, the daughter of the male protagonist Cherry's haiku master Fujiyama voiced by Koichi Yamadera.
The story of the romance film focuses on 17-year-old boy and girl, Cherry and Smile, and Inoue has been known as the founder of the "Juu-nana-sai Kyou" (17 years old religion) and has been using a catchphrase "Eternally 17-year-old" for years. She says, "There are a lot of worries when you are 17 years old. Beautiful boys and girls, who are glittering and dazzling, I want you to feel the bittersweet and sour days in this film as much as possible! Please laugh a lot, cry a lot.... Everyone is 17 years old in their heart!!"
【????追加声優キャスト解禁】
本作の声優に井上喜久子が参加決定✨
「切なくて甘酸っぱい日々をこの映画で思いっきり感じていただきたいです!たくさん笑って、たくさん泣いて…誰でもこころは17歳!」とフレッシュなコメントをいただきました✨
全文は☞https://t.co/DtIPHNOgOp#サイコト #サイダー pic.twitter.com/mbKfuS2o7f

— 劇場アニメ『サイダーのように言葉が湧き上がる』公式 (@CiderKotoba) February 16, 2020
---
The film is produced as the tenth-anniversary project for Victor Entertainment's anime music label FlyingDog. Kyohei Ishiguro (Your Lie in April) is attached to direct on a screenplay by Dai Sato (Mysterious Joker). Yukiko Aikei (Aikatsu Star!) serves as character designer, Signal.MD and Sublimation co-work on anime production.
The story focuses on Cherry, a haiku-loving boy who is not good at communication with others, and Smile, a girl who always wears a mask to hide the braces on her front tooth. They accidentally meet in a shopping mall and start deepening their relationship via SNS with words and music.
Cider no You ni Kotoba ga Wakiagaru is set to be released in Japan on May 15, 2020.
Teaser visual: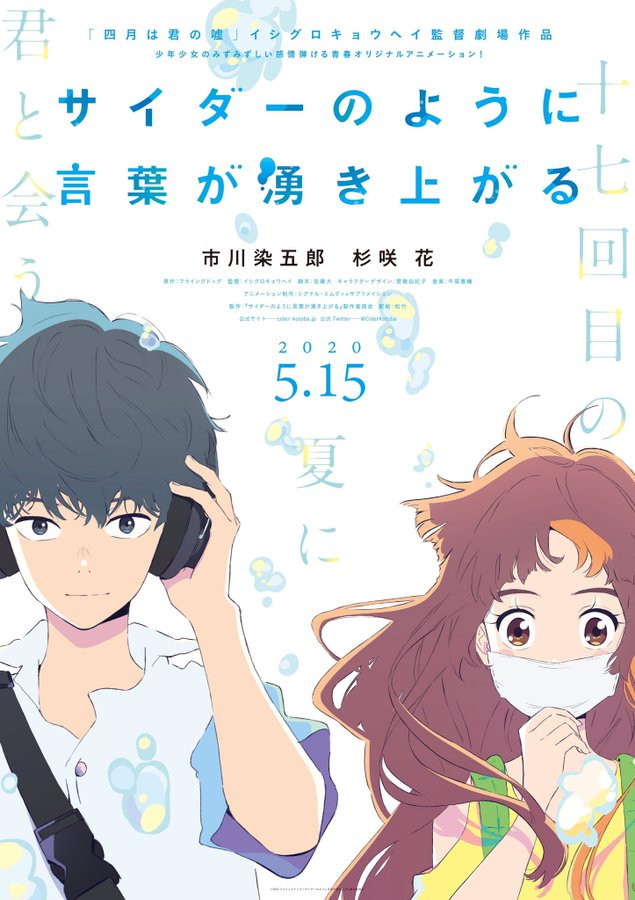 Teaser trailer:
---
Source: "Cider no You ni Kotoba ga Wakiagaru" official website / Twitter
©2020 Flying Dog/Cider no You ni Kotoba ga Wakiagaru Production Committee