"The Final" hits Japanese theaters July 3, 2020, "The Beginning" will follow August 7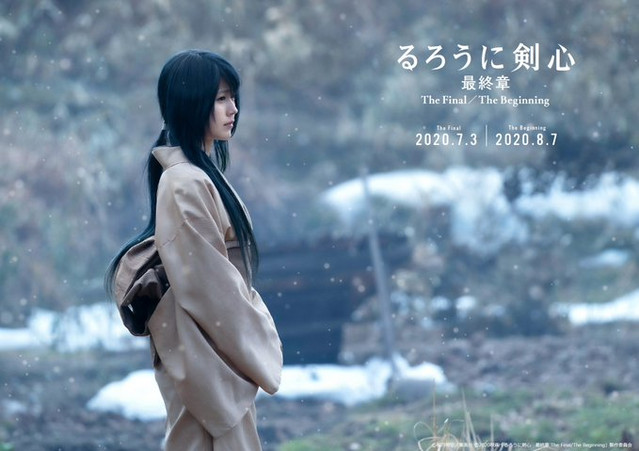 The official website for the forthcoming two-part "Final Chapter" of the live-action film series inspired by Nobuhiro Watsuki's action jidaigeki manga series Rurouni Kenshin announced today that 27-year-old Kasumi Arimura (Marnie in When Marnie Was There) is cast as the protagonist Kenshin Himura's wife Tomoe Yukishiro, along with her first visual as the character. As reported, 23-year-old Mackenyu Arata/Mackenyu is playing her younger brother Enishi, who is the strongest enemy in the series.
Message from Kasumi Arimura:
"The producer said to me, 'This episode is not possible without Tomoe.' Since the first one, these films have been highly valued by fans of the original manga and movie fans, and also have been carefully created by Takeru Sato-san, other cast members, the director, and all staff members. So, while feeling happy with the offer, I felt a lot of pressure at the same time.
When I talked with Sato-san at the filming site, he said, 'It is the work that I have cherished. Creating the role of Kenshin in the first film seven years ago started from Tomoe.' I deeply felt the weight of his words that Tomoe had been in the center of his character Kenshin for seven years, and that's how the character had been created until today. I felt how much he had loved 'Rurouni Kenshin' as I sat next to him. There were a lot of things he could do in action and acting because he knew what he wanted to express in himself. I respected him when I saw him acting up close, and thought he was a great actor once again."
The "Final Chapter" tells two stories based on the manga's final "Jinchu" arc and the 1999 OVA "Tsuioku-hen/Trust & Betrayal." They focus on the past story of Kenshin as Hitokiri Battousai during the final years of the Bakumatsu era, and Kenshin's final confrontation against the strongest enemy, Enishi. The first part "The Final" will hit Japanese theaters on July 3, 2020, then the second and final part "The Beginning" will follow on August 7.
【るろうに剣心 すべての原点】

<十字傷の謎>の鍵を握る、
かつて剣心に"斬殺"された妻・雪代巴役は…#有村架純 さん!

人斬り抜刀斎だった剣心はなぜ
唯一、心を許した妻を斬殺したのか?
なぜ"不殺の誓い"を立てたのか?

剣心の<原点>が明らかになりますー!#るろうに剣心最終章 pic.twitter.com/kpshOomYCZ

— 映画『るろうに剣心』公式アカウント (@ruroken_movie) March 18, 2020
Teaser trailer:
Teaser poster visual featuring Kenshin (Takeru Sato):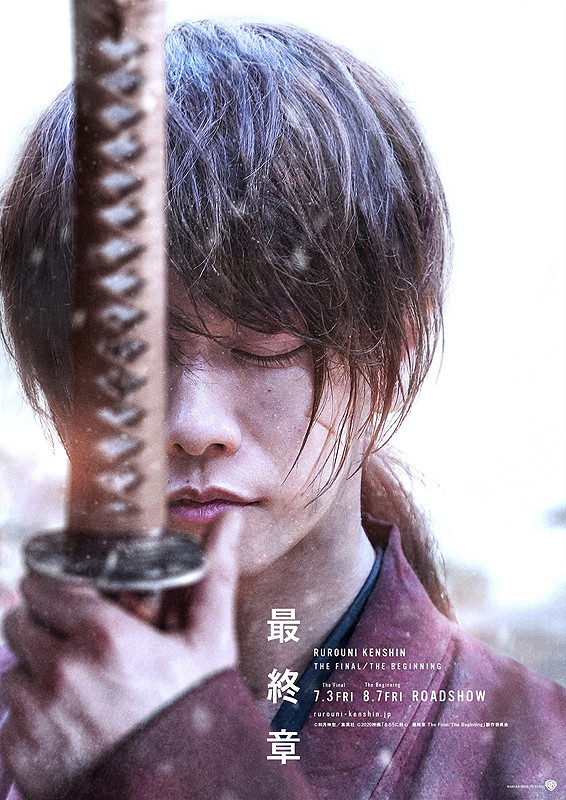 ---
Sourece: "Rurouni Kenshin" live-action film official website / Twitter
©Nobuhiro Watsuki/SHUEISHA
©2020 "Rurouni Kenshin Final Chapter The Final/The Beginnng" Production Committee