ONE OK ROCK one again provides a theme song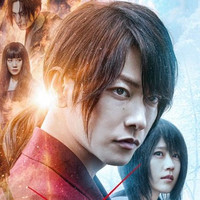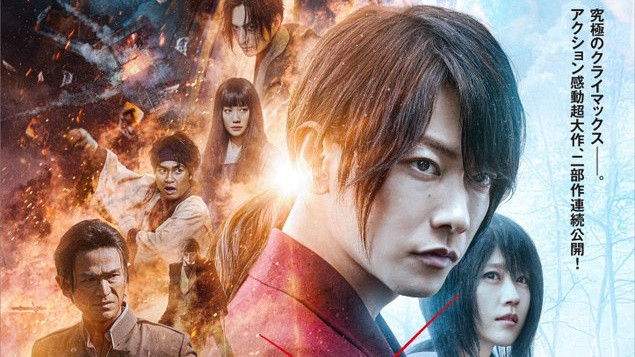 All main cast members gather in the poster visual for the forthcoming two-part "Final Chapter" of the live-action film series inspired by Nobuhiro Watsuki's action jidaigeki manga series Rurouni Kenshin. In addition to Takeru Sato (Ryotaro Nogami in Kamen Rider Den-O) as the protagonist Kenshin Humura, the visual features two characters who will newly join the "Final Chapter," Mackenyu Arata (Ryoichi in Pacific Rim: Uprising) as Enishi Yukishiro and Kasumi Arimura (Marnie in When Marnie Was There) as his sister Tomoe.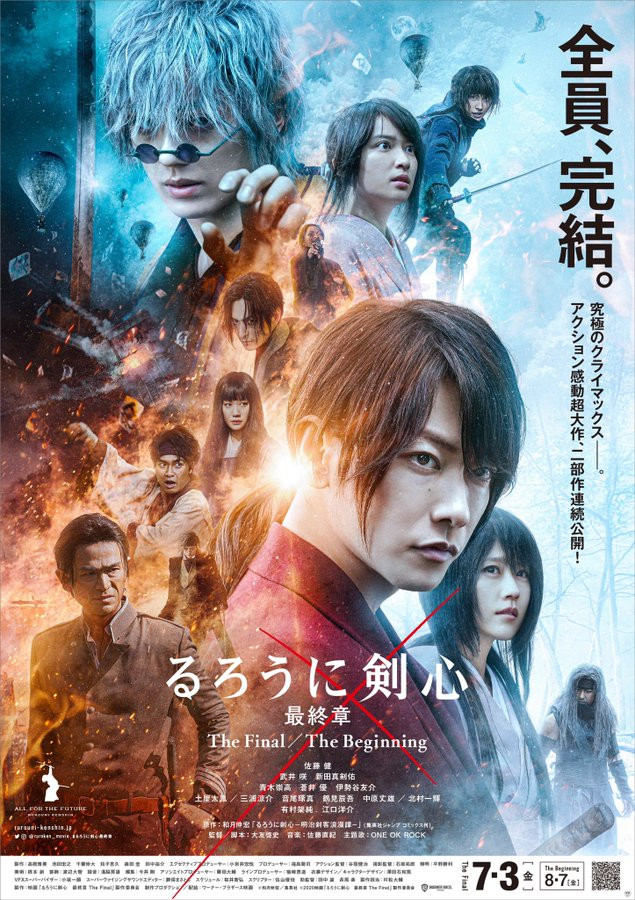 【全員、完結。】

燃え盛る炎の中、敵も味方も入り乱れるポスタービジュアル解禁!
剣心たちは、それぞれどのような<完結>を迎えるのでしょうか―?
シリーズ史上最恐の敵に全員で立ち向かう「最終章」が遂に始まります!#るろうに剣心最終章 pic.twitter.com/cjKUiihWw0

— 映画『るろうに剣心』公式アカウント (@ruroken_movie) March 24, 2020
And it is also confirmed that Yusuke Iseya (Jotaro Kujo in JOJO's Bizarre Adveture: Diamond is Unbreakable - Chapter 1) and Tao Tsuchiya (Shizuku Mizutani in My Little Monster) reprise their roles as Aoshi Shinomori and Misao Makimachi in the previous two installments Kyoto Inferno and The Legend Ends in 2014.
【京都隠密御庭番衆も参戦!】

『京都大火編 / 伝説の最期編』に出演した、四乃森蒼紫役 #伊勢谷友介 さん続投決定!#るろうに剣心最終章 pic.twitter.com/ZbtGpevZhZ

— 映画『るろうに剣心』公式アカウント (@ruroken_movie) March 24, 2020
【京都隠密御庭番衆も参戦!】

伊勢谷さんと同じく、『京都大火編 / 伝説の最期編』に出演した、巻町操役 #土屋太鳳 さんも続投決定!#るろうに剣心最終章 pic.twitter.com/dwAivraoLg

— 映画『るろうに剣心』公式アカウント (@ruroken_movie) March 24, 2020
And, four-memebr Japanese rock band ONE OK ROCK, who has worked on all of the theme songs for the previous three instruments, once again provides a new theme song for the Final Chapter films.
そして、主題歌アーティストは…
彼らのいない『るろうに剣心』などありえない!
<ONE OK ROCK>続投決定!
最終章の2作でも書き下ろしの楽曲を制作!どのような楽曲となるのか、続報に期待が高まります!!#るろうに剣心最終章 #ONEOKROCK pic.twitter.com/BO6CpBoRLT

— 映画『るろうに剣心』公式アカウント (@ruroken_movie) March 24, 2020
The "Final Chapter" tells two stories based on the manga's final "Jinchu" arc and the 1999 OVA "Tsuioku-hen/Trust & Betrayal." They focus on the past story of Kenshin as Hitokiri Battousai during the final years of the Bakumatsu era, and Kenshin's final confrontation against the strongest enemy, Enishi. The first part "The Final" will hit Japanese theaters on July 3, 2020, then the second and final part "The Beginning" will follow on August 7.
Teaser trailer:
---
Sourece: "Rurouni Kenshin" live-action film official website / Twitter
©Nobuhiro Watsuki/SHUEISHA
©2020 "Rurouni Kenshin Final Chapter The Final/The Beginnng" Production Committee