Experience the con from your couch by jumping into the CRX livestream on April 17 starting at 12 PM PST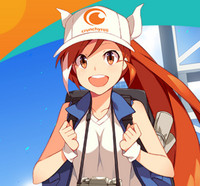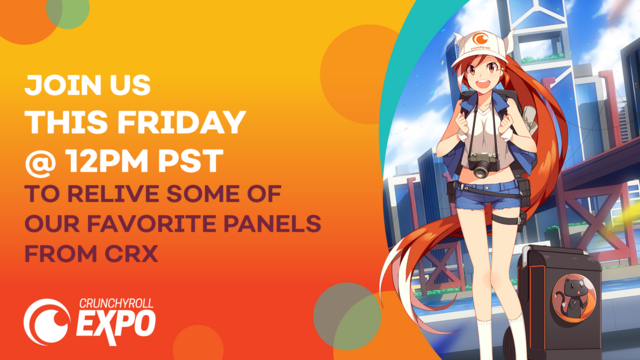 From the team that brought you Crunchyroll Expo, now comes the Crunchyroll Expo livestream marathon on Friday, April 17 starting at 12 PM PST!
Relive some of our favorite moments from Crunchyroll Expo and experience the con from your couch! We'll be livestreaming on Crunchyroll Expo and Crunchyroll's Facebook page beginning at 12 PM PST this Friday on April 17!
Jump in anytime to experience the amazing Crunchyroll Expo community without having to leave your home! We'll be right there with you to interact and spread some anime positivity.
The panel line-up for our Crunchyroll Expo livestream is HERE: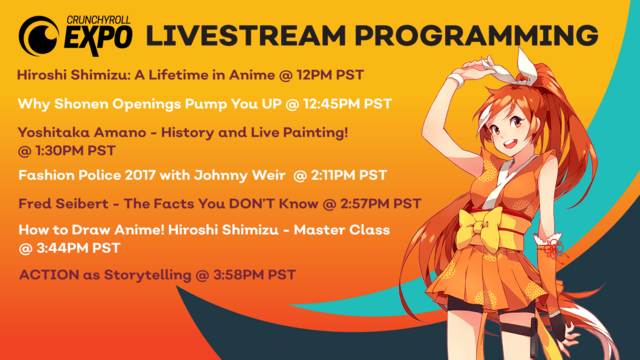 Hiroshi Shimizu: A Lifetime in Anime - 12 PM PST
Why Shonen Openings Pump You UP - 12:45 PM PST
Yoshitaka Amano - History and Live Painting! - 1:30 PM PST
Fashion Police 2017 with Johnny Weir - 2:11 PM PST
Fred Seibert - The Facts You DON'T Know - 2:57 PM PST
How to Draw Anime! Hiroshi Shimizu - Master Class - 3:44 PM PST
ACTION as Storytelling - 3:58 PM PST
These panels will take you behind the scenes of how some of the greatest anime work came to be!
We'll be kicking off the livestream with anime legend, Hiroshi Shimizu, known for his work on beloved titles as Princess Mononoke, FLCL, Ghost in the Shell: Stand Alone Complex, and Megalobox.
Or you can join us for Yoshitaka Amano's panel, who is most well-known for his work on the Final Fantasy series as well as being the illustrator of Vampire Hunter D.
Or maybe you'd like to hear from Fred Seibert, the founder of Frederator, the animation studio behind Bee and Puppycat, Bravest Warriors, Adventure Time, and more!
Whatever your taste in anime is, we've got an amazing lineup prepared for you! Be sure to follow Crunchyroll Expo on social media to be notified of when the livestream starts!
(Article was updated on April 15, 2020)
----
>> Follow Crunchyroll Expo on Facebook
>> Follow Crunchyroll Expo on Instagram
>> Follow Crunchyroll Expo on Twitter
Crunchyroll Expo is the premiere spot for anime world premieres exclusives, guest panels featuring your favorite characters & creators, as well as official, limited merch. Make new friends, take in all the breathtaking cosplay & be a part of all the latest anime news! Tickets are now available for Crunchyroll Expo 2020!
>> Order Page - Buy Tickets to Crunchyroll Expo 2020
---