The first part of Sailor Moon Eternal film hits Japanese theaters September 11, 2020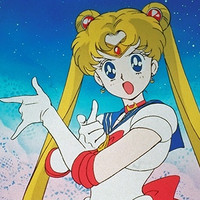 EDITOR'S NOTE: Due to reports circulating about this article, we want to reiterate that this is a news story related to Toei Animation's efforts in Japan. This campaign is not related to Crunchyroll. As the headline and body of the article state, these episodes will be streaming on Toei's Official Sailor Moon YouTube channel in Japan only. The headline has been updated to include the words "in Japan" for further clarity.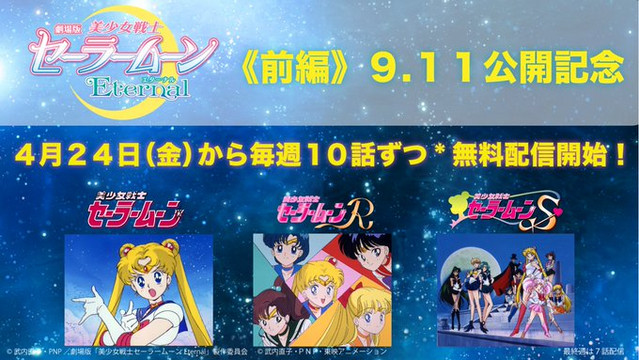 The official website for the two-part film Pretty Guardian Sailor Moon Eternal The Movie announced today that the first three original Sailor Moon TV anime series in the 1990s will be streamed on the Sailor Moon franchise's official YouTube channel for free from this Friday, April 24. This is part of the promotional project for the theatrical release of the film's first part that will open in Japan on September 11, 2020. Ten episodes from a total of the 127 episodes from the three series will be added each week.
The three TV anime series are Pretty Guardian Sailor Moon (46 episodes/1992-1993), Pretty Guardian Sailor Moon R (43 episodes/1993-1994), and Pretty Guardian Sailor Moon S (38 episodes/1994-1995). The three are chosen because the upcoming film is based on the fourth "Dead Moon" arc of Naoko Takeuchi's original Sailor Moon manga, which was adapted into the fourth TV anime series Pretty Guardian Sailor Moon SuperS (34 episodes/1995-1996).
Streaming schedule:
April 24-30, 2020: "Pretty Guardian Sailor Moon" (1st to 10th episodes)
May 1-7: "Pretty Guardian Sailor Moon" (11th to 20th episodes)
May 8-14: "Pretty Guardian Sailor Moon" (21st to 30th episodes)
May 15-21: "Pretty Guardian Sailor Moon" (31st to 40th episodes)
May 22-28: "Pretty Guardian Sailor Moon" (41st to 46th episodes) / "Pretty Guardian Sailor Moon R" (1st to 4th episodes)
May 29 - June 4: "Pretty Guardian Sailor Moon R" (5th to 14th episodes)
June 5-11: "Pretty Guardian Sailor Moon R" (15th to 24th episodes)
June 12-18: "Pretty Guardian Sailor Moon R" (25th to 34th episodes)
June 19-25: "Pretty Guardian Sailor Moon R" (35th to 43rd episodes) / "Pretty Guardian Sailor Moon S" (1st episode)
June 26 - July 2: "Pretty Guardian Sailor Moon S" (2nd to 11th episodes)
July 3-9: "Pretty Guardian Sailor Moon S" (12th to 21st episodes)
July 10-16: "Pretty Guardian Sailor Moon S" (22nd to 31st episodes)
July 17-23: "Pretty Guardian Sailor Moon S" (32nd to 38th episodes)
????????90年代TVアニメの無料配信決定????????

4/24(金)からYouTubeの
セーラームーン公式チャンネルで
90年代TVアニメ3シリーズの配信が決定????#おうち時間 は #セーラームーン を楽しもう✨

????配信YouTubehttps://t.co/JrwQm1NIvE

????配信スケジュールhttps://t.co/a3NwfRXci2#劇場版セーラームーン pic.twitter.com/SjEj7zif0h

— 劇場版「美少女戦士セーラームーンEternal」9.11公開???? (@sailor_movie) April 20, 2020
"Pretty Guardian Sailor Moon Eternal The Movie" teaser trailer:
Poster visual: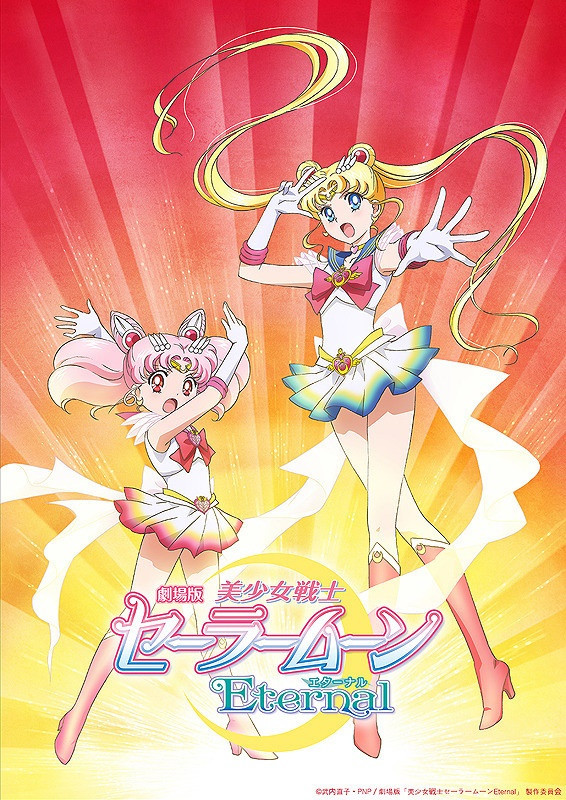 ---
Source: "Pretty Guardian Sailor Moon Eternal The Movie" official website
©Nakoko Takeuchi, PNP/"Pretty Guardian Sailor Moon Eternal The Movie" Production Committee