Keiichiro Kawaguchi (Frame Arms Girl)-directed comedy is set to premiere in July 2020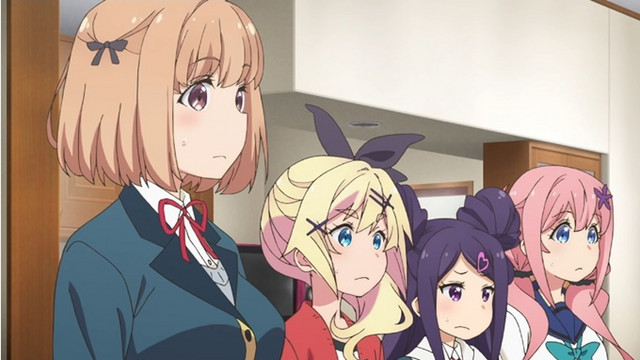 The official website for the forthcoming TV anime adaptation of So Hamayumiba (Hanayamata)'s four-panel comedy manga Ochikobore Fruit Tart / Dropout Idol Fruit Tart has announced four additional voice cast members.
Yoko Hikasa (Mio Akiyama in K-ON!) is cast as Hoho Kajino, the manager of the main idol unit Fruit Tart formed by the four "drop out" girls at Rat Production.
Meanwhile, the three members of their rival idol unit at Cat Production, Cream Anmitsu are played by Kaoru Sakura (Megumi Kittaka in Chidori RSC) as Chiko Sekino, Yu Sasahara (Yuuki Kuroiwa in Diary of Our Days at the Breakwater) as Nua Nakamachi, and Takako Tanaka (Rona in Interspecies Reviewers) as Rua Nakamachi. Nua and Rua are twin sisters.
【きららキャラット6月号】TVアニメ制作進行中! 「おちこぼれフルーツタルト」本編は休載ですが、巻頭ページでは超敏腕マネージャー・ホホとクリームあんみつ3人の設定が届きました!キャストも初公開ですよ♪

梶野穂歩:日笠陽子
関野チコ:佐倉 薫
中町ぬあ:篠原 侑
中町るあ:田中貴子 pic.twitter.com/kEiy4ZkjYR

— まんがタイムきらら編集部 (@mangatimekirara) April 27, 2020
---
Keiichiro Kawaguchi (Frame Arms Girl) serves as director/co-series composition writer (with Tatsuya Takahashi) of the TV anime adaptation to premeire in Japan in July 2020. Sumie Kinoshita (Girlish Number) designs the anime characters, Feel (Please Tell Me! Galko-chan, ISLAND) works on anime production.
Synopsis:
At the forth dormitory of Rat Production, called Nezumi-sou (Mouse Apartment), three girls who have failed in their professional career: Roko Sekino (former child actress), Hayu Nukui (musician), and Nina Maehara (fashion model) have lived together. One day, a girl named Sakura Ino, who has a dream of becoming an idol, comes to such a place. As soon as she arrives, however, it is decided that the dormitory will be demolished. In order to stop the demolition of their dormitory, the residents decide to form an idol unit "Fruit Tart" with the aim of repaying a debt of 100 million yen.
Main voice cast:
Sakura Ino: Hiyori Nitta (Izumi Asagi in Pastel Memories)
Roko Sekino: Risa Kubota (Kokoro Momoi in Aikatsu Stars!)
Hayu Nukui: Haruka Shiraishi (Fumino Furuhashi in We Never Learn)
Nina Maehara: Reina Kondo (Hana Ichinose in Slow Start)
1st PV:
Teaser visual: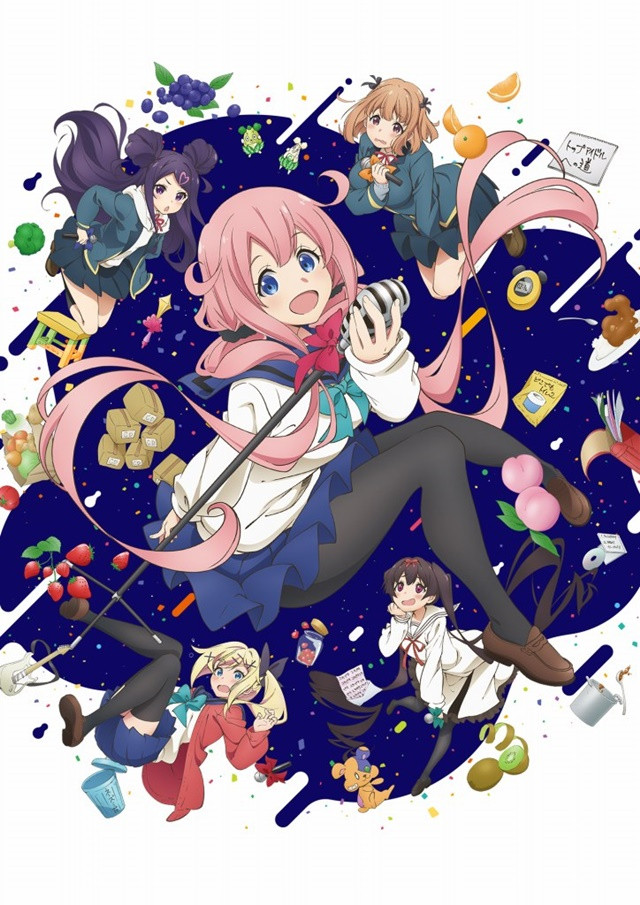 ---
Source: TV anime "Dropout Idol Fruit Tart" official website / Twitter
©So Hamayumiba, Houbunsha/Dropout Idol Fruit Tart Production Committee