All of the main voice cast members are confirmed to return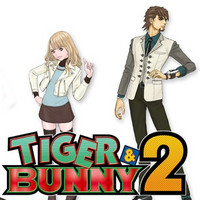 In addition to the previously revealed Kotetsu T. Kaburagi and Barnaby Brooks Jr., the official Twitter for the Tiger & Bunny anime franchise posted new visuals of the other six main characters for the upcoming new series Tiger & Bunny 2: Karina Lyle, Antonio Lopez, Huang Pao-Lin, Nathan Seymour, Keith Goodman, and Ivan Karelin.
【新ビジュアル&キャスト公開!】

2022年に新シリーズを開始する『TIGER & BUNNY 2』
この度、#桂正和(キャラクター・ヒーローデザイン)によるメインキャラクター6人の新ビジュアルを公開!
演じるキャストも続投いたします!https://t.co/hHW0d9vBQ0#tigerbunny pic.twitter.com/wamZ8DGKK5

— TIGER & BUNNY (@TIGERandBUNNY) May 1, 2020
And a good news is that all of the eight main voice cast from the original series will reprise their roles in the much-awaited new series.
Main voice cast:
Kotetsu T. Kaburagi / Wild Tiger: Hiroaki Hirata
Barnaby Brooks Jr. / Bunny: Masakazu Morita
Karina Lyle / Blue Rose: Minako Kotobuki
Antonio Lopez / Rock Bison: Taiten Kusunoki
Huang Pao-Lin: / Dragon Kid: Mariya Ise
Nathan Seymour / Fire Emblem: Kenjiro Tsuda
Keith Goodman / Sky High: Go Inoue
Ivan Karelin / Origami Cyclone: Nobuhiko Okamoto
『TIGER & BUNNY 2』
MAIN CAST
鏑木・T・虎徹:#平田広明
バーナビー・ブルックス Jr.:#森田成一
カリーナ・ライル:#寿美菜子
アントニオ・ロペス:#楠大典
ホァン・パオリン:#伊瀬茉莉也
ネイサン・シーモア:#津田健次郎
キース・グッドマン:#井上剛
イワン・カレリン:#岡本信彦#tigerbunny

— TIGER & BUNNY (@TIGERandBUNNY) May 1, 2020
The story of the new series Tiger & Bunny 2 is set after the feature film Tiger & Bunny: The Rising released in February 2014. Atsuko Kase (Mobile Suit Gundam 0083: Stardust Memory, Young Black Jack) newly serves as director alongside story director/script writer Masafumi Nishida. Masakazu Katsura (Video Girl) provides the original character designs again. It is set to premiere sometime in 2022.
【完全新作続編!】

『TIGER & BUNNY 2』2022年シリーズ開始!#西田征史(シリーズ構成)と #桂正和(キャラクター・ヒーローデザイン)が再びタッグを組み、新たに #加瀬充子 監督を迎え『劇場版The Rising』後の世界を描きます!

虎徹&バーナビーの新ビジュアルも公開!#tigerbunny pic.twitter.com/TiHz7X35yG

— TIGER & BUNNY (@TIGERandBUNNY) April 2, 2020
---
Source: "Tiger & Bunny" anime official Twitter
© BNP/T&B PARTNERS