Manga drawings that have not been included in the tankobons will be also displayed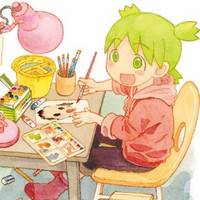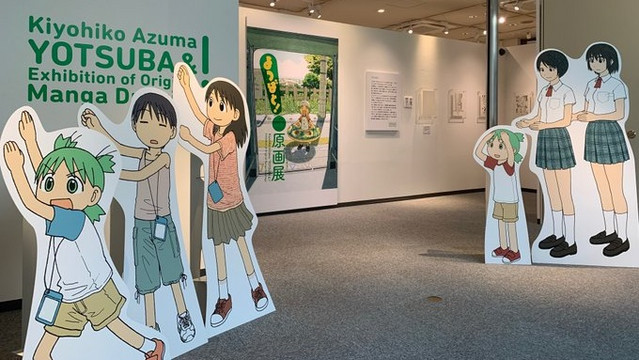 As its 80th special exhibition, the Osamu Tezuka Manga Museum in Hyogo Prefecture will host "Kiyohiko Azuma 'YOTSUBA&!' Exhibition of Original Manga Drawings" from June 8 to October 18, 2020. It was originally planned to be held from March 20 to June 27, but has been postponed due to the COVID-19 outbreak.
The slice-of-life comedy manga by Kiyohiko Azuma won the Grand Prize of the 20th Tezuka Osamu Cultural Prize in 2016.
The exhibition focuses on the latest original drawings by Azuma including the ones that have not yet been published in the tankobons, as well as names (rough drafts), drawing materials, making-of videos, production and advertising materials, original drawing for the overseas publications, and other valuable production materials that can only be seen here. The total number of the exhibits is about 200.
New key visual: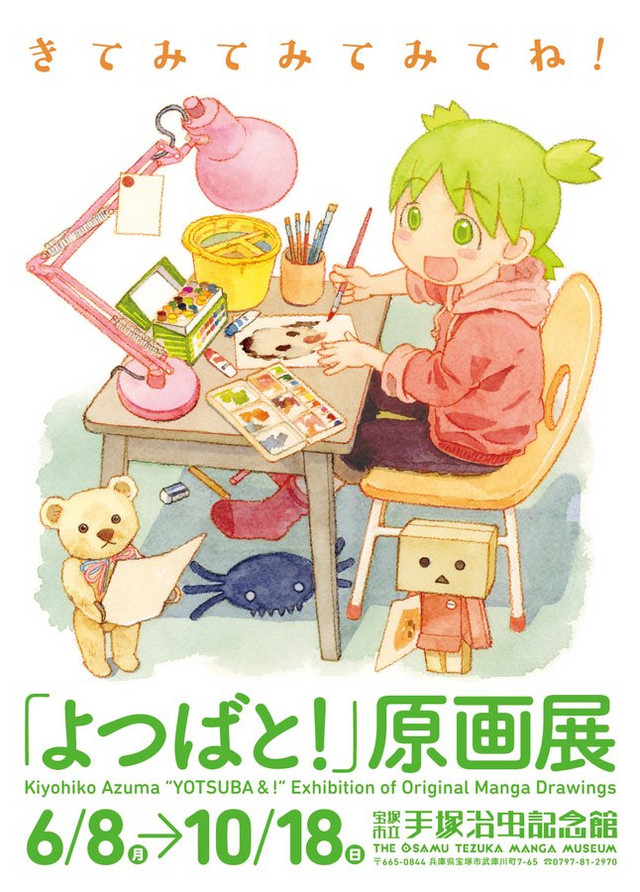 You can take photos with the character standees.
3.2020年6月8日リニューアルオープンと同時に、第80回企画展「よつばと!原画展」が開催されます。企画展示室内での写真・動画撮影はNGとなっております。企画展示室の入口や、館内に登場するキャラクターたちとの記念写真はOKです。 pic.twitter.com/2HcVFg9SPR

— 宝塚市立手塚治虫記念館 (@OTMM_Staff) June 5, 2020
Museum Shop is ready to open.
4.ミュージアムショップも開館準備完了です!
ご来館をお待ちしております。 pic.twitter.com/O8QLyqibKv

— 宝塚市立手塚治虫記念館 (@OTMM_Staff) June 5, 2020
---
During the event period, five restaurants around the museum will offer collaboration menu inspired by the Yotsuba&! manga as listed below. All menu come with a Yotsuba tin badge.
"Yostuba Soft" (580 yen) at Takarazuka Gyunyu Takarazuka Minamiguchi store
"Yotsuba-don" (1,100 yen) at Chinese Restaurant "Tenshin"
"Fuuka's Three-type Pound Cake and Toochan's Freshly Ground Coffee" (1,210 yen) at Cafe Darbukka
"Jumbo-don" (1,200 yen) at Tenpura Ajigoyomi "Suzuki"
"Yotsuba Pancake" (1,650 yen)at Cafe de Voorà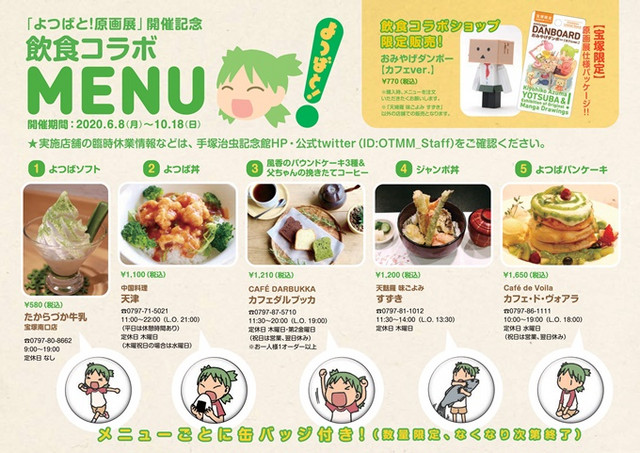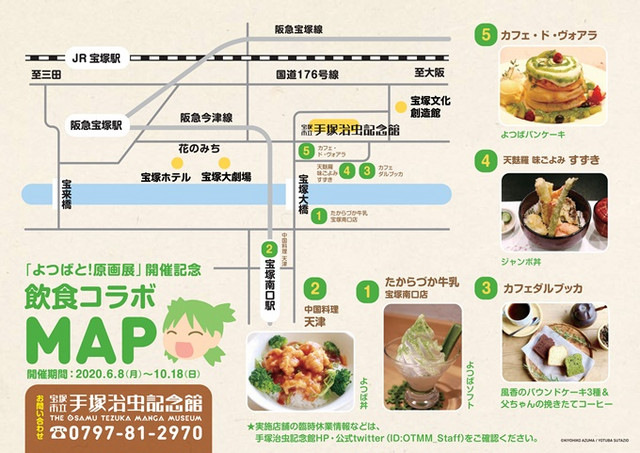 5.「よつばと!原画展」開催記念飲食コラボを開催!
近隣5店舗でコラボメニューを注文すると缶バッヂがもらえます。また、コラボメニューを注文した方向けにおみやげダンボーも販売しています。詳細はHPとHP下部のPDFファイルをご確認くださいhttps://t.co/3yApxTwQ8W pic.twitter.com/Pf8nFcQ6ir

— 宝塚市立手塚治虫記念館 (@OTMM_Staff) June 5, 2020
---
Source: Osamu Tezuka Manga Museum official website / Twitter
(C)KIYOHIKO AZUMA/YOTUBA SUTAZIO