The illustrator Posuka Demizu's color drawing video will be screened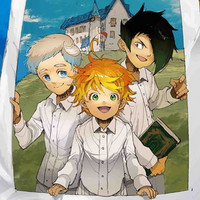 This winter, Tokyo City View's Sky Gallery on the 52nd floor of Roppongi Hills Mori Tower will hold a special exhibition to commemorate the conclusion of Kaiu Shirai (story) and Posuka Demizu (arts)'s The Promised Neverland manga. The dark fantasy manga ended its four-year serialization on Shueisha's Weekly Shonen Jump today. It has printed more than 21 million copies, and its live-action film adaptation is set to be released in Japan in December 2020.
"The Promised Neverland Special Exhibition" is scheduled to be held for 34 days from December 11, 2020, to January 11, 2021. It exhibits a number of famous scenes in spaces where you can fully immerse yourself into the world of "The Promised Neverland." You can also see treasured materials that were drawn before the serialization began, and trace the trajectory of the series from the shocking first chapter to the emotional final chapter. Visitors can feel the charms of "The Promised Neverland" deeply with the displays of the original manga drawings in accordance with its worldview and various materials that go behind the scenes of creation.
Message from the story writer Kaiu Shirai:
"An original art exhibition!! You can see Demizu-sensei's already beautiful color drawings up close all at once! We have also planned many more interesting exhibits and unseen things. It will become an exhibition to express the world of The Promised Neverland to the maximum. We hope you will enjoy it!"
Message from the illustrator Posuka Demizu:
"This is the exhibition that I have dreamed of! Many of the illustrations that were included in the tankobons in black-and-white will be exhibited in color. We are now filming the process of coloring for the displays in video. Please come and see it! It's the biggest venue ever, so it's going to be a spectacular exhibition."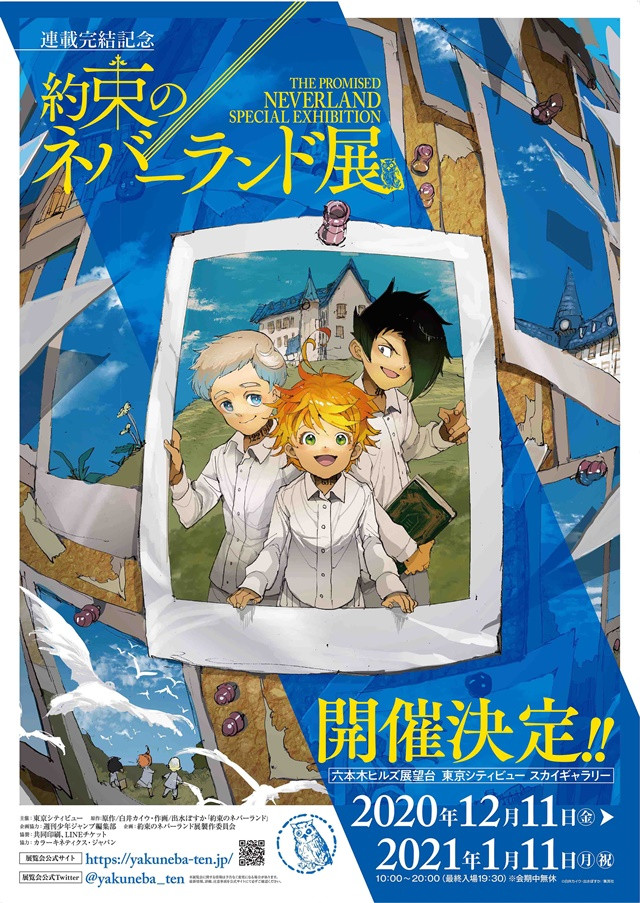 【 #約束のネバーランド展 開催決定!! 】
2020年12月11日~2021年1月11日、六本木・東京シティビューにて「連載完結記念 約束のネバーランド展」が開催決定!! これから「約ネバ展」に関する情報を随時お届けします!展覧会公式サイトはこちら https://t.co/EV7OVNmJro #約ネバ展 #約ネバ pic.twitter.com/y5rXnGnkWl

— 約束のネバーランド展【公式】 (@yakuneba_ten) June 15, 2020
---
Source: Mori Building Company press release
© Kaiu Shirai, Posuka Demizu/Shueisha