"Since the beginning of my voice acting career, I've been aiming definitely to be a PreCure someday."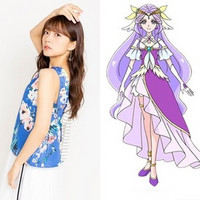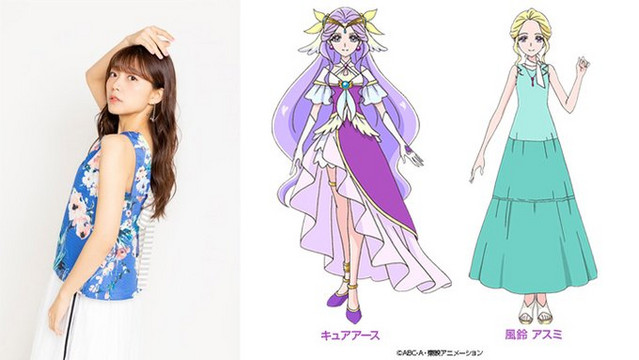 The official website for the 17th PreCure TV series Healin'Good♡PreCure announced today that a new PreCure girl named Asumi Fuurin / Cure Earth will join the story from this summer. The fourth PreCure girl following Cure Grace, Cure Fontaine, and Cure Sparkle is voiced by Suzuko Mimori, best known as Umi Sonoda in the Love Live! franchise.
This is the first time that 33-year-old voice actress has provided her voice for the 17-year-old nationality popular anime franchise. The website has posted her message of joy as below:
"Since the beginning of my voice acting career, I've been aiming definitely to be a PreCure someday for a long time. I was so happy when I received the result of my audition for the role, I jumped up and down with my manager. Even after the recording began, I couldn't believe it..., I feel like I'm receiving a reward every time. My first impression on Cure Earth (Asumi Fuurin) was that she was soft and gentle, and had a little mysterious image. I'm looking forward to seeing what kind of character she will grow into in the future.
There are many charms of the PreCure series..., strong, cute, and unique characters that are packed with girls' yearnings. Not only that, but the storyline has a lot of depth, and there are many points that can resonate with children and adults alike, and I am fascinated by them. This latest series Healin'Good♡PreCure is about the PreCure girls who protect the Earth from attacks by the Byougens and heal it. And coincidentally, the whole world is in this situation right now. Through this series, I hope that many people and children will enjoy and that we can treat their hearts."
【ヒーリングっど????プリキュア 】
新プリキュア夏に登場!キュアアース/風鈴アスミのビジュアルを公開です!
その登場と活躍をお楽しみに????
声を担当する三森すずこさんからメッセージも届きました!https://t.co/S4Kj5IqZrc#precure #ヒープリ #ヒーリングっど #キュアアース #風鈴アスミ #三森すずこ pic.twitter.com/9rA0e3m6Ec

— 東映アニメーション公式 (@toeianime_info) June 21, 2020
---
To coincide with the appearance of the new PreCure, the new ending theme song "Everybody☆ Healin'Gooday☆" will be featured from this summer. It will be performed by Kanako Miyamoto, the voice of Cure Sword in the tenth series Dokidoki! PreCure in 2013-2014. She has also sung many theme and insert songs for the PreCure franchise since the fourth series Yes! PreCure 5 in 2007-2008.
The CD single including the new ED song and a new image song "Let's Te to Tede Kyun!" by Miyamoro, Rie Ktagawa, and Machico is set to be released on September 9.
CD+DVD edition / Standard edition: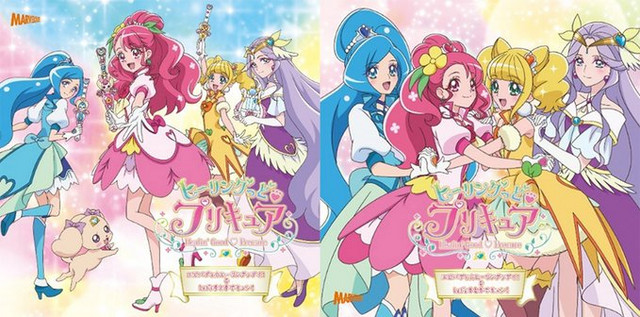 ---
As reported, the broadcast of Healin'Good♡PreCure's new episodes has been stopped since April 26 in order to give maximum consideration to safety measures against the COVID-19 infections, and selected past episodes have been rebroadcast from its first. Finally, it will resume with its 13th episode on June 28.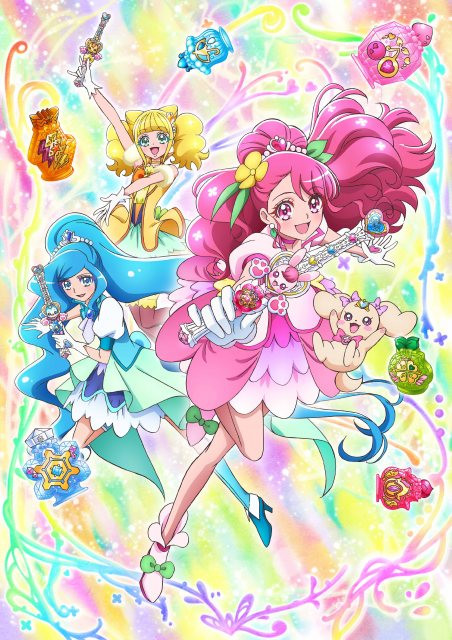 ---
Source: "Healin'Good♡PreCure" official website, Toei Animation official Twitter
©ABC-A, Toei Animation