We spoke to J-Novel Club and Yen Press on the current situation unfolding between publishers and Amazon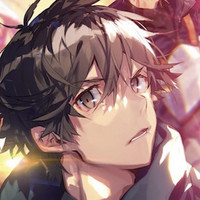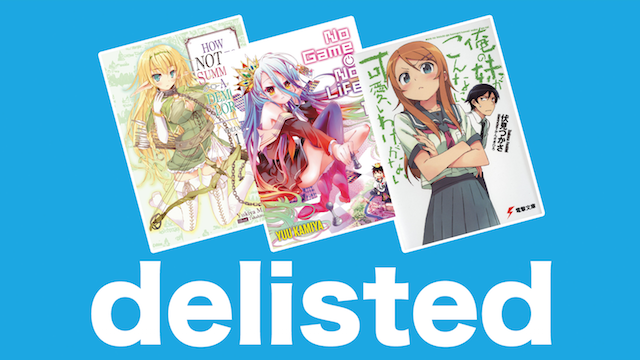 Over the last few months, rumors began to swirl that Amazon US had been delisting certain manga and light novel series from its Kindle platform. While more and more users noticed that favorites such as No Game No Life, How Not to Summon A Demon Lord, and Grimgar of Fantasy and Ash had been delisted, publishers hadn't spoken out about the issue, until now.
J-Novel Club released a statement on their Twitter account on July 14 informing readers that many of their titles had been delisted. Yen Press followed suit half a day later with their own statement.
We verified today that starting July 11th, all books in the series The Greatest Magicmaster's Retirement Plan, I Shall Survive Using Potions (Manga+LN), How Not to Summon a Demon Lord, and Clockwork Planet (LN) are no longer available for sale on Amazon Kindle (except .co.jp)

— J-Novel Club (@jnovelclub) July 14, 2020
Sadly, we have confirmed with Amazon that they have opted to remove our No Game No Life titles from their platform.

Happily, there are other retailers, both physical and digital, that are thrilled to help you support for these titles in the form of cash exchanged for goods! pic.twitter.com/xDbXGFvyBs

— Yen Press (@yenpress) July 14, 2020
Crunchyroll News reached out to J-Novel Club, Yen Press, and Amazon, as well as other publishers who were not able to comment in time for publication, to get the full story of what was happening, why it may be happening, and what can be done about it.
As of publication, Amazon has not yet given their statement to Crunchyroll News. We will update the story if it becomes available.
J-Novel Club founder Sam Pinansky told Crunchyroll News that the first instance of a light novel being delisted was in the first week of May when two separate volumes of How NOT to Summon a Demon Lord were taken off the digital store. Pinansky said that after multiple attempts to contact Amazon, J-Novel Club wasn't given any clear reasoning on why the books were delisted, so the company "attempted to reupload the two books," but a week later one of them was taken down again, with the rest of the series being delisted on May 11.
"Despite being very upset about the situation we can only send more email queries to the Kindle content review team, which will only reply to us (eventually) with the same generic emails," Pinansky said.
Kurt Hassler, the Managing Director of Yen Press said in a statement provided to Crunchyroll News that they were "disappointed whenever it becomes more difficult for books to find their way into the hands of enthusiastic readers." Though Yen Press only first learned about their titles being delisted through an automated email last week, Hassler explained.

Pinansky said that despite multiple attempts over the last few months to get in contact with anyone on a review team at Kindle through email, they rang the support phone line and requested support tickets, doing so 10 or 12 times. "Phone support has no power to override or obtain any further information from Kindle Content Review." Though all J-Novel Club got in response from Amazon after multiple nine-day waits are a generic email which reads:
"As stated in our guidelines, we reserve the right to determine what we consider to be appropriate, which includes cover images and content within the book. We're unable to elaborate further on specific details regarding our content guidelines beyond what is available here."
According to Pinansky, no clarification on which of the guidelines was broken and that "if there is a review process that's actually going on, it is a complete black-box and the opposite of transparent."
Hassler explained that "after reaching out [to Amazon] for clarification on the matter, [Yen Press] were informed that a determination had been made that the books did not fall within their global content guidelines."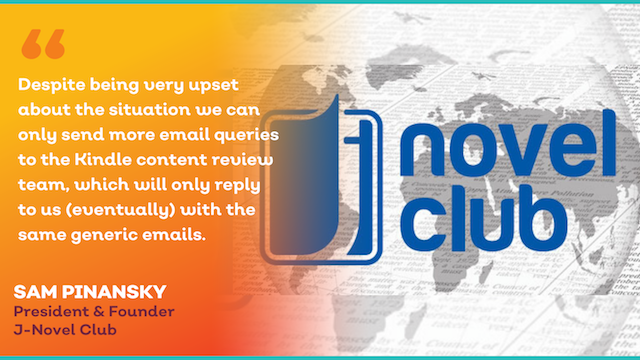 While the light novels and manga have been delisted from Amazon US, J-Novel Club said on Twitter that the English versions of the same volumes – alongside the Japanese editions – were still available physically on Amazon. Pinansky speculated that "content review teams for each language are separate." It should be noted that the print version of How NOT to Summon A Demon Lord is still available, which Pinansky speculated, "All this means is that this is not the result of some consistent policy being applied. It is the very definition of arbitrary and capricious."
Pinansky further theorized that because the delisting started in May, and has appeared to become even more aggressive since then, that "this is due to the Kindle Content Review black box beginning to rely more heavily on automated systems to detect problematic content ... due to COVID-19, so my suspicion is they sped up the process and cut out a significant amount of human checking relying on some auto-recognition system."
Pinansky hopes that, "Once the virus situation is under proper control, Amazon will restaff or reconfigure the content review department to actually be able to do their job correctly."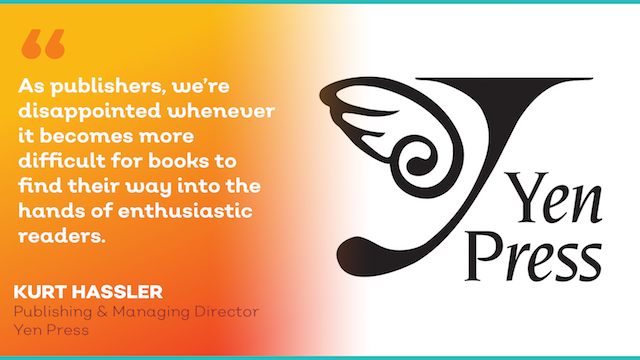 "While we obviously wish [the removed titles] were still available," Hassler said, "making the decision as to what to offer their patrons is obviously the prerogative of the seller. Nevertheless, we're grateful to the fans who have expressed their support and to the many other outlets that continue to make the books readily available."
Pinansky also informed Crunchyroll News that he reached out to Jeff Bezos' personal email address, and was once again given the same generic email in response.
List of light novels and manga that have been down from the Kindle store:
While the above titles are now unavailable on Kindle they are still available from BOOK WALKER, NOOK, Google Books, Apple Books, KOBO, and many more outlets, including physical bookstores and retailers.
Thanks to Crunchyroll News editor Joe Luster for additional assistance with interviews.

----
Daryl Harding is a Japan Correspondent for Crunchyroll News. He also runs a YouTube channel about Japan stuff called TheDoctorDazza, tweets at @DoctorDazza, and posts photos of his travels on Instagram.