Satoshi Kuwabara (The Quintessential Quintuplets)-directed yuri series is set to premiere in October 2020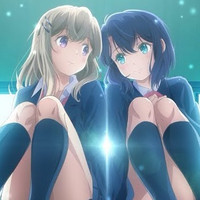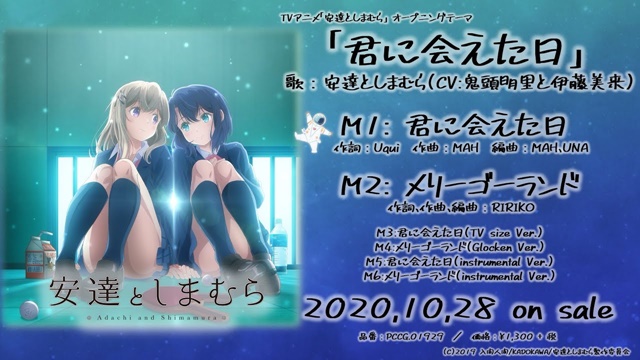 Three months prior to its premiere in Japan, the official website for the forthcoming TV anime adaptation of Hitoma Iruma's light novel Adachi to Shimamura / Adachi and Shimamura has posted a five-minute sound-only preview video for its OP theme "Kimi ni Aeta Hi" (The day I was able to meet you) performed by the two title characters: Sakura Adachi (CV: Akari Kito) and Hougetsu Shimamura (Miku Ito). The video also includes a preview for the OP theme single's coupling song "Merry-Go-Round" also sung by the two.
The opening theme is written by Ugui and composed by MAH, who are the ex-members of SHAKALABBITS and the current members of Muvidat. Its lyrics express the two girls' secret felling of needing each other, which is the main theme of the story. The CD single will be available in Japan on October 28, 2020. Meanwhile, the TV anime directed by Satoshi Kuwabara (The Quintessential Quintuplets) is set to premiere on TBS in October 2020.
安達としまむら(CV:鬼頭明里と伊藤美来)が歌うオープニングCD「君に会えた日」が10月28日に発売決定❗️
オープニングテーマ「君に会えた日」とカップリング「メリーゴーランド」が収録。
さらに、試聴動画も公開中✨ぜひチェックしてください。
????試聴動画⏩https://t.co/4aN0FdmjH8#安達としまむら pic.twitter.com/pscDsuIZow

— TVアニメ『安達としまむら』公式 (@adashima_staff) July 17, 2020
---
The story follows two high school girls, Sakura Adachi and Hougetsu Shimamura. They became friends after the encounter on the second floor of the gymnasium. They have spent normal life such as talking about their favorite TV shows and cooking, playing ping-pong sometimes, and gradually formed a friendship with each other. Then, Adachi starts having a special feeling toward Shimamura. Being in anguish over the feeling inside of her, Adachi will spend a little different everyday life together with Shimamura.
TV anime 2nd PV:
Teaser visual: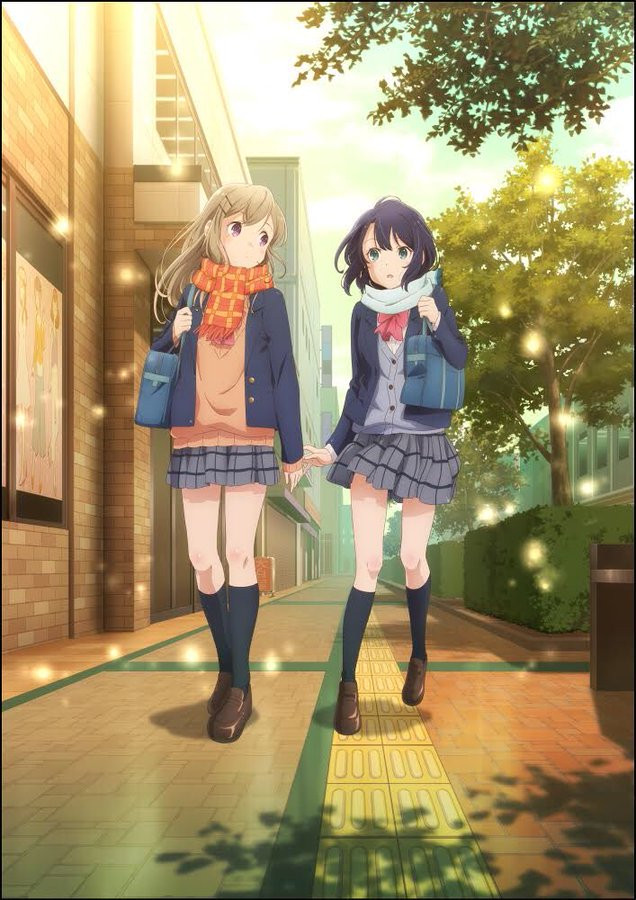 Main staff:
Director: Satoshi Kuwabara (The Quintessential Quintuplets)
Series composition: Keiichiro Daichi (Aikatsu!, Yo-Kai Watch)
Character design: Shizue Kaneko (If Her Flag Breaks)
Anime Production: Tezuka Productions (Black Jack)
Main voice cast:
Sakura Adachi: Akari Kito (Nezuko Kamado in Demon Slayer: Kimetsu no Yaiba)
Hougetsu Shimamura: Miku Ito (Miku Nakano in The Quintessential Quintuplets)
Akira Hino: Manami Numakura (Hibiki Ganaha in The [email protected])
Taeko Nagafuji: Reina Ueda (Akane Shinjo in SSSS.Gridman)
Yashiro Chikama: Iori Saeki (Maiko Kurashiki in Hachigatsu no Cinderella Nine)
---
Source: TV anime "Adachi to Shimamura" official website / Twitter
©2019 Hitoma Iruma/KADOKAWA/Adachi and Shimamura Production Committee
©Hitoma Iruma, Non/KADOKAWA