Bruno Mars' "Runaway Baby" is confirmed to be featured as the film's theme song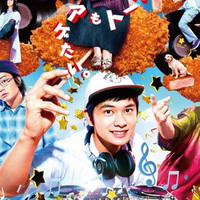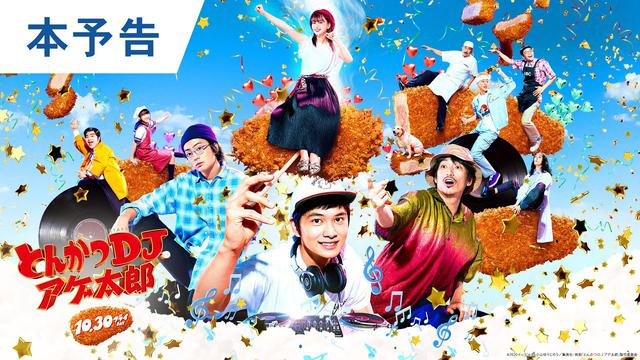 The official website for the forthcoming live-action film adaptation of Iipyao (story) and Yujiro Koyama (arts)'s comedy manga Tonkatsu DJ Agetaro announced today that it is newly set to be released in Japan on October 30, 2020.
The Takumi Kitamura (the vocalist/guitarist of the five-member dance-rock band DISH//)-starring film was originally set for a release on June 19 but has been delayed due to the COVID-19 outbreak. Kitamura says, "The release of the film is finally approaching. Tonkatsu DJ Agetaro! I'm sure the quirky characters, led by the silly and straightforward Agetaro, will make you smile. Look forward to it!"
Also, Bruno Mars' "Runaway Baby," which is included in his 2010 first album "Doo-Wops & Hooligans," is confirmed to be used as the film's theme song. Other 67 songs to be featured in the film include Maroon 5's "Sugar," Justice's "D.A.N.C.E.," The Chemical Brothers' "Star Guitar," Belinda Carlisle's "Heaven Is A Place On Earth," and Jackson Sisters' "Miracles."
Full trailer with the new release date:
Bruno Mars "Runaway Baby" Official Audio Video:
New poster visual: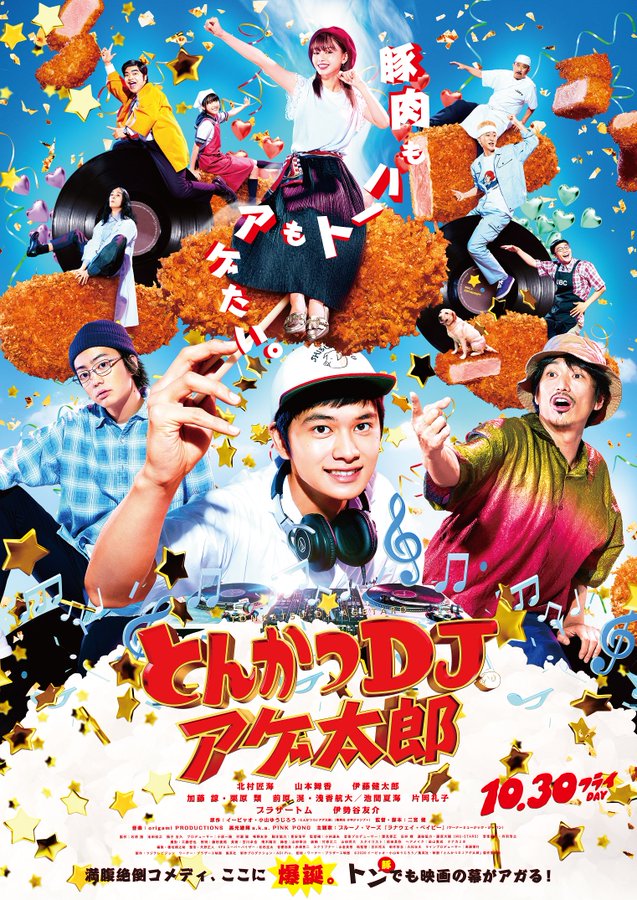 /
お待たせしました????#祝10月30日公開決定????????
\

そして主題歌は…#ブルーノ・マーズ
「ラナウェイ・ベイビー」に‼️

公開までNON STOP MEGA MIX で
アゲてくぜ〜〜〜????????????#とんかつDJアゲ太郎#北村匠海 #山本舞香 #伊藤健太郎

????本予告映像も解禁ッ‼️‼️#とんかつDJ日本をアゲる pic.twitter.com/q9f31g9IEi

— 映画『とんかつDJアゲ太郎』公式 (@tonkatsuDJmovie) July 21, 2020
Main cast:
Agetaro Katsumata: Takumi Kitamura
Sonoko Hattori: Maika Yamamoto
Kuraudo Yashiki: Kentaro Ito
Iori Oiri / DJ Oily: Yusuke Iseya
Mitsuo Muro: Ryo Kato
Kyuji Natsume: Koudai Asaka
Josuke Shirai: Rui Kurihara
Takashi Hirazumi: Ko Maehara
Agesaku Katsumata: Brother Tom
Koromo Katsunuma: Natsumi Ikema
Katsuyo Katsunuma: Reiko Kataoka
---
Source: "Tonkatsu Dj Agetaro" live-action film website / Twitter
(C)Iipyao, Yujiro Koyama/Shueisha, Movie "Tonkatsu Dj Agetaro" Production Committee
(C)Iipyao, Yujiro Koyama/Shueisha