The Crunchyroll family just passed a huge milestone! Let's celebrate with Crunchyroll-Hime!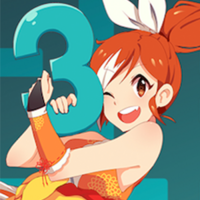 Crunchyroll may be the world's largest anime library, but it's also so much more than that! Through the anime we host on-site, events like Crunchyroll Expo and the Anime Awards, our online store and games publishing, and, yes, even our News site, we try to build connections between the medium we all love and the incredibly special communities that form around it. Today, we're announcing that the Crunchyroll family has reached a pretty incredible new milestone–we've reached three million paid users around the world and over 70 million overall registered users! This incredible number speaks to the unique power anime has as a medium that unites people all around the world, and we hope you'll take a minute to celebrate with Crunchyroll-Hime and all of us!
Joanne Waage, General Manager of Crunchyroll, shared some remarks on the occasion:
Crunchyroll's global growth has been incredible. We launched in 2006 and it took us about 10 years to hit one million subscribers. It took us only two years after that to break two million, and even less than that to hit three million subscribers where we are today. But, we don't just measure success based on paying subscribers. We have an active and growing AVOD community of over 70 million registered users. Our goal has always been to grow the love of anime globally, and these numbers show our labor of love is paying off–and this is just the beginning.
With Crunchyroll hitting such a huge achievement, it's a good chance to take a moment and reflect on some of the other amazing things we've accomplished recently. Late last year saw our partnership with VIZ Media Europe Group that brought streaming services Anime Digital Network and Anime on Demand, DVD and manga publisher KAZÉ, and live action content distributor Eye See Movies under the Crunchyroll family umbrella. The beginning of 2020 saw the announcement of our inaugural slate of 12 Crunchyroll Originals with WEBTOON adaptations of Tower of God and God of High School leading the way. The Crunchyroll Store has launched more than 20 Crunchyroll Loves streetwear collections, including collaborations with Megan Thee Stallion, GODZILLA, Junji Ito, Mobile Suit gundam Wing, and DARLING in the FRANXX. Finally, Crunchyroll Games has launched seven games to date, reaching more than 500,000 monthly players with more to come by the end of 2020!

Speaking personally, when I started at Crunchyroll about three years ago, we were a considerably smaller company. I've been lucky enough to watch the House of Hime grow into a place literally millions of anime fans can call home. We wouldn't be where we are today (well, we wouldn't be anywhere at all) without the incredible talent behind the anime we love, and the tireless passion and support of all of the fans who make it all possible. To each and every person reading this, I want to say thank you for keeping the dream alive. I can't wait to see where we can go next.