Advance tickets will go on sale on August 8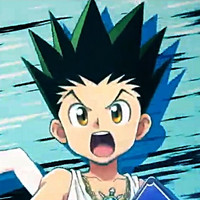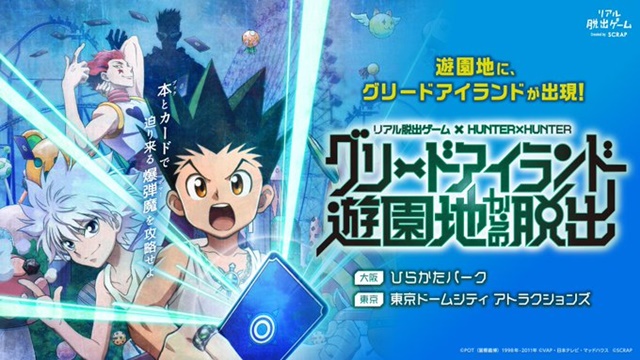 Hirakata Park, an amusement park located in Hirakata-city, Osaka, will hold a collaboration event between the "Real Escape Game" brand and the Hunter x Hunter anime franchise, entitled "Greed Island Yuuenchi karano Dasshutsu" (Escape from The Greed Island Amusement Park)," from September 19 to November 29, 2020.
It was originally planned to be held first at Tokyo Dome City Attractions in Tokyo from July 23, but the Tokyo event has been postponed to a future date due to the COVID-19 pandemic. Meanwhile, Hirakata Park will hold it as scheduled.
CM:
As the title suggests, its story takes place in an original story based on the Greed Island arc in the anime series. Participants take on the role of hunters who challenge "Greed Island Fest" and explore the amusement park to finish the game while solving various mysteries and quests at special booths and collecting the designated "pocket cards." During the game, in addition to the protagonist Gon and Killua, a variety of popular characters will cooperate with the participants and set quests for them. The game can be played alone or with friends and family members while riding attractions at the amusement park. The estimated time required to finish the game is 120-180 minutes.
Advance tickets for the game (2,200 yen for adults / 1,500 yen for children from two years old to elementary school age) will go on sale on August 8.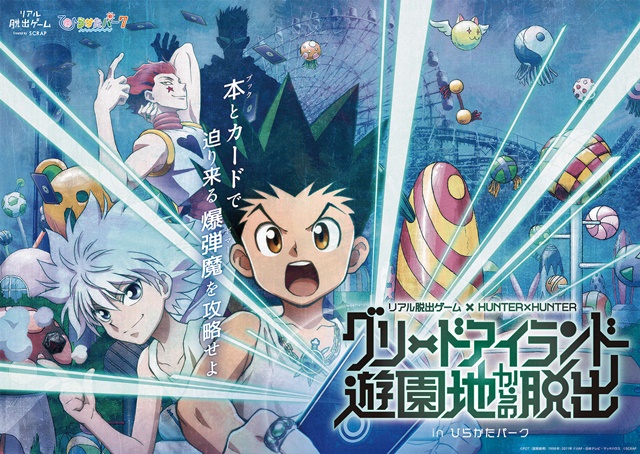 /
ひらかたパークに
グリードアイランドが出現????
\

HUNTER×HUNTERとコラボしたリアル脱出ゲーム「グリードアイランド遊園地からの脱出」大阪会場(9/19〜11/29)の詳細を発表!!
ハンターとなって、指定ポケットカードのコンプリートを目指せ!!#ハンター遊園地

▼公式サイトhttps://t.co/Qm3fKa12V1 pic.twitter.com/0jjVoD89Gq

— グリードアイランド遊園地からの脱出_大阪【公式】 (@hunter_hp2020) July 29, 2020
---
Source: Keihan Electric Railway press release
(C)POT (Yoshihiro Togashi) 1998-2011 (C)VAP, Nihon TV, Madhouse
(C)SCRAP