The highly-anticipated new season is set to premiere in January 2021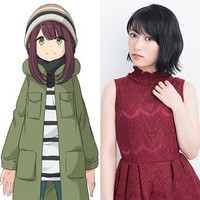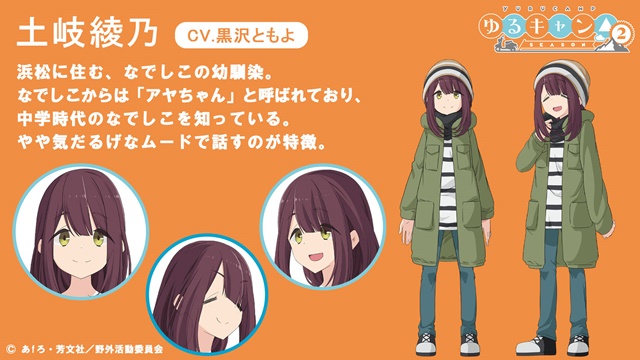 The official website for the TV anime adaptation of Afro's camping-themed manga Laid-Back Camp announced today that Tomoyo Kurosawa (Otome Arisugawa in Aikatsu!, Miria Akagi in The [email protected] Cinderella Girls) will voice Ayano Toki, a new character who will join its upcoming second season.
Ayano is a childhood friend of Nadeshiko Kagamihara when she lived in Hamamatsu-city, Shizuoka Prefecture (Nadeshiko moved to Yamanashi at the beginning of the story). Ayano is called "Aya-chan" by Nedeshiko and knows a lot about Nadeshiko's junior high school days. In the manga, she first appeared when Nadeshiko returned her grandmother's house in Hamamatsu on New Year's Day.
Message from Tomoyo Kurosawa:
"My impression of the character is that she is a laid-back gal, which is appropriate for the title 'Laid-Back Camp.' I heard from the other voice actresses that they have been able to play their characters with a very good atmosphere, so I was a little bit excited to join the cast. I'm looking forward to it. It's a pleasure to be able to participate in this series, which has been deeply loved for so long in various media, in various forms. I'm going to brace myself, but I'm also going to enjoy it in a laid-back way. I would be glad if you can support us!"
/
✨土岐綾乃役は #黒沢ともよ さんに決定✨
\

2021年1月~放送開始する
『ゆるキャン△ SEASON2』より登場‼

なでしこの幼馴染・土岐綾乃役を
黒沢ともよさんが演じます????https://t.co/S1WSZ19fHd#ゆるキャン pic.twitter.com/F313PgGSaH

— TVアニメ「ゆるキャン△」シリーズ公式 (@yurucamp_anime) August 24, 2020
The first season of the TV anime was aired for 12 episodes from January to March 2018. Following the well-received live-action TV drama adaptation early this year, the much-awaited TV anime second season is set to premier in Japan in January 2021.
/
ココロは止まっていられない。
\

TVアニメ「ゆるキャン△ SEASON2」が2021年1月より放送決定!
「夜」と「朝」。
2枚のティザービジュアルが公開!
さみしいココロも、たのしいココロも動き出す―https://t.co/l87cy6yrTy#ゆるキャン pic.twitter.com/VpFW1Szn5B

— TVアニメ「ゆるキャン△」シリーズ公式 (@yurucamp_anime) March 23, 2020
---
Source: TV anime "Laid-Back Camp" official website / Twitter
© Afro, HOUBUNSHA/Yurucamp Partners