The A-1 Pictures-animated film will open in Japan on September 18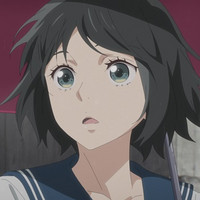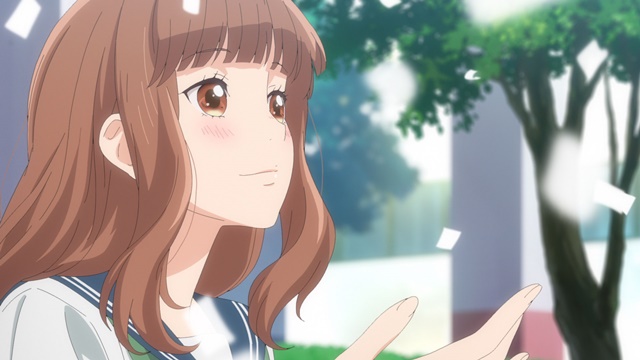 The official website for the forthcoming anime feature film adaptation of Io Sakisaka (Ao Haru Ride)'s romance shoujo manga Omoi, Omoware, Furi, Furare / Love Me, Love Me Not revealed today that the already-released live-action film's four main cast members: Minami Hamabe (Akari), Takumi Kitamura (Rio), Riko Fukumoto (Yuha), and Eiji Akaso (Kazuomi) also made a guest voice appearance in different roles.
In the anime film, Kitamura and Akaso are cast as male students who visit the Cultural Festival. Meanwhile, Hamabe plays Chiyo in the play "Itsuka Sekai no Katasumi de" (Someday in a Corner of the World) performed at the festival, and Fukumoto voices Chiyo's daughter Ayuko.
Even though they made a brief appearance, it was a difficult experience for the two actresses. Hamabe says, "I hadn't spoken into a microphone in a long time, so I was really nervous," then Fukumoto adds, "I was so nervous. It was very difficult to match the timing of the anime visuals and my voice."
The A-1 Pictures-animated film was originally set for May 29, 2020, but has been postponed to September 18 due to the COVID-19 outbreak. The live-action film was already released in Japan on August 14, 2020, then ranked sixth with a so-so 200 million yen in its opening weekend.
????『 #ふりふら 』アニメ版×実写版 スペシャルコラボのお知らせ????

実写版に出演する #浜辺美波 さん #北村匠海 さん #福本莉子 さん #赤楚衛二 さんがアニメ版に声優としてご出演????️

どんな役で出演されているのか⁉
公式サイトで少しヒントを????https://t.co/e034oPzz78@furifura_movie pic.twitter.com/vCqbiMKo6t

— アニメーション映画『思い、思われ、ふり、ふられ』 (@furifura_anime) August 26, 2020
30-second teaser trailer for the new release date:
Main voice cast:
Yuna Ichihara: Marika Suzuki (her anime debut role)
Akari Yamamoto: Megumi Han (Hime Shirayuki/Cure Princess in HappinessCharge PreCure!)
Kazuomi Inui: Soma Saito (Yukinojo Tachibana in King of Prism)
Rio Yamamoto: Nobunaga Shimazaki (Shido Itsuka in Date A Live)
Poster visual: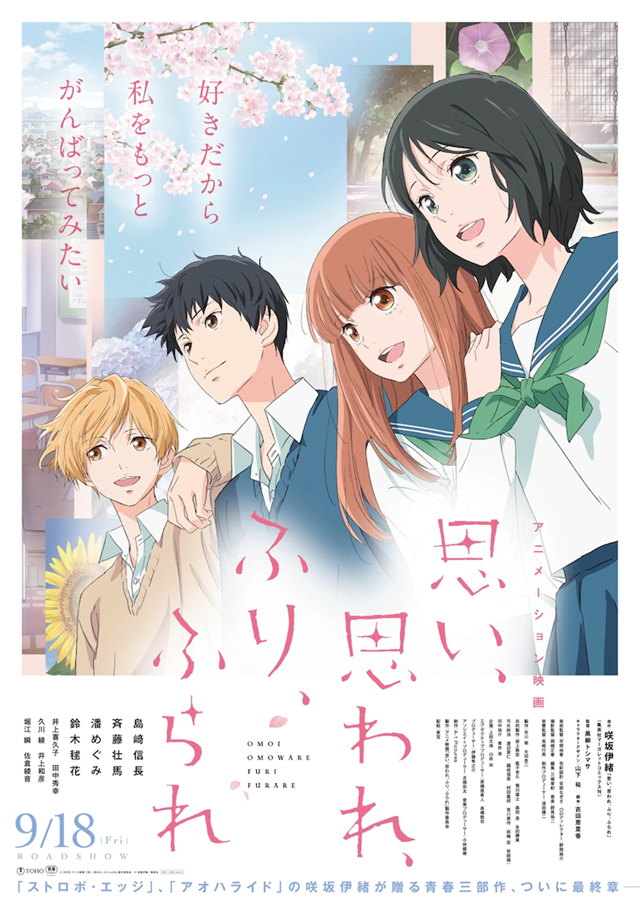 ---
Source: "Omoi, Omoware, Furi, Furare" anime film official website / Twitter
©2020 Anime Film "Omoi, Omoware, Furi, Furare"" Production Committee
©Io Sakisaka/ Shueisha