21-year-old idol Ren Nagase-starring adaptation ranked fifth in its opening weekend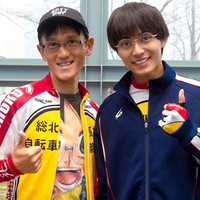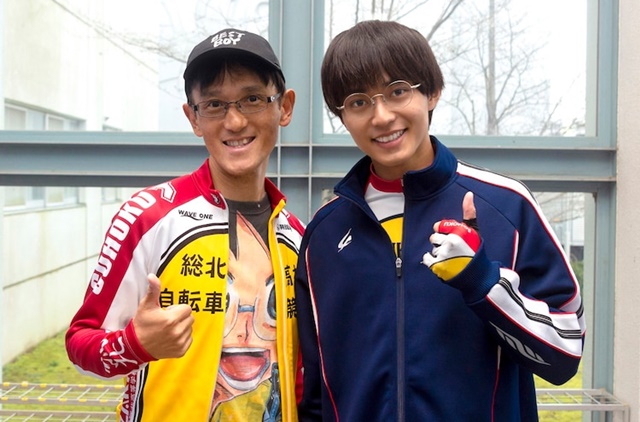 Two weeks after its theatrical release in Japan, the official website for the live-action film adaptation of Wataru Watanabe's road bicycle racing-themed sports manga Yowamushi Pedal has posted the messages from the manga author and the anime's four main voice cast members.
The 21-year-old Ren Nagase (Johnny & Associates' boy idol group King & Prince member)-starring film was released in 339 theaters across Japan on August 14, 2020, and ranked fifth with 138 million yen in its opening weekend. Its total domestic gross has reached 420 million yen.
原作者 #渡辺航 先生や
 アニメ版豪華声優陣から
  感動のコメントも続々到着‼️

????は先生とキャストの2ショット????

実写ならではの映像に大感動の
コメントはこちら????https://t.co/Nq27JV9k4Z#山下大輝 #鳥海浩輔 #福島潤 #諏訪彩花#永瀬廉 #伊藤健太郎 #橋本環奈 #弱虫ペダル #弱ペダ pic.twitter.com/LBeM6lLKXl

— 映画『弱虫ペダル』公式(大ヒット上映中!) (@yowapeda_eiga) August 28, 2020
---
From Wataru Watanabe:
"I've seen the film! All the powerful outdoor shots!  It's not CG, it's a real performance created by the cast members and the staff! The real sweat, the beautiful background are also a highlight!"
From Daiki Yamashita (Sakamichi Onoda anime VA):
"It was a lot of fun! I was impressed by the fact that each scene was carefully made, and I watched it with a grin on my face as I remembered the days I was playing my character. Seeing Imaizumi and Naruko and the Soho High School Cycling Club members running made me feel the spirit of 'Yowamushi Pedal.' and I was itching to start running again, too! Live-action and anime, let's work together to make it exciting! Let's ride the road called 'Yowamushi Pedal'!"
From Kosuke Toriumi (Shunsuke Imaizumi VA):
"As one of the members who have worked on the series and as a fan, I was very much looking forward to the live-action adaptation. When I had the opportunity to see it, it was far more than I had ever imagined. The Sohoku members were there. The cast members must have gone through so much preparation for this movie that we couldn't even imagine. I was very impressed with the race scene. I highly recommend that many people watch this film. Remembering back in 2013, when the voice recording for the anime began, I enjoyed a very dense 120 minutes! Thank you so much!"
From Jun Fukushima (Shokichi Naruko VA):
"The first thing that caught my eye was the location that looked like it came out of a manga or anime. Plus, I was impressed with the enthusiasm of the cast, the real dialogue, and the real racing! In the end, I was cheering with sweaty hands and clenched fists. It's a wonderful 'Yowamushi Pedal" that we can feel the Sohoku spirit. Watching it makes you want to ride a bike so badly!"
From Ayaka Suwa (Miki Kanzaki):
"This scene! That scene! A number of famous scenes are dramatically depicted in the film. It brought back memories of those days, and I was very excited to see the beginning of Onoda-kun and other characters' youth. I was very moved by how each of the characters' personalities and atmospheres were embodied in their own way! Miki, played by Kanna Hashimoto-san, is so refreshing, and she is a wonderful heroine herself that I couldn't stop crushing on her...! It was filled with so many heart-pounding feelings and bonds with friends that you can only feel because it's 'Yowamushi Pedal.' And the beauty and the scenery, and the power, which were unique to the movie, were also amazing!"
---
Latest PV featuring the manga visuals:
90-second full trailer:
Poster visual: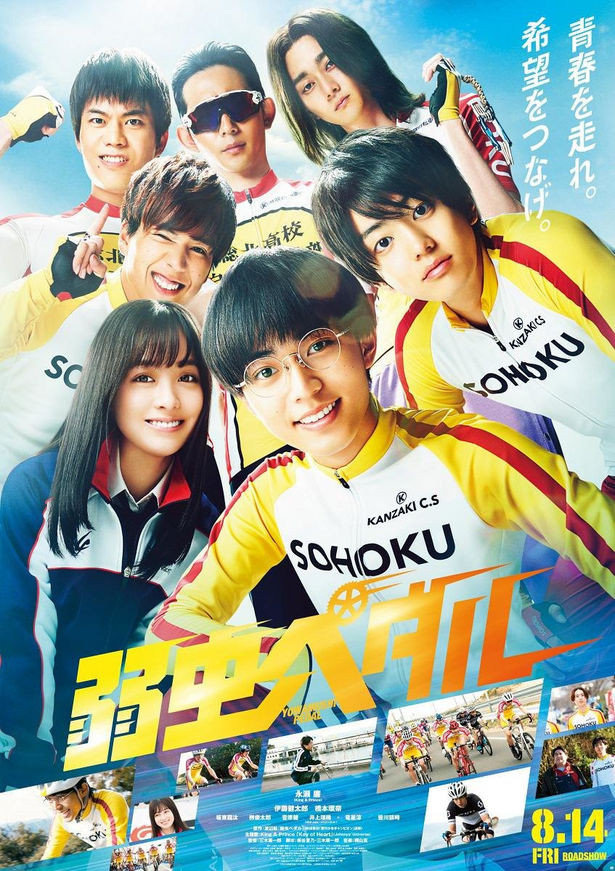 ---
Source: "Yowamushi Pedal" live-action film official website / Twitter
©2020 "Yowamushi Pedal" Production Committee ©Wataru Watanabe (Akita Shoten)