Ken Ninomiya (Chiwawa-chan)-directed adaptation has gotten a new release date of October 30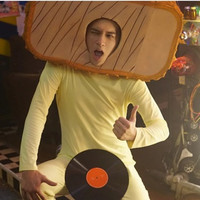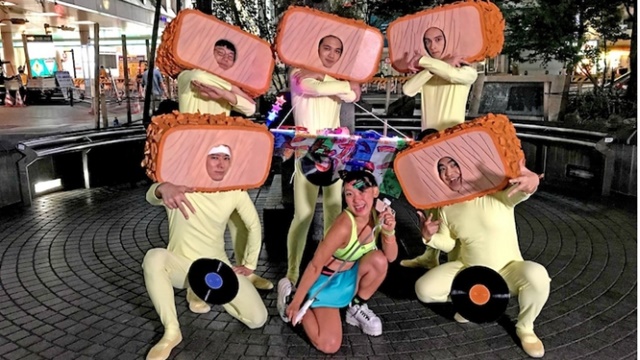 The forthcoming live-action film adaptation of Iipyao (story) and Yujiro Koyama (arts)'s comedy manga Tonkatsu DJ Agetaro has posted a short clip titled "YouTuber Debut Edition." In the clip featuring C+C Music Factory's 1990 hit song "Gonna Make You Sweat (Everybody Dance Now)," the film's star Takumi Kitamura (the vocalist/guitarist of the five-member dance-rock band DISH//) and his friends in zentai suit with a tonkatsu head are dancing in the center of Shibuya. As they are showing off their performance, the number of views of the clip is growing rapidly.
In addition to Agetaro's friend group "Sandaime DougenZaka Brothers" (played by Ryo Kato, Kouta Asaka, Rui Kurihara, Ko Maehara), the clip also introduces popular Japanese comedian Fuwa-chan (front row center of the photo above), who makes her film debut by playing herself.
Kitamura says, "Wearing the zentai suit alone breaks my heart, but I felt the strongest because it was the same costume as everyone of Sandaime. I wasn't embarrassed about the filming in Shibuya. I felt more embarrassed when I was on the studio set surrounded by staff."
The Ken Ninomiya (Chiwawa-chan)-directed film was originally set for a release on June 19 but has been delayed to October 30 due to the COVID-19 outbreak.
"YouTuber Debut Edition" clip:
渋谷の中心で❗️
EVERYBODY DANCE NOW????‼️

<<????#北村匠海×#フワちゃん????>>
Youtuberデビュー!な映像解禁????????

カツてない"とんかつDJ道"に邁進中のアゲ太郎と3代目道玄坂ブラザーズ!

人気YouTuberの仲間入りを果たすことはできるのか…⁉️#とんかつDJアゲ太郎 pic.twitter.com/ZeX07QvVDz

— 映画『とんかつDJアゲ太郎』公式 (@tonkatsuDJmovie) October 1, 2020
Full trailer:
Poster visual: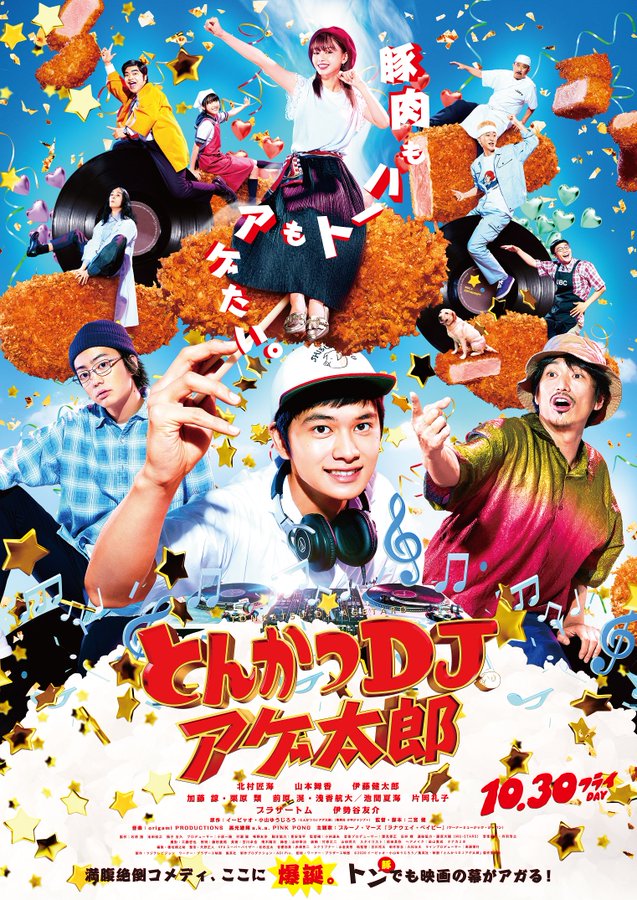 Main cast:
Agetaro Katsumata: Takumi Kitamura
Sonoko Hattori: Maika Yamamoto
Kuraudo Yashiki: Kentaro Ito
Iori Oiri / DJ Oily: Yusuke Iseya
Mitsuo Muro: Ryo Kato
Kyuji Natsume: Koudai Asaka
Josuke Shirai: Rui Kurihara
Takashi Hirazumi: Ko Maehara
Agesaku Katsumata: Brother Tom
Koromo Katsunuma: Natsumi Ikema
Katsuyo Katsunuma: Reiko Kataoka
---
Source: "Tonkatsu Dj Agetaro" live-action film website / Twitter
(C)Iipyao, Yujiro Koyama/Shueisha, Movie "Tonkatsu Dj Agetaro" Production Committee
(C)Iipyao, Yujiro Koyama/Shueisha