Theatergoers will get special leaflet including sequel manga episodes by the original author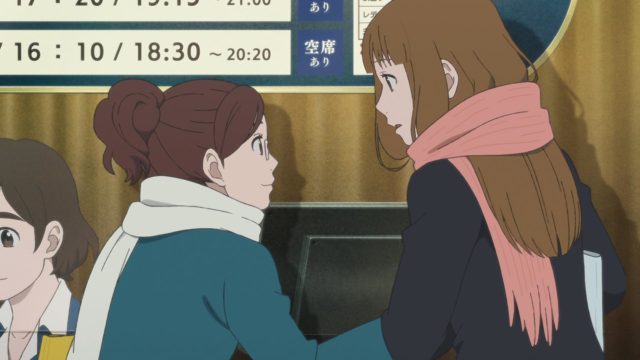 Ten days prior to its theatrical release in Japan, the first eight minutes of Dounika Naru Hibi / Happy-Go-Lucky Days, the upcoming four-episode omnibus anime film based on Takako Shimura (Wandering Son, Sweet Blue Flowers)'s short story manga collection book of the same name, is now streamed on Cinema Today's official YouTube channel. The clip introduces how its first episode "Ecchan to Aya-san" begins.
The anime adaptation directed by Takuya Sato (Asagao to Kase-san., Fragtime) at Liden Films' Kyoto Studio was originally set to be released in Japan on May 8, 2020, but has been postponed to October 23 due to the COVID-19 pandemic.
Episode 1 "Ecchan to Aya-san":
- Yuri, a girl who used to be popular among same-sex peers, has ended up marrying a man. One of her friends who attended her wedding was Ecchan (Kana Hanazawa), her girlfriend at high school, and Aya-san (Mikako Komatsu), her girlfriend at junior college. At their ex-girlfriend's wedding, the heartbroken two are attracted to each other--.
シネマトゥデイにて #どうにかなる日々 本編の冒頭映像約8分が公開されました????

OP映像とEpisode1「えっちゃんとあやさん」の冒頭が観れますので、是非チェックしてください❗

✅「どうにかなる日々」冒頭映像https://t.co/epYmXTo9ql

— 「どうにかなる日々」アニメ公式 / Happy-Go-Lucky Days Official (@dounika_anime) October 14, 2020
It is also announced the theatergoers of its first three weeks will get special leaflets including newly-drawn sequel manga episodes by the original author Shimura as a bonus. The first and second week's episodes introduce what happens after "Episode 1: Ecchan to Aya-san" and "Episode 2: Sawa-sensei to Yagasaki-kun," respectively. Then the third episode tells a sequel story to "Episode 3: Shin-chan to Sayoko" and Episode 4 "Mika-chan to Shin-chan".
#どうにかなる日々 週替り入場者プレゼント決定❗

各エピソードの後日談を描いた「原作 #志村貴子 描き下ろしスペシャルリーフレット」です✨
※先着順、数量限定

1週目
〜えっちゃんとあやさんのその後〜

2週目
〜澤先生と矢ヶ崎くんのその後〜

3週目
~しんちゃんとみかちゃんと小夜子のその後〜 pic.twitter.com/3ftmZb9Yo9

— 「どうにかなる日々」アニメ公式 / Happy-Go-Lucky Days Official (@dounika_anime) October 13, 2020
Trailer featuring the theme song "Monomane" performed by CreepHyp:
Main visual: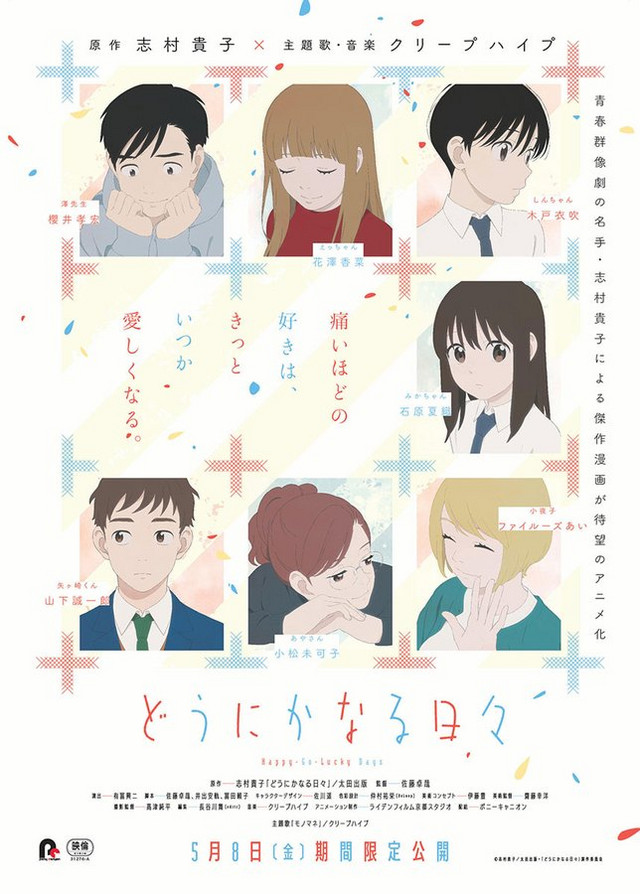 ---
Source: Cinema Today, "Dounika Naru Hibi" anime film official website / Twitter
©Takako Shimura/Ohta Shuppan, "Dounika Naru Hibi" Production Committee