STUDIO4ºC's new feature film will open in Japan on December 25, 2020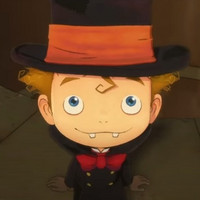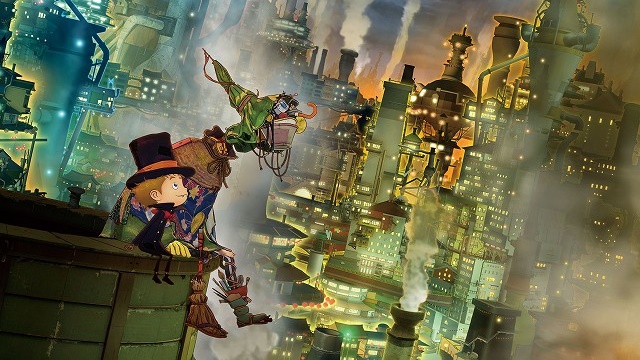 The official website for the anime feature film adaptation of Japanese comedian Akihiro Nishino's picture book Entotsu-cho no Poupelle / Poupelle of Chimney Town has posted a 90-second full trailer with English subtitles introducing its two main voice cast members - Masataka Kubota (Tokyo Ghoul live-action films) as the title character Poupelle and Mana Ashida (Pacific Rim) as his human friend Lubicchi.
Kubota says, "I had the opportunity to read the original picture book and was really moved by its exciting story and the warmth that reminded me of my heart that I had almost forgotten as an adult." Then Ashida adds, "After receiving the offer for this voice acting role, I read the book and found the pictures were so cute and the story was wonderful. I was so happy to be playing the voice of Lubicchi!"
The film animated by the internationally acclaimed anime production studio Studio 4°C (Tekkonkinkreet, Children of The Sea) is set to be released in Japan on December 25, 2020, then worldwide in 2021. Yusuke Hirota (Berserk trilogy film CGI director) is attached to direct, alongside character designer Atsuko Fukushima (PoPoLoCrois series). The film is co-distributed by Toho and Yoshimoto Kogyo (Nishio's management company).
Full trailer with English subtitles:
┏・・・━━━━━━━━┓
"えんとつ町の住人"に
   命を吹き込む
   声優陣一挙解禁✨
┗━━━━━━━━・・・┛

ゴミから生まれたゴミ人間プペル
⭐️#窪田正孝 さん

星を信じ続ける少年ルビッチ
⭐️#芦田愛菜 さん

????コメントも到着https://t.co/7UWUZhtUHP#えんとつ町のプペル pic.twitter.com/3OEssxAzNS

— 【公式】『映画 えんとつ町のプペル』 (@poupellemovie) October 19, 2020
Synopsis:
Poupelle of Chimney Town tells the story of young Lubicchi living among the thick smoke from the chimneys of his isolated town. Lubicchi yearns to see the stars and blue sky his father always told him about, and one fateful Halloween night he meets Poupelle, made of rubbish and scraps stuck to a wayward heart. The beauty and warmth of Poupelle of Chimney Town opens hearts, evokes joy and even brings a tear.
Poster visual: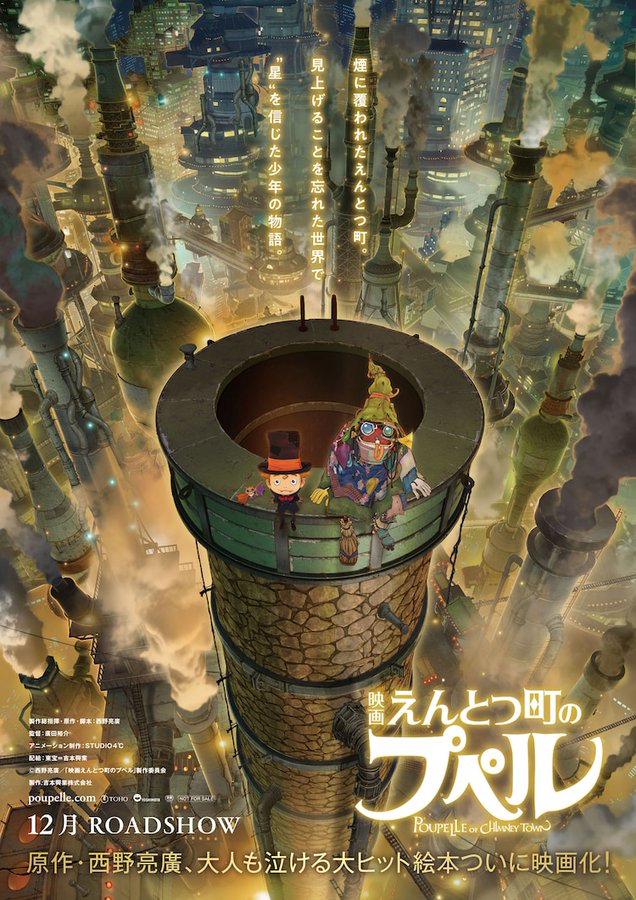 ---
Source: Anime film "Poupelle of Chimney Town" official website
© Akihiro Nishino / "Poupelle of Chimney Town" Production Committee