A re-edited version of their 2008 concert will be streamed on YouTube on November 23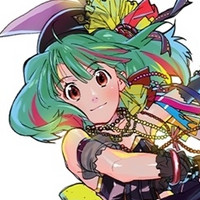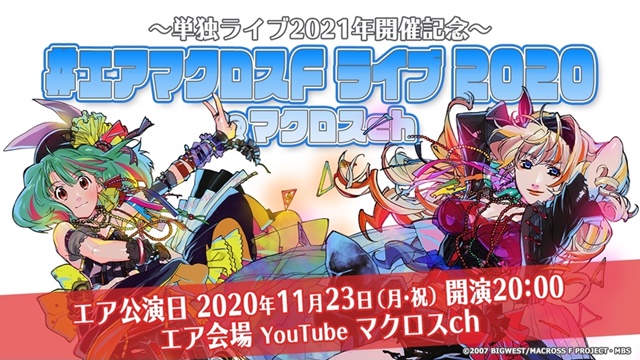 The official portal site for the Macross anime franchise announced on November 6 that its third TV anime series Macross Frontier's first solo concert in ten years is set to be held in 2021. The series' two main singers - Megumi Nakajima as Ranka Lee and May'n as Sheryl Nome - are confirmed to perform together on the stage.
The series' last solo concert "Kanno Yoko presents Macross Frontier Super Dimension Super Live 'Merry Christmas without You'" was held in Tokyo and Kobe in December 2010, and the last time the two performing together was at "SANKYO presents MACROSS CROSSOVER LIVE 2019" held at Makuhari Messe in Chiba in June 2019. Further details such as venue and tickets will be announced at a later date.
Also, to celebrate the decision to hold the event, "#Air Macross F Live 2020" will be held on November 23, Sheryl's birthday. It is a plan to stream a re-edited version of the series' "SANKYO presents Macross Frontier Galaxy Tour FINAL Konna Service Mettani Shinaindakarane" concert, which was held at Nippon Budokan in November 2008, on the Macross franchise's official YouTube channel. It will be streamed for free from 20:00 (JST) / 03:00 (PT) on November 23, and no archive streaming will be available.
【#マクロスF 最新情報】

『マクロスF』10年ぶり
単独ライブ2021年開催記念

11月23日(月・祝)
「#エアマクロスF ライブ 2020 @マクロスch」開催決定!

2008年開催「ギャラクシーツアー FINAL」映像を再編集し、お家でも楽しめるエアライブ企画!#シェリル #ランカhttps://t.co/Ai9ydSVvdZ pic.twitter.com/G0adm4pmnR

— 「マクロス」公式アカウント (@macrossD) November 6, 2020
---
Source: "Macross" franchise portal site
(C)2007 BIGWEST/MACROSS F PROJECT・MBS