The news series will be streamed on the "Gundam.INFO" portal site worldwide
SD Gundam World Heroes, the second TV anime in the "SD Gundam World" series, is set to be aired on TOKYO MX and BS 11 and streamed on the Gundam Channel on YouTube from April 2021. For the international audience, it will be also streamed on the "Gundam.INFO" portal site worldwide.
With the first anime SD Gundam World Sangoku Soketsuden, the series was launched in 2019 as a reboot project of the BB Senshi Sangokuden franchise in the mid to late 2000s. All of the main production staff members of Soketsuden, including director Takahiro Ikezoe and series composition writer Toko Machida, will continue to work on World Heroes as well.
As with its its predecessor, the characters in Soketsuden are inspired by those in the classic 14th-century Chinese literature, Romance of the Three Kingdoms, and some main characters from Soketsuden, such as Liu Bei Unicorn Gundam, will also appear in World Heroes.
Teaser PV:
Synopsis:
The balance of the worlds is maintained by heroes. Suddenly a red-hot meteor falls upon one of these worlds, called Neo World. An amnesiac youth named Wukong Impulse Gundam appears at the point where it landed. The chaos that starts with this incident spreads through the other worlds, one after another. At the same time, Zhuge Liang Freedom Gundam learns via astrology of an impending disaster. He and his sworn friend Liu Bei Unicorn Gundam take action to save the worlds from this crisis, and begin a journey along with Wukong. What will Wukong Impulse Gundam think as he meets the heroes of each world? Will this youth bring about peace or catastrophe? Now begins a new story of heroes!
Key visual: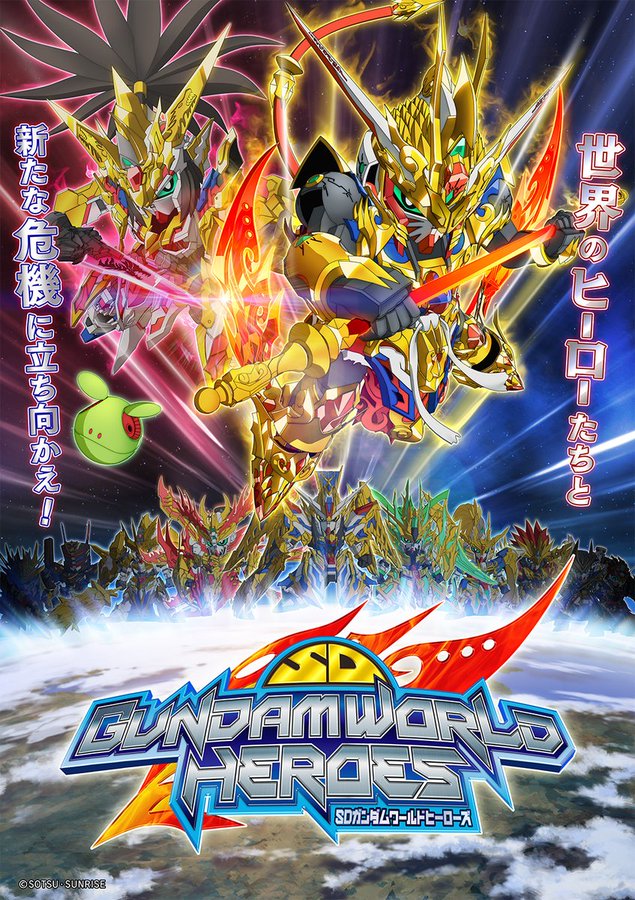 SDガンダムワールド最新作『SDガンダムワールド ヒーローズ』2021年4月、全世界にて展開スタート!!

公式サイトで特報映像やキャラクター&ガンプラ情報を大公開!今すぐアクセス!https://t.co/DJcqrzl5Tc#SDGW #SDガンダム #ガンプラ pic.twitter.com/b2cTeiFSHT

— SDガンダムワールド (@SD_GUNDAM_WORLD) November 12, 2020
---
Source: "SD Gundam World Heroes" official website / "SD Gundam World" official Twitter
©SOTSU・SUNRISE