A country life-themed PC game adaptation is also planned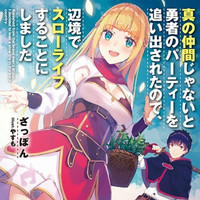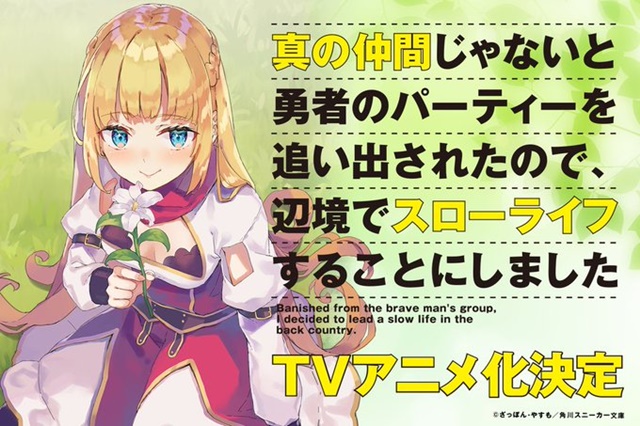 The official website for Kadokawa Sneaker Bunko announced today that a TV anime adaptation of Zappon's fantasy light novel Shin no Nakama janai to Yuusha no Party wo Oidasareta node, Henkyou de Slow Life suru Koto ni shimashita / Banished from the Hero's Party, I Decided to Live a Quiet Life in the Countryside is now in the works. A country life-themed PC game adaptation is also planned.
The novel was first posted on the Japanese user-generated novel publishing website Shousetsuka ni Narou in 2017, and its print edition featuring illustrations by Yasumo has been published from KADOKAWA's Kadokawa Sneaker Bunko imprint since June 2018. Seven volumes have been published so far, and the total number of copies printed, including its manga adaptation illustrated by Masahiro Ikeno, is over one million.
Its English edition's publisher Yen Press introduces the synopsis of its first volume as below:
A heroic and mighty adventurer dreams of...opening a pharmacy? Red was once a member of the Hero's party, a powerful group destined to save the world from the evil forces of Taraxon, the Raging Demon Lord. That is, until one of his comrades kicked him out. Hoping to live the easy life on the frontier, Red's new goal is to open an apothecary. However, keeping the secret of his former life may not be as simple as he thinks. Especially when the beautiful Rit, an adventurer from his past, shows up and asks to move in with him!
【TVアニメ化決定!】

原作・ざっぽん、イラスト・やすもによるスローライフファンタジー「真の仲間じゃないと勇者のパーティーを追い出されたので、辺境でスローライフすることにしました」のTVアニメ化が決定しました!

アニメ公式Twitterも合わせてオープン!ぜひご期待くださいね!#真の仲間 pic.twitter.com/7wyVQjpLat

— TVアニメ「真の仲間」公式 (@shinnonakama_tv) November 17, 2020
Novel's 1st and 7th volume covers:
---
Source: Kadokawa Sneaker Bunko website, TV anime offcial Twitter
©Zappon, Yasumo / Kadokawa Sneaker Bunko