The event officially begins today at 2:00pm Pacific Time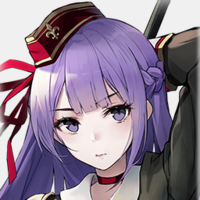 The Voracious Hunt Event has begun in Grand Alliance!
Something strange is amiss in the woods.
Bella has arrived at the Courcillon military academy as a new exchange student. Being shy and bookish, she has been struggling to fit in with her new surroundings. As part of her class, she is assigned with the other cadets to participate in an orienteering task. The goal is to navigate cross-country, through a dangerous forest in the Courcillon heartland. She is paired up with the reluctant and unfriendly Risette as they set off to complete their mission. However, they soon encounter some angry feathered wildlife and the two must find a way to work together if they are to survive.
The event lasts from November 17 to December 8 at 23:59 UTC.
Voracious Hunt includes 15 unique battles that get progressively harder (level 10-50). During the period you'll be able to fight battles and acquire Tasty Meat Resource to exchange in the Event Shop, which will feature the following content:
1 Free hero Bella
3 Random 5* Skills
10 50 Gems
Elemental Capacitors
New Heroes
2 new heroes, Risette and Lucian, have been added into the game and are now available in a boosted drop rate in the Summon Shop from November 17th – November 30th.
Risette
Faction: House Courcillon
Age: 18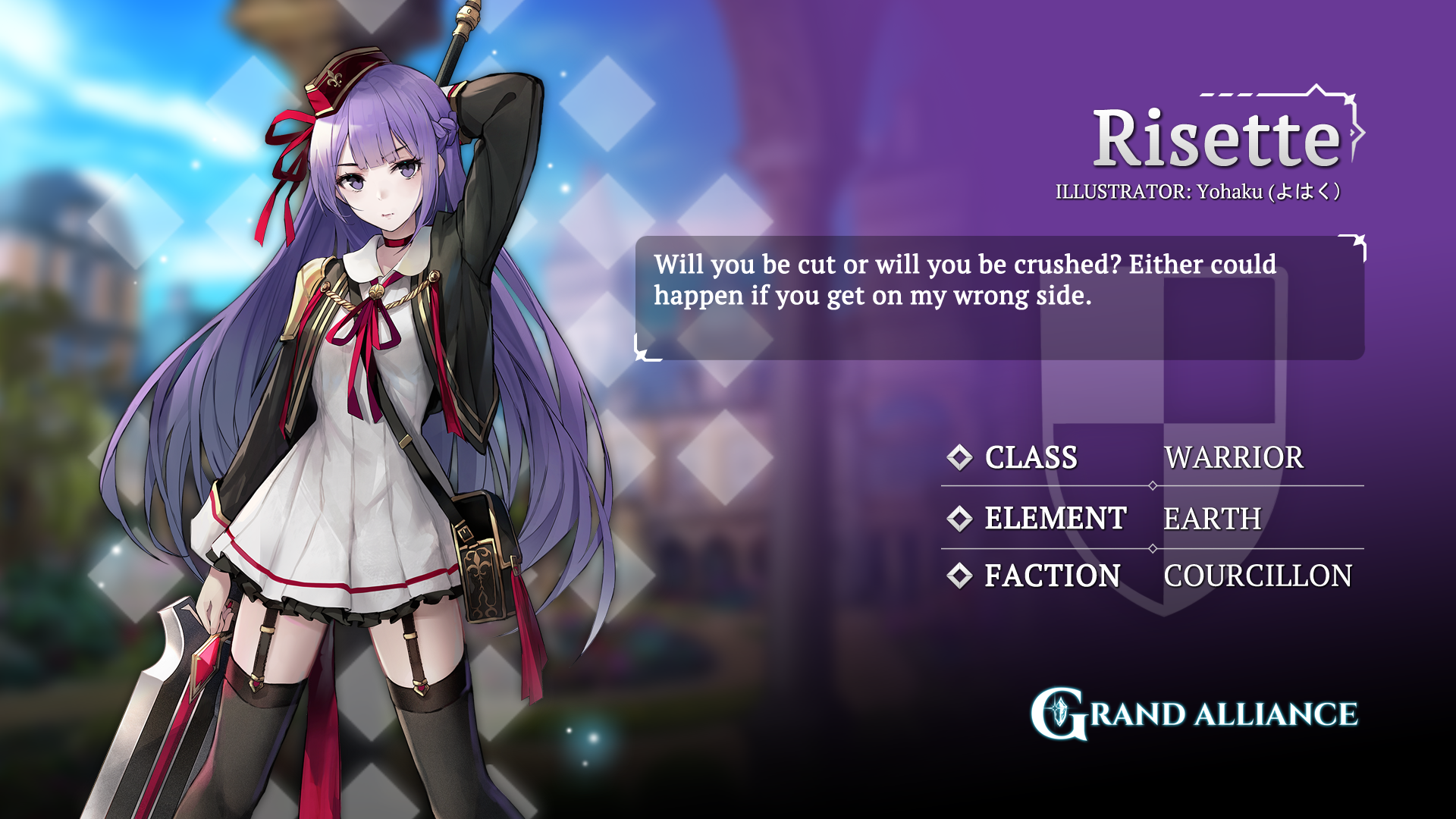 Backstory:
Risette is a student attending the Courcillon military academy. She is brash and overconfident with her skills and wields a massive sword which she inherited from her family.
Lucian
Faction: House Courcillon
Age: 33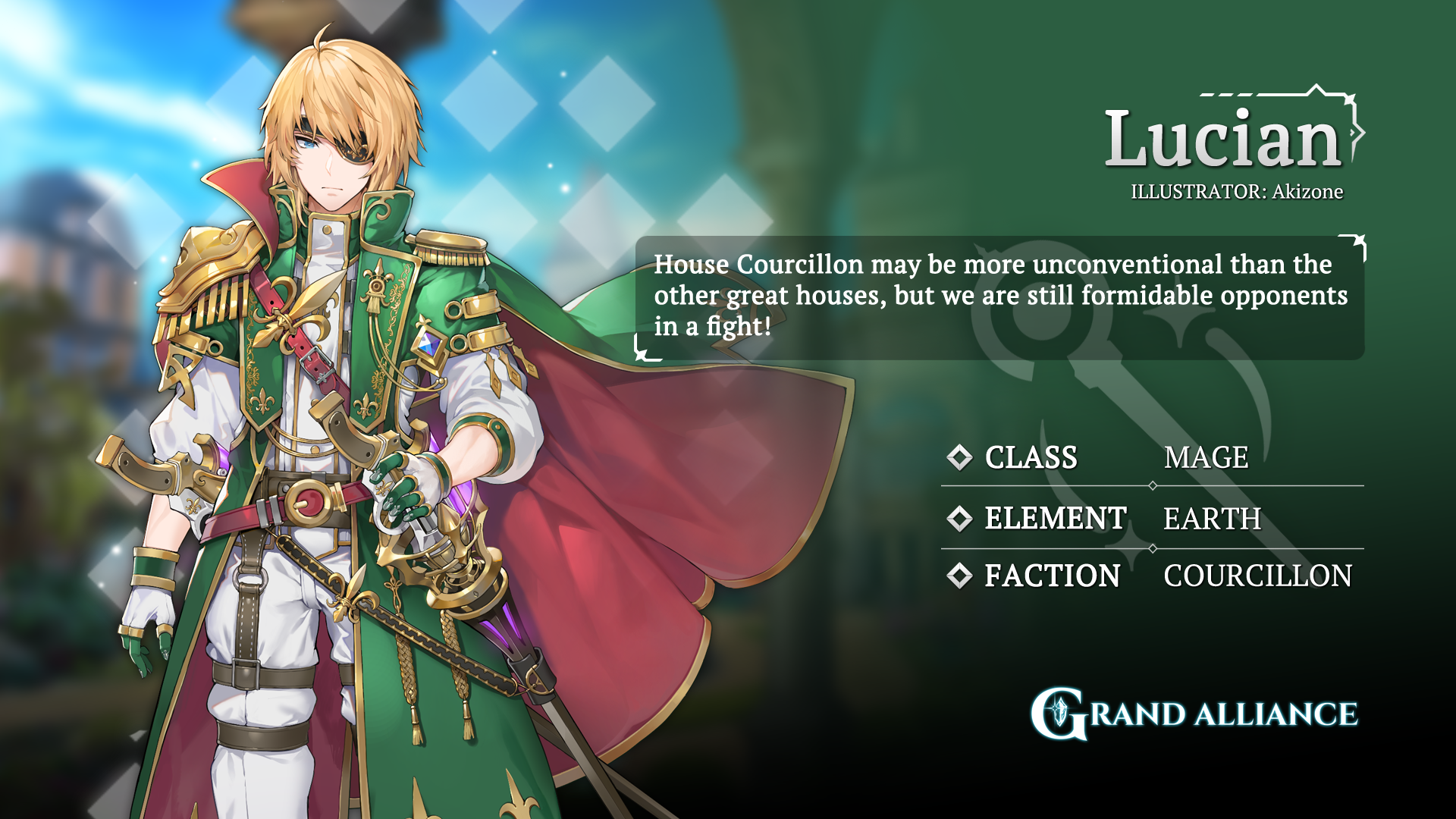 Backstory:
Lucian is a noble-born mage and is the captain of the guard for House Courcillon. He is also an instructor at the military academy and helps oversee new prospective students.
He is calm, polite, prone to being somewhat haughty and unfriendly while doing his duty.
New Features
Friend System: You can now make friends in Grand Alliance. With the new friend system, you can bring allied heroes to help you in your battles. In addition, you can also greet your friends once a day which will help send each of them 500 gold. The more active friends you have, the more gold you can get! You can have up to 25 friends per account in the game.
Combat Companion: In combat, you can now bring a guest or a friend hero in combat. This hero will join your party if you have less than 3 heroes or if one of your heroes gets incapacitated in combat. For friend heroes, you can use them once per day to assist you in combat. These heroes will retain their original level and stats but have no equippable skills on them. After clearing a battle victory, if the companion is a guest hero, you can choose to friend them if you have an open friend slot.
This particular feature unlocks after Chapter 2.
Follow Grand Alliance on social:
Grand Alliance is available worldwide outside of Asia. Download the game on iOS and Android today.