The much-awaited new crossover film hits Japanese theaters March 20, 2021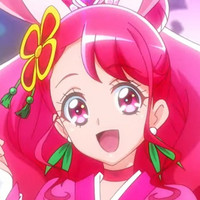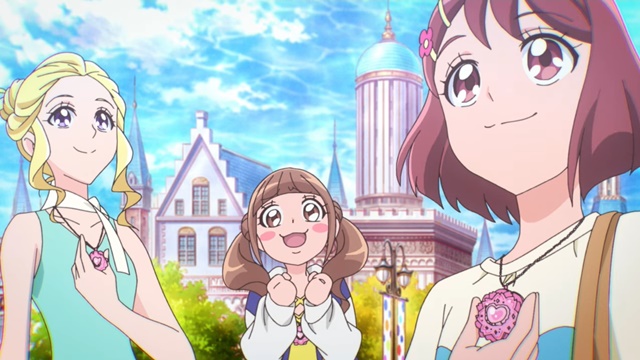 The PreCure franchise's official YouTube channel has started streaming a 60-second teaser trailer for the upcoming film Eiga Healin' Good PreCure Yume no Machi de Kyun! tto GoGo! Daihenshin!! (Healin' Good Pretty Cure The Movie: GoGo! Big Transformation! at The Town of Dreams). The trailer has been also screened in theaters across Japan now.
The 29th PreCure film will feature a joint battle between the ongoing 17th series Healin' Good Pretty Cure and the fifth series Yes! PreCure 5GoGo! in 2008-2009. The six members of the 5Gogo! team - Cure Dream, Cure Rouge, Cure Lemonade, Cure Aqua, Cure Mint, and Milky Rose - join forces with three members of the Healin' Good team. The clip also introduces an original character for the film, Kaguya, the princess of YumeR.
The teaser trailer begins with the arrival of the members of Healin' Good in the city of Tokyo. In Tokyo, the "YumeR" experience that can project the people's inner dreams with the "dream pendant" that Nodoka and her friends wear has become very popular. Nodoka meets the princess of YumeR with magical power, Kaguya, at the dream town where everyone's dreams are overflowing. Then, mysterious enemies who are after everyone's dreams appear...! Can the Healin' Good and 5GoGo! teams protect everyone's dreams?
The much-awaited new crossover film will open in Japan on March 20, 2021.
Teaser trailer:
Poster visual: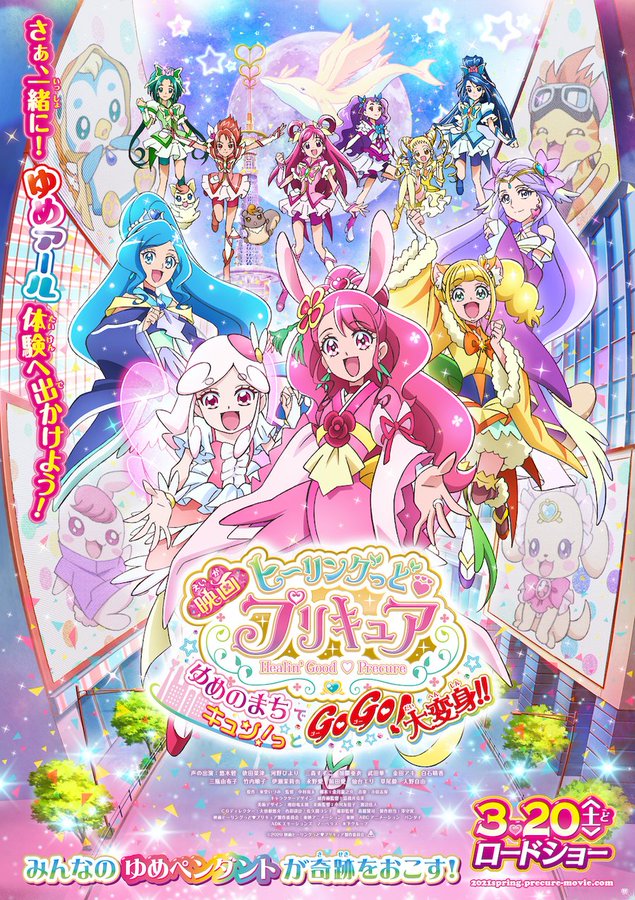 ????#映画プリキュア 最新作????
????ポスター解禁????#ヒープリ とヒーリングアニマルが合体!?
かわいい映画オリジナルフォームを大公開????????

さらにYes!プリキュア5GoGo! や
ゆめアールプリンセス・カグヤの姿も✨

????HPは????https://t.co/3HnqsmHdI4#プリキュア5#プリキュア #precure pic.twitter.com/2uqizy4VFQ

— 『映画ヒーリングっど♥プリキュア ゆめのまちでキュン!っとGoGo!大変身!!』 (@precure_movie) November 30, 2020
Voice message to thank for 1,000 rtweets:
????特報解禁記念????
????RTキャンペーン開催????

✨????1000RT達成????✨
????メッセージボイス付き特別画像
第1弾????

ヒーリングっど????プリキュア の
4人からメッセージ????
次は特報ツイート2000RT達成で
メッセージ第2弾が公開????#映画プリキュア #プリキュア#precure pic.twitter.com/3Xz2uWXubZ

— 『映画ヒーリングっど♥プリキュア ゆめのまちでキュン!っとGoGo!大変身!!』 (@precure_movie) November 30, 2020
---
Source: "Eiga Healin' Good PreCure Yume no Machi de Kyun! tto GoGo! Daihenshin!!" official website / Twitter
©2020 Healin' Good Pretty Cure The Movie production Committee