A new CM voiced by Yoshimasa Hosoya and Konomi Kohara is now streamed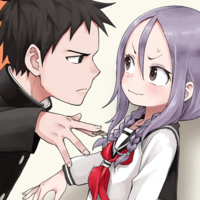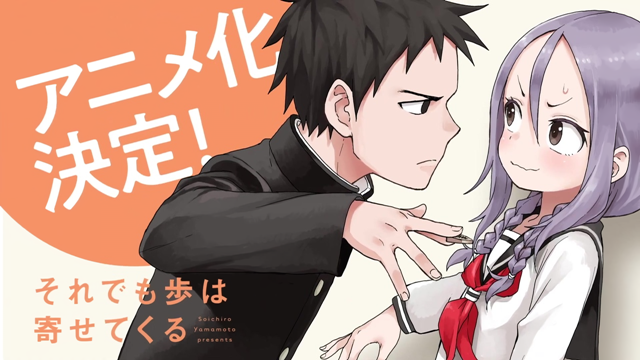 Manga author Soichiro Yamamoto, best known for his popular romantic comedy series Karakai Jozu no Takagi-san / Teasing Master Takagi-san, announced on his official Twitter today that a TV anime adaptation of his another hit series Soredemo Ayumu wa Yosetekuru (Even So, Ayumu Approaches) is now in the works.
After its prototype was posted irregularly on the author's Twitter account, the manga has been serialized in Kodansha's Weekly Shonen Magazine since March 2019 and has released five tankobon volumes. Its story centers on the two members at the Shogi club at a high school. Ayumu Tanaka, a beginner in Shogi, wants to win the game against the club's president, Urushi Yaotome, and confess his love. Although his playing ability is far from perfect, Ayumu's aggressive attitude may result the conclusion of the game in another meaning...
Message from the author:
"I'm very happy that 'Soredemo Ayumu wa Yosetekuru,' which was the first manga that I drew with a 'story' in mind in a weekly magazine, will be adapted into an anime. Not only as an author, but also as a viewer, I'm really looking forward to seeing it in action with voices. I'll be working even harder than before on the original manga, so please give me your support."
「それでも歩は寄せてくる」アニメ化決定しました!どうもありがとうございます pic.twitter.com/h5n6qNby6d

— 山本崇一朗.高木14ツバキ5将棋5 (@udon0531) January 7, 2021
The manga's editor tanaP wrote on Twitter that it is still a long time before the TV anime airs.
『それでも歩は寄せてくる』TVアニメ化決定です〜!まだ先の話ですが、まだまだ楽しみにしていてくださいませ! #それでも歩は寄せてくる #五等分の花嫁 pic.twitter.com/omC09drNNM

— たなP@週刊少年マガジン (@magazine_tanaP) January 7, 2021
Meanwhile, a new CM for the manga featuring the voices of its two main characters - Ayumu Tanaka (CV: Yoshimasa Hosoya) and Urushi Yaotome (Konomi Kohara) is now stramed on Weekly Shonen Magazine's official YouTube channel. And this clip says the TV anime will be aired in 2022.
---
Source: Soichiro Yamamoto official Twitter, tanaP Twitter, Weekly Shonen Magazine official YouTube channel
(C)Soichiro Yamamoto / KODANSHA