The second installment of the train transforming robot series will arrive on April 9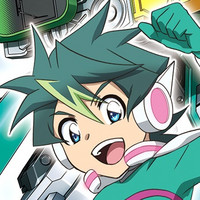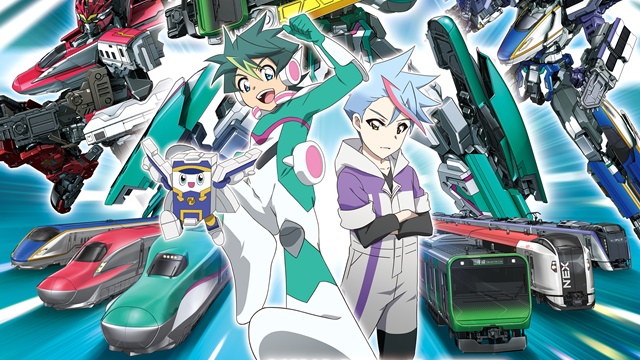 Just one month prior to its TV premiere in Japan, the official YouTube channel for the train transforming robot anime franchise Shinkalion posted a 60-second mian PV for its second TV anime series Shinkansen Henkei Robo Shinkalion Z to reveals its main robot Shinkalion Z E235 Hayabusa's transformation sequence and special move "Z Grancross."
The clip also introduces the anime's OP theme "New Challenger" performed by the nine member unit BOYS AND MEN. They previously sang the OP theme "Shinka Riron" for the first Shinkalion TV anime series that was aired for 76 episodes from January 2018 to June 2019, and the theme song "Gattan Gotton GO!" for the feature film Shinkansen Henkei Robo Shinkalion: Mirai kara Kita Shinsoku no ALFA-X (Godspeed ALFA-X that comes from the future) released in December 2019.
Shinkansen Henkei Robo Shinkalion Z is set to premiere on TV Tokyo Network's six stations in Japan on April 9, 2021.
Minami Tsuda (Yui Funami in YuruYuri) voices Shin Arata, one of the two protagonist boys, who self-proclaims "A man who challenges the mysteries of the world." Akari Kito (Nezuko Kamado in Demon Slayer: Kimetsu no Yaiba) plays another protagonist, Abuto Usui, who has a genius mind and works as a mechanic for the Yokogawa Branch of the Shinkansen Ultra Evolution Institute, despite being in elementary school. Also, Jun Fukuyama (Ren Amamiya in PERSONA5 the Animation) is cast as Sumatto, the mysterious robot who acts as Abuto's sidekick.
The first TV series and the feature film's Takahiro Ikezoe continues to join the second series as the general director, and Kentaro Yamaguchi (Beyblade series) serves as the director. As with the previous series, OLM works on 2D animation, while SMDE works on CG anime production.
【放送あと1ケ月!】
待望の新シリーズ『シンカリオンZ』放送開始まで、いよいよあと1ヶ月ということで…
本日、新規映像を含む最新PVを解禁????????✨

『シンカリオンZ』は4/9(金)よる7:25〜テレビ東京系6局ネットにて出発進行です❗️
乗り遅れにご注意ください‼️#シンカリオンZ pic.twitter.com/1t3kU024fV

— 新幹線変形ロボ シンカリオンZ(公式) (@shinkalion) March 9, 2021
【OP主題歌はボイメン】
『シンカリオンZ 』のオープニング主題歌は、テレビアニメ第1期・劇場版に引き続きBOYS AND MENに決定????
ボイメンの皆さんからコメント動画も到着しました‼️ボイメンの歌う"遊園地ソング"とは…!?お楽しみに✨#シンカリオンZ #ボイメン pic.twitter.com/0Rmi004KsU

— 新幹線変形ロボ シンカリオンZ(公式) (@shinkalion) March 9, 2021
Key visual: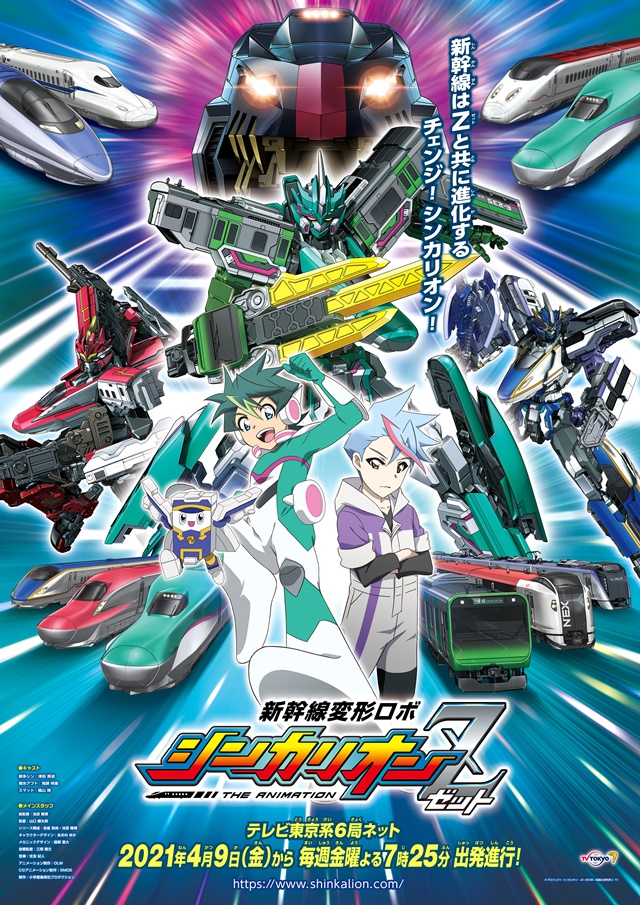 Synopsis for "Shinkalion Z":
"Shinkansen Henkei Robo Shinkalion" was developed by Shinkansen Ultra Evolution Institute to protect the peace and safety of Japan from mysterious giant monsters. The institute has been secretly developing a new robot called "Shinkalion Z" in preparation for the attack of a new enemy. The children who have become the pilots of "Shinkalion Z" due to their high rate of conformity join forces with the staff of the institute to fight the giant monsters that has reappeared! The appearance of unknown enemies, and the encounter between the two boys. The further evolution of the Shinkalion begins!

---
Source: "Shinkalion" official YouTube channel, TV Tokyo press release
© Project Shinkalion, JR-HECWK/Ultra Evolution Institute Z, TX