Raul: "It's a new type of song that we've never done before, and I really like it!"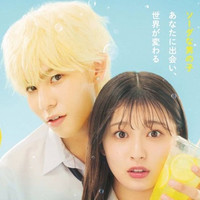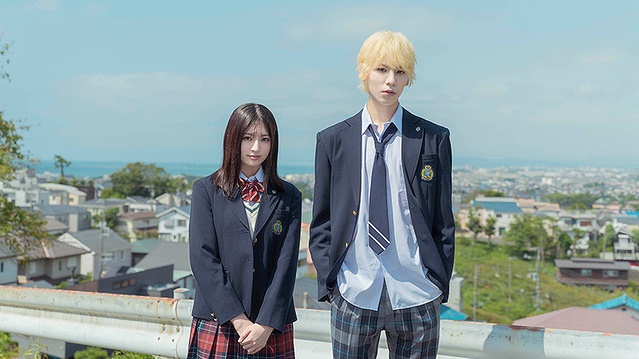 The official website for the upcoming live-action film adaptation of Mayu Murata's popular shoujo manga Honey Lemon Soda has posted a main poster visual and a 60-second full trailer.
The clip introduces the film's theme song "HELLO HELLO" performed by Johnny & Associates' boy idol group Snow Man for the first time. The group's 17-year-old member Raul is also cast as its male protagonist Kai Miura, along with 21-year-old Ai Yoshikawa as its main heroine Uka Ishimori.
Raul comments on the theme song, "When I first heard this song, I thought I could hear the fizzy sound of soda and the color of lemon. I was also happy that the lyrics matched the content of the film, and the combination of freshness and stylishness of the sound was really good. Rather than glittering, it's the image of a glint like 'Kira!' in my mind. It's a new type of song that we've never done before, and I really like it. I can't wait to sing it in front of everyone for the release of the film!"
Kouji Shintoku (Peach Girl)-directed adaptation is set to be released in Japan on July 9, 2021.
Full trailer:
Main poster visual: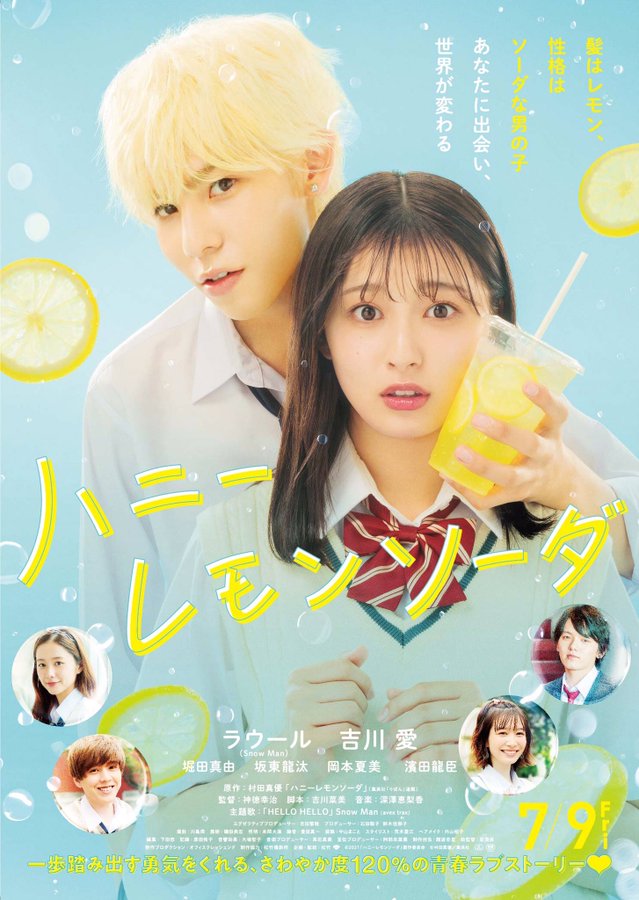 ---
The manga has been serialized in Shueisha's monthly shoujo manga magazine Ribon since December 2015 and has released 15 tankobon volumes, printing more than 5 million copies. It is the story of Uka Ishimori, a first-year high school student who was bullied and called "Ishi (Stone)" in junior high school, who gradually changes herself after meeting a boy with lemon-colored hair named Kai Miura.
It won first place in the "Readers' favorite shoujo manga" and "Manga they want to see made into live-action" rankings in the September 2020 issue of the publisher's teen fashion magazine Seventeen.
◌̥*⃝̣ం ┈┈┈┈┈┈┈┈┈

  ????映画 #ハニレモ
 ポスタービジュアル解禁????

     ┈┈┈┈┈┈┈┈┈◌̥*⃝̣ం

ついに!しゅわっときらめく????
ポスターも完成????

3月下旬より順次、劇場展開予定です????#ラウール #SnowMan#吉川愛#堀田真由#濱田龍臣#坂東龍汰#岡本夏美 pic.twitter.com/9trzSpKCPW

— 映画『ハニーレモンソーダ』公式 (@honeylemon_eiga) March 23, 2021
---
Source: "Honey Lemon Soda" live-action film official website
©2021 "Honey Lemon Soda" Production Committee ©Mayu Murata/SHUEISHA