Tokyo, Osaka, Hyogo, and Kyoto will be under the new State of Emergency rules from Sunday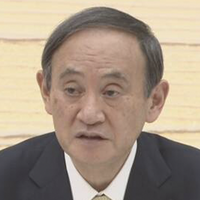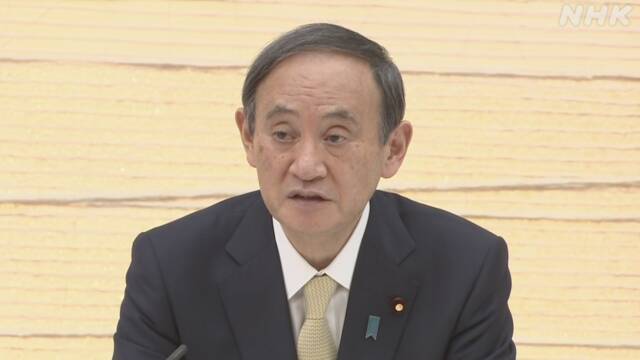 Prime Minister Yoshihide Suga (via NHK)
Japanese Prime Minister Yoshihide Suga announced tonight that four of the hardest-hit prefectures will be going under the third State of Emergency to combat the rapidly rising cases of COVID-19, including a mutant strain that seems to be more infectious. Under new laws passed earlier this year, the governors will hold more power to "order" the closure of businesses, rather than just "requesting" them to close. The State of Emergency goes into effect on Sunday and is scheduled to finish on May 11.
Osaka and the surrounding prefectures of Hyogo and Kyoto are the epicenter of this outbreak, with a mutant strain of the South African variant of COVID-19 dubbed "N501Y" causing cases to increase at an alarming rate, with a record number of cases per day for Japan's second-biggest metropolitan region.
Tokyo is also seeing a rapid increase due to this strain. Due to this, all four of the prefectures have been put under a State of Emergency. The Greater Tokyo regions of Chiba, Saitama, and Kanagawa are not under a State of Emergency at this time, but remain at the level three stage of "prevention of spread measures."
These preventative measures, which grant the governors of the affected prefectures the power to request businesses to close, but not "order" them, are currently in effect in seven prefectures; Okinawa, Ehime, Aichi, Kanagawa, Chiba, Saitama, and Miyagi. Tokyo, Osaka, Hyogo, and Kyoto are also under these measures until Sunday, April 25, when the State of Emergency comes into effect.
The situation as of April 25, 2021 (red is prefectures under the State of Emergency, orange is prefectures under the "prevention of spread measures"):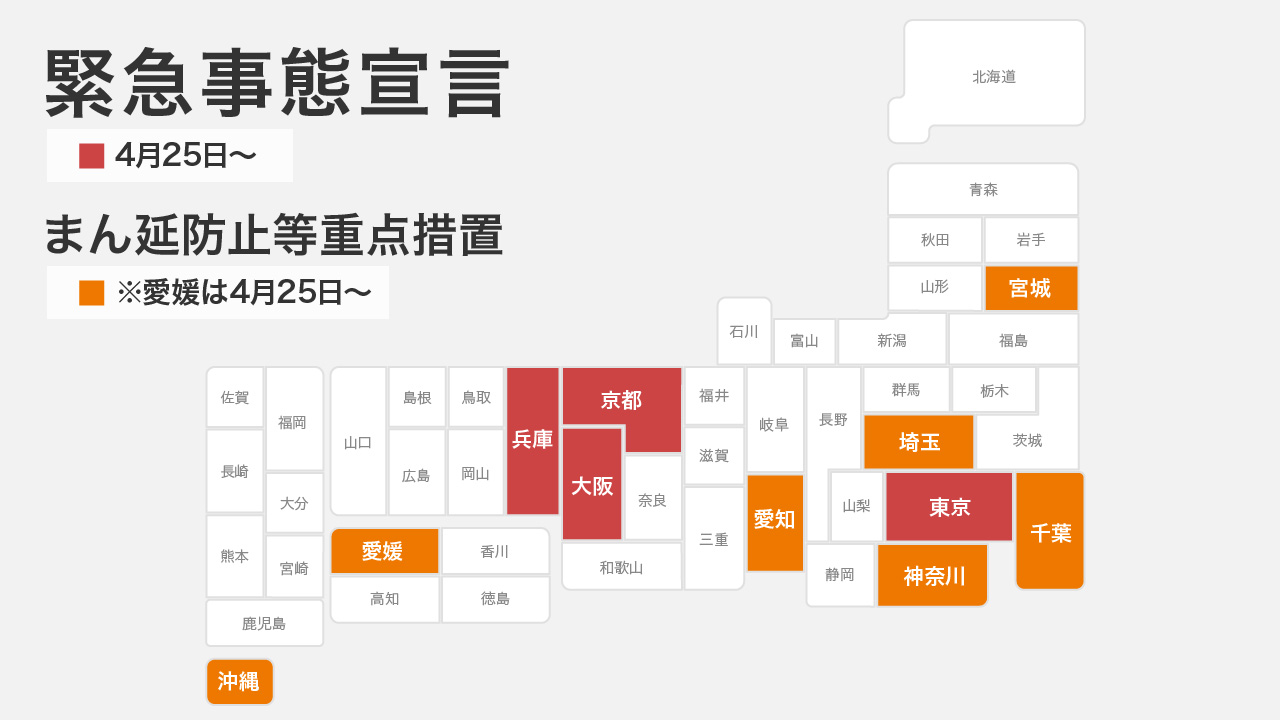 The new State of Emergency–the third since March 2020–has the governors of the four prefectures requesting that alcohol sales cease at venues throughout the prefectures, along with the closure of bars, karaoke parlors, department stores (except the grocery sections), movie theaters, and theme parks. Universal Studios Japan in Osaka has already confirmed that it will be closed until May 11, with other entertainment businesses still to confirm if they will be complying with the request.
Governors Koike and Yoshimura of Tokyo and Osaka have also asked that store signage, such as bright neon lights, be turned off. They have said that they would like only "lights that keep people safe," such as street lights, to remain in operation. The four governors have also requested that people refrain from drinking on the street and participating in other "high-risk behaviors." Any sports games that will continue to be run, such as the J-League, have been asked to played without spectators. Events of all sizes have been asked to be canceled.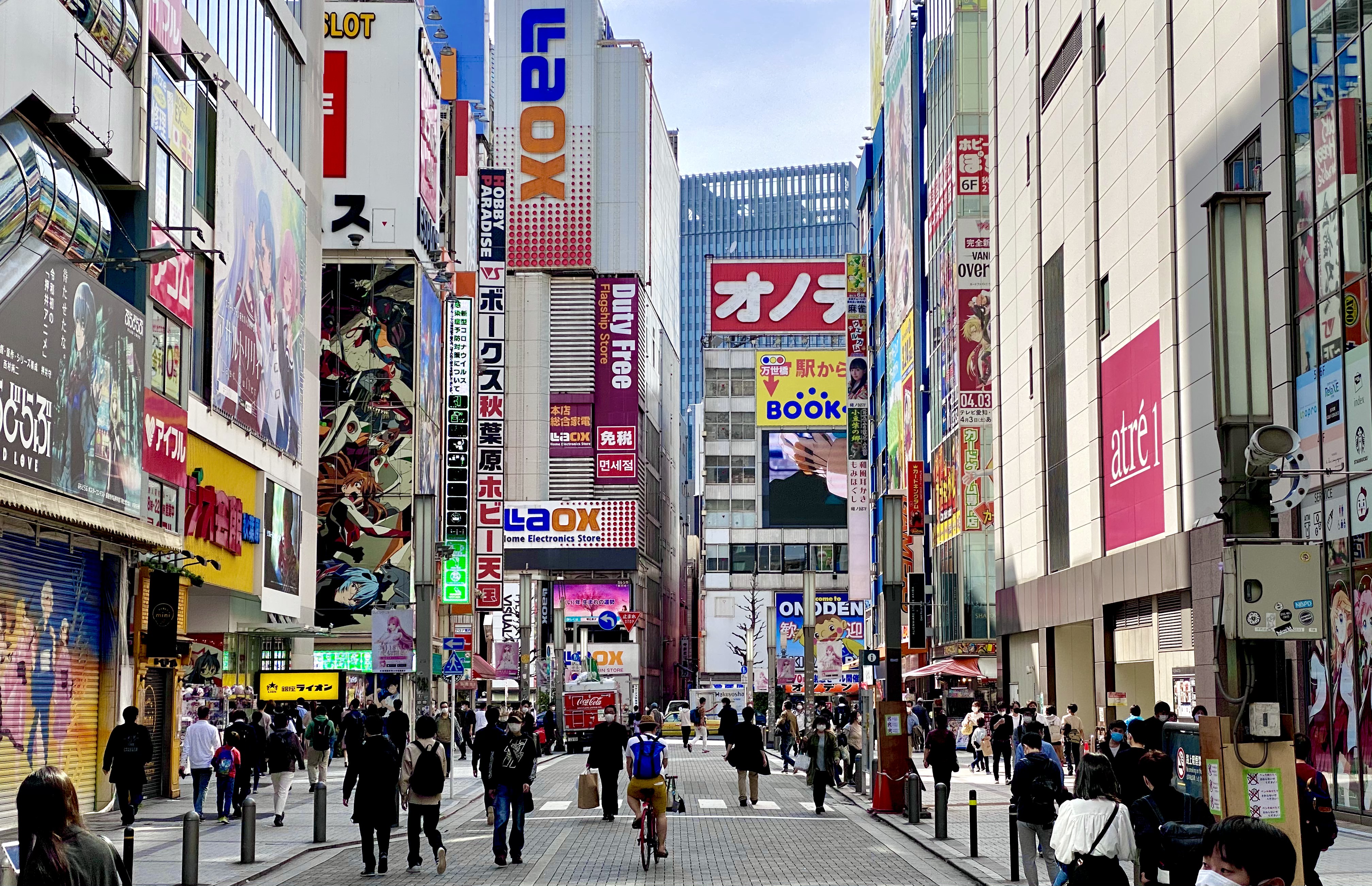 Akihabara on March 29, 2021 (photo: Daryl Harding)
While these are just "requests," if businesses or events do not comply, they will be forced to under "orders" or be hit with daily fines until they do comply. Businesses that do comply from the start will be given 20,000 yen (US$185.32) per day from the government to alleviate some of the burden; department store centers will be given 200,000 yen (US$1,853.21), while each shop will be given 20,000 yen (US$185.32).
As of 8:30 PM on April 23, Japan has recorded 5,113 new coronavirus cases, with the Keihanshin (Kyoto, Osaka, Hyogo) region recording 1,859 cases, and the Greater Tokyo region recording 1,331 cases. Japan has currently only vaccinated 1% of its population, greatly trailing other nations like the United States, though Suga reiterated that vaccinations for the elderly will be finished by July. The Tokyo 2020 Olympic games are still scheduled for July 23 to August 8, 2021.
Sources: NHK (1, 2, 3, 4, 5, 6), NHK World Japan, The Japan Times, Universal Studios Japan
If you or someone you know is living in Japan, coronavirus-based English resources are available at NHK World Japan.
----
Daryl Harding is a Japan Correspondent for Crunchyroll News. He also runs a YouTube channel about Japan stuff called TheDoctorDazza, tweets at @DoctorDazza, and posts photos of his travels on Instagram.