Special illustrations by each series' character designer have been posted on Twitter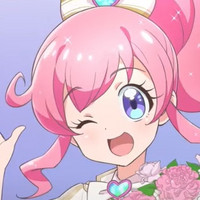 The official Japanese website for the Kiratto Pri☆Chan anime franchise has started steaming a two-minute PV for the upcoming special event "Pretty Series 10th Anniversary Pretty Festival."
As its title suggests, the all-star event is set to be held at Makuhari Messe's Makuhari Event Hall in Chiba Prefecture for two days May 22 and 23, 2021, to celebrate the 10th-anniversary of the Pretty Series. Tickets for the streaming of the event go on sale on Ticket Pia and Mixch from today
This PV introduces all idols who will join the event, including the protagonist characters of each series - Aira Harune from Pretty Rhythm: Aurora Dream (2011-2012), Mia Ageha from Pretty Rhythm: Dear My Future (2012-2013), Naru Ayase from Pretty Rhythm: Rainbow Live (2013-2014), Laala Manaka from PriPara (2014-2017), Yui Yumekawa from Idol Time Pripara (2017-2018), and Mirai Momoyama from Kiratto Pri☆Chan (2018-ongoing).
/#プリフェス の配信チケット発売✨
告知PVも公開♬
\

5/22(土)&23(日)開催????Pretty Festival????の配信チケットが本日より発売開始♪
エンドロールにあなたのアイドルネームが掲載される応援チケットも発売????
是非チェックしてくださいね❣️

くわしく▶️https://t.co/mB7SEEdqhK#プリティー10周年 pic.twitter.com/EAqln9Af1M

— アニメ「キラッとプリ☆チャン」公式アカウント (@prichan_PR) May 11, 2021
Key visual: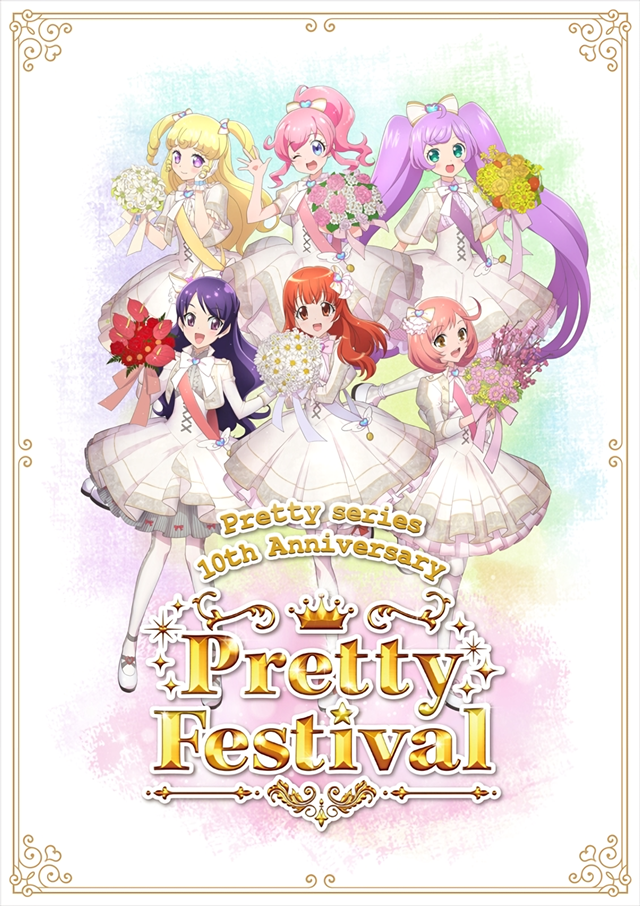 ---
Pri☆chan's official Twitter has been posting special support illustrations drawn by each series's character designer:
Hajime Mitsuda (Kiratto Pri☆chan)
/
5/22(土)・23(日)開催 #プリフェス
キャラクターデザイン #満田一 さんより応援イラストがキラッと到着✨
\

10周年イベント開催を祝してみらいのか~わいい描き下ろしイラストが到着♪
今後も順次公開予定ですのでお楽しみに♡

会場チケット2次抽選先行受付中!
☞https://t.co/F7imQXZk2g pic.twitter.com/PlEgw1uTIB

— アニメ「キラッとプリ☆チャン」公式アカウント (@prichan_PR) April 26, 2021
Yuto Nabana (Kiratto Pri☆chan sun designer):
/
5/22・23開催 #プリフェス
『プリ☆チャン』サブデザインの #那花優統 さんより応援イラストが到着????
\

10周年イベント開催を祝して、アンジュの素敵な描き下ろし応援イラストをいただきました✨
次回の公開も楽しみに…♡

会場チケット2次抽選先行は5/5迄????
☞https://t.co/F7imQXZk2g pic.twitter.com/6G2DF5zjzW

— アニメ「キラッとプリ☆チャン」公式アカウント (@prichan_PR) April 28, 2021
Shouji Hara (Pripara):
/
5/22・23開催 #プリフェス
『プリパラ』キャラクターデザインの #原将治 さんより応援イラストが到着????
\

10周年イベント開催を祝してらぁらのかしこま!な描き下ろし応援イラストをいただきました????
次回の公開も楽しみに…♡

会場チケット2次抽選先行は5/5迄????
☞https://t.co/F7imQXHJaI pic.twitter.com/o39VvUIzjR

— アニメ「キラッとプリ☆チャン」公式アカウント (@prichan_PR) April 30, 2021
Mai Matsuura (Pretty Rhythm: Rainbow Live):
/
5/22・23開催 #プリフェス
『プリティーリズム・レインボーライブ』キャラクターデザイン #松浦麻衣 さんより応援イラスト到着????
\

10周年イベント開催を祝したなる・いと・あんの可愛い描き下ろしイラスト????
次の公開も楽しみに…♡

会場チケット2次先行は5/5迄????
☞https://t.co/F7imQXZk2g pic.twitter.com/ut70vQllpv

— アニメ「キラッとプリ☆チャン」公式アカウント (@prichan_PR) May 2, 2021
Rie Saito (Pretty Rhythm: Dear My Future):
/
5/22・23開催 #プリフェス
『プリティーリズム・デュアマイフューチャー』キャラクターデザイン #齊藤里枝 さんより応援イラスト到着⭐️
\
10周年イベント開催&デュアマイフューチャーからみあ出演を祝し親友ヘインが描かれたイラストが到着✨

会場チケット2次は5/5迄!https://t.co/F7imQXHJaI pic.twitter.com/pcZ3hxiibg

— アニメ「キラッとプリ☆チャン」公式アカウント (@prichan_PR) May 4, 2021
Hisashi Kawashima (Pretty Rhythm: Aurora Dream):
/
5/22・23開催 #プリフェス
『プリティーリズム・オーロラドリーム』キャラクターデザイン #川島尚 さんより応援イラスト到着????
\

プリフェスお祝いイラストの最後はあいら&かなめの描き下ろしイラストでした♡
有難うございます♪

会場チケット2次先行は本日迄????
☞https://t.co/F7imQXHJaI pic.twitter.com/AwyLBmFg6s

— アニメ「キラッとプリ☆チャン」公式アカウント (@prichan_PR) May 5, 2021
10th anniversary project key visual: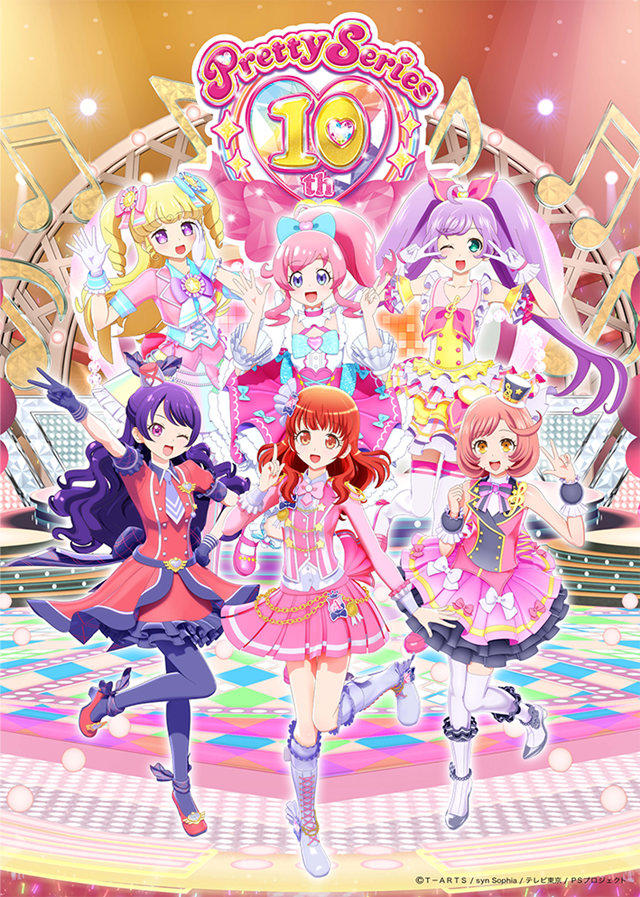 "Pretty Series" TV anime:
"Pretty Rhythm: Aurora Dream" (51 episodes / April 2011 - March 2012)
"Pretty Rhythm: Dear My Future" (51 episodes / April 2012 - March 2013)
"Pretty Rhythm: Rainbow Live" (51 episodes / April 2013 - March 2014)
"Pripara" (140 episodes / July 2014 - March 2017)
"Idol Time Pripara" (51 episodes / April 2017 - March 2018)
"Kiratto Pri☆Chan" (ongoing / April 2018 -)
---
Source: "Kiratto Pri☆chan" official website / Twitter
© T-ARTS/syn Sophia/TV Tokyo/PS Project
© T-ARTS/syn Sophia/TV Tokyo/PCH3 Production Committee