Tributes poured in for the Berserk creator from across the globe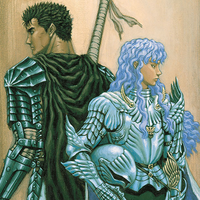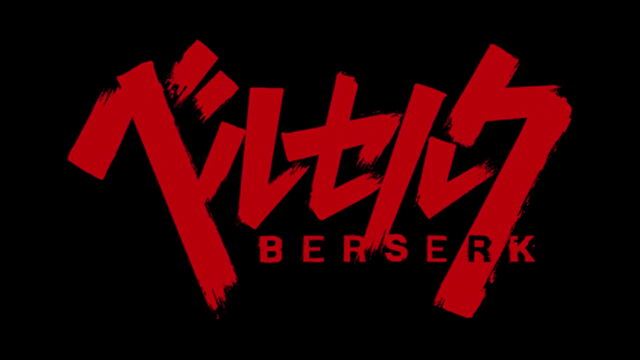 After the heartbreaking news today that Berserk creator Kentaro Miura passed away, tributes for the manga artist poured in from all across the world, with fans, industry professionals, and fellow manga creators posting their memories of Miura to Twitter.
Image Via Dark Horse Comics
George Morikawa
(Author of Hajime no Ippo, who also employed Miura as an assistant)
写真は三浦建太郎君が寄稿してくれた鷹村です。
今かなり感傷的になっています。
思い出話をさせて下さい。
僕が初めての週刊連載でスタッフが一人もいなくて困っていたら手伝いにきてくれました。
彼が18で僕が19です。
某大学の芸術学部の学生で講義明けにスケッチブックを片手に来てくれました。 pic.twitter.com/hT1JCWBTKu

— 森川ジョージ (@WANPOWANWAN) May 20, 2021

"This is an image of Takamura, which Kentaro Miura drew for me.
It's now making me feel quite sentimental.
Let me tell you a memory I have of Kentaro.

When I was creating my first weekly series, I was in trouble because I had no staff. That's when Kentaro kindly came to help me.
He was just 18 years old and I was only 19.
He was just a student from the art department of a certain university, coming to me when just a sketchbook under his arm.

I didn't know how good he was at drawing, so I showed him a drawing I had done and asked him to copy it.
I was astonished at the result.
His talent far outweighed his age.
After just a handful of sketches, I was already drawn to him.
We were still quite young, so we paused to discuss manga.

I asked him to show me his sketchbook, which I had been deeply curious about. When I peered inside, I was even more astonished. I felt goosebumps.

There was a fairy, an insignia, and a warrior with a huge sword. Those drawings later became Puck and Guts.
I was overwhelmed by the drawing done in a thick pencil.
"What is this!?" I exclaimed!
He responded "It's just something I have in my head. I'd like to draw it after I get a bit more skill."
I wondered how long he had been working on it.
Berserk was already there.
Months passed, and Hajime no Ippo started serialization.
Around the same time, Berserk had started.
I had heard some stories about the difficulties Kentaro had faced.
But I was convinced...

I was sure that a hugely popular manga had begun.
This was the series that Kentaro had judged himself to have gained enough skill to draw and had launched it with full confidence.
I was sure that the world would be as astonished as I was.
And it was.
He used every bit of his being to express his otherworldly drawing skills in every panel.
I have nothing but respect for the energy that went into every chapter.

This is the end of the story.
That was the only time I really got to know him, but I heard that he cared about me.
I am proud to have the honor of his company.

I'm sorry Kentaro-kun, I talked without permission.
Someday, I'll be there to read the final chapter.

I'm sorry for any typos and errors."
Chica Umino
(Author of March Comes in Like a Lion, Honey and Clover)
この2週間ずっと現実感が無く
ずっと机に向かっていたのですが
色んな時間が
次々に思い出され
ずっとお絵描きしながら
一緒におしゃべりをしていたような気持ちです

— 羽海野チカ????11/30ダイアリー発売 (@CHICAUMINO) May 20, 2021
"These last two weeks have not felt real.
I have just been facing my desk, thinking of all the memories.
It feels like we're talking together when I am drawing.
Yoshino Nanjo
(Sonia voice actor in Berserk 2016)
訃報を知り驚きました。三浦健太郎先生の作品は、ベルセルクにてソーニャ役、そしてEDもやなぎなぎさんと共に担当させていただきました。素敵な作品に関わることが出来て本当に幸せでした。ありがとうございました。
ご冥福をお祈り申し上げます。

— ????????南條愛乃????- - - - - - -???? (@nanjolno) May 20, 2021
"I was surprised to hear of his passing. I played the role of Sonia in Berserk that was written by Kentaro Miura-sensei, and I also sang the ending theme with Nagi Yanagi.

I was really blessed to be able to be involved in his wonderful creation in some way. Thank you so very much.

May you rest in peace."
Susumu Hirasawa
(Composer of the Berserk anime soundtracks)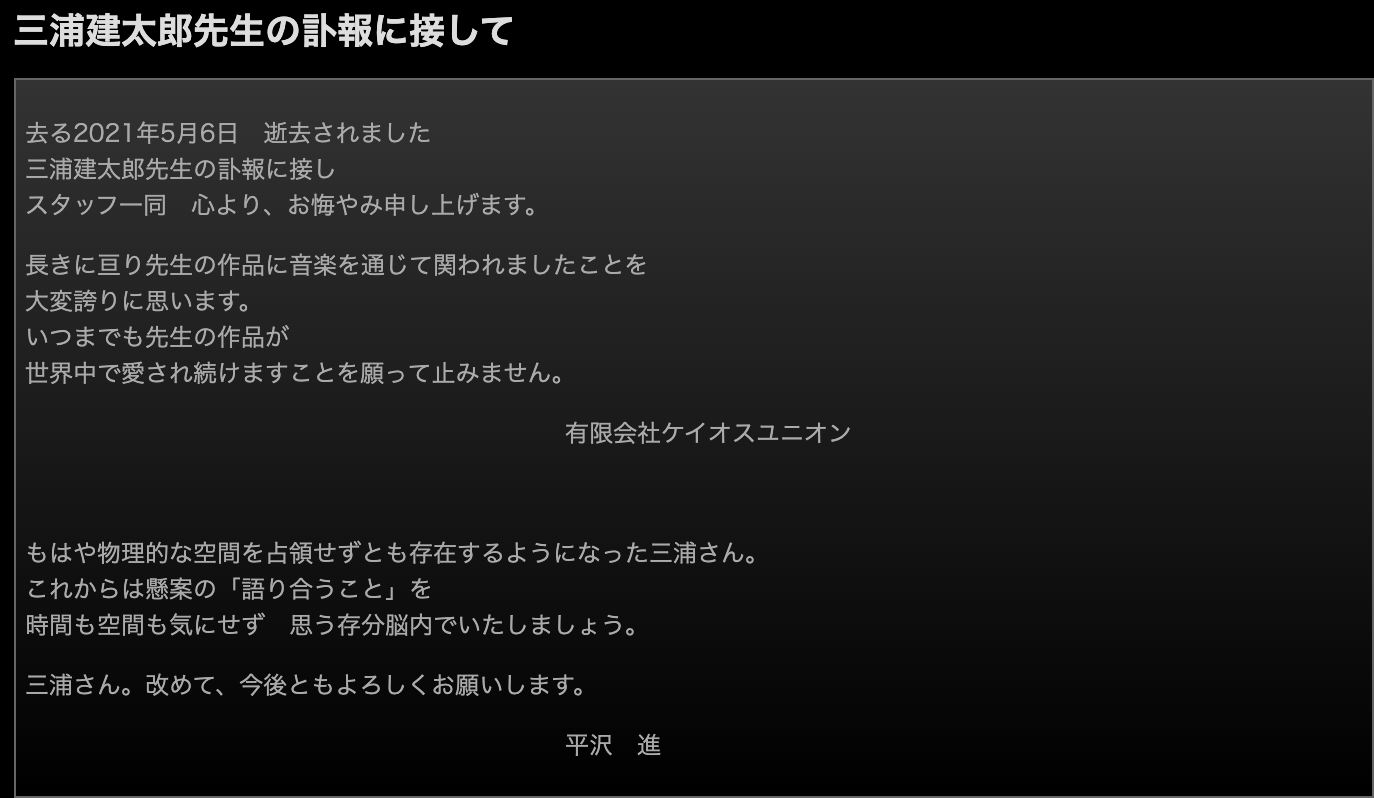 Statement via Susumu Hirasawa's website
"Mr. Miura is no longer a being that exists in this physical place. While we won't be able to talk going forward, your spirit will be with me through time and space in my memories and my heart.

Mr. Miura. As always, I'm in your debt."
Hiro Mashima
(Author of Fairy Tail, EDENS Zero)
ベルセルクは現在進行形の青春時代。この歳になっても単行本の発売日にワクワクしながら買いに行く。悲しくて放心状態。三浦先生のご冥福をお祈りします。

— 真島ヒロ (@hiro_mashima) May 20, 2021
"Berserk kept me youthful. Even at this age, I still excitedly go to buy every volume when it releases. I'm beyond stricken with grief. May Miura-sensei rest in peace."
Makoto Yukimura
(Author of Vinland Saga)
I just learned about Kentaro Miura's death. At the same time, my fans are tweeting about my health. Thank you very much. I will take care of my health and will surely complete the Vinland Saga series. I'm very shocked. I can't put it into words.

— 幸村誠 (@makotoyukimura) May 20, 2021
Atsushi Ohkubo
(Author of Fire Force and Soul Eater)
広い世代から愛され、僕の仲間達のバイブルだったベルセルク。ついこの前も全巻いっき読みしてたばかりだったのに。。。学生の時、三浦先生がイベントで渋谷に来るってんで、友達と急いで行ったのもつい最近のよう。はやすぎます先生!

— 大久保篤 (@Atsushi_Ohkubo) May 20, 2021
"Berserk is cherished by people of all generations, and to my friends and I, it was gospel. Even just a few days ago, I binged-read through all the volumes…

When I was a student, I heard that Miura-sensei was going to be in Shibuya for an event, so all my friends and I hurried to see him. It's too soon sensei!"
Rei Hiroe
(Author of Black Lagoon)
寝て起きたら三浦建太郎先生がご逝去なされてた。ああ…ベルセルク未完になってしまった…骨太のファンタジーで偉大な漫画だった。昔から継続して買ってる数少ない漫画なので動揺する。お疲れ様でした、どうか安らかに。R.I.P

— 広江礼威 (@hiroerei) May 20, 2021
追悼。ちょっと描画真似してみたけど三浦先生はほんとに線が繊細だなあ。キャスカにはね…幸せになってほしかったんですよ… pic.twitter.com/LkCIu9WwfR

— 広江礼威 (@hiroerei) May 20, 2021
"I went to bed and woke up to find that Kentaro Miura-sensei had passed away. Oh...Berserk will remain unfinished...it was such a great manga that was rich with gritty fantasy. I'm quite shaken because it's one of the few manga I've been buying for a long time continuously. Thank you for your hard work, and please rest in peace. R.I.P.

I'm mourning so I tried to imitate his drawing a bit, but Miura-sensei's lines are truly very refined. I just want Casca to be happy…"
Ken Akamatsu
(Author of Love Hina, UQ HOLDER)
三浦建太郎先生のご冥福をお祈りいたします。https://t.co/LM2z1Vk4GD
三浦先生は「ネギま」の綾瀬夕映がお好きで、夕映がエロピンチになると興奮のあまりFAXを送って下さったり、ネギまの瀬流彦(せるひこ)先生に許諾を頂いたり、大変嬉しく思っておりました。
大ショックです・・・ pic.twitter.com/UBBxrfRUCx

— 赤松 健 (@KenAkamatsu) May 20, 2021
"May Kentaro Miura-sensei rest in peace.

Miura-sensei was very fond of Yue Ayase from Negima. Whenever Yue got in an erotic pinch, he would send me a fax in excitement and was always happy to receive permission from Seruhiko-sensei, a teacher in Negima.

I'm just so shocked...!"
Yasuhisa Hara
(Author of Kingdom)
三浦先生のご冥福を心からお祈り致します。

— 原泰久 (@HaraYassa) May 20, 2021
"May Miura-sensei rest in peace."
Yuji Kaku
(Author of Hell's Paradise: Jigokuraku)
言葉が出てこないし書くのも葛藤があるし…そもそもまだ実感がありません
対談の記事は勉強のため何度も読み返しています
今は、話に夢中で飲み忘れたアイスコーヒーや、一緒に歌った海援隊のワンフレーズ、そんな事ばかりが思い出されます
ご冥福をお祈りします。三浦先生、ありがとうございました pic.twitter.com/CrRkelVWxd

— 賀来ゆうじ (@ug_kaku) May 20, 2021
"I'm speechless and having a hard time putting my thoughts into words ... I don't really feel it yet.

I've kept returning to previous interviews to learn more from them.

But right now, all I can remember is the iced coffee I forgot to drink because we were so engrossed in our conversation, and that one verse we sang together from Kaientai.

May you rest in peace. Thank you for everything Miura-sensei."
Mizuho Kusanagi
(Author of Yona of the Dawn)
ガッツ達の行く道の先に思いを馳せています

三浦先生には、お忙しいところコラボ企画でヨナ単行本の帯や、めちゃくちゃ格好良いヨナ絵を描いて下さいました
暁のヨナに力を貸して下さった恩人です
本当にありがとうございました

せつない気持ちでいっぱいですが
ご冥福をお祈りいたします

— 草凪みずほ (@KusanagiMizuho) May 20, 2021
"I can't help but wonder how Guts and his friend will continue on...

I'd like to thank Miura-sensei for taking time out of his busy schedule to draw the obi for the Yona book as well as a really great picture!
I am deeply grateful to him for his help with Yona of the Dawn.
From the bottom of my heart, thank you very much!

I am filled with sadness and grief, I hope you rest in peace."
Yoshinori Ono
(former Street Fighter producer at Capcom)
Mr. Kentaro Miura passed away.
He passed away at the young age of 54.
I can't watch the last volume of Berserk.
I'm very sad and feel a sense of emptiness.
I pray that he may rest in peace. https://t.co/VJpO8GVIU0

— Yoshinori Ono (@Yoshi_OnoChin) May 20, 2021
Koei Tecmo
We are greatly saddened after receiving the news of Kentaro Miura's passing (creator of iconic dark fantasy Berserk). Our deepest condolences & heartfelt prayers for this tragic loss. The world has lost an irreplaceable innovator & key figure in the manga world.#RIPKentaroMiura pic.twitter.com/VHQivpFeHs

— KOEI TECMO AMERICA (@KoeiTecmoUS) May 20, 2021
Dark Horse Comics
Kentaro Miura passed away on May 6, 2021 from acute aortic dissection. He was 54. Miura-sensei was a master artist and storyteller and we had the great privilege of publishing several of his finest works, including his masterpiece, Berserk. 1/

— Dark Horse Comics (@DarkHorseComics) May 20, 2021
Meiji
(Japanese illustrator, known for Fate/Grand Order)
ベルセルクは私の人生に多大な影響を与えてくれた作品でした。言葉にならない気持ちでいっぱいです… pic.twitter.com/GWZ9bXgWis

— メイジ????5/26単行本1巻発売 (@MEIJI_PKMN) May 20, 2021
Dave Rapoza
(American illustrator, known for Marvel covers)
May 20, 2021
Adam Deats
(Assistant director on Netflix's Castlevania)
Kentaro Miura has passed away.

I cannot express how important Berserk has been to us as a source of inspiration for Castlevania. A quarter of our team drew from it for inspiration. It defined what dark fantasy was for us.

I'm crushed. RIP, Miura. https://t.co/3VyofOEX8O

— Adam Deats (@AdamDeats) May 20, 2021
Footage of a breathtaking memorial inside Final Fantasy XIV
Balmung's dark knight memorial to Berserk author Kentaro Miura. I love this community. pic.twitter.com/QYveSkQ9Go

— Oz! @ 5.5 (@localhyurzen) May 20, 2021
This is barely stretching the surface of tributes to Miura-sensei today, with people from every country, every language, and every way of life showing their love to a creator who was truly one in a generation and someone who changed the face of dark fantasy, not only in manga but in literature globally, inspiring thousands.
Miura-sensei, may you rest in peace. Your legacy will live on in those you have inspired.
----
Daryl Harding is a Japan Correspondent for Crunchyroll News. He also runs a YouTube channel about Japan stuff called TheDoctorDazza, tweets at @DoctorDazza, and posts photos of his travels on Instagram.