Musical actresses will show off their performance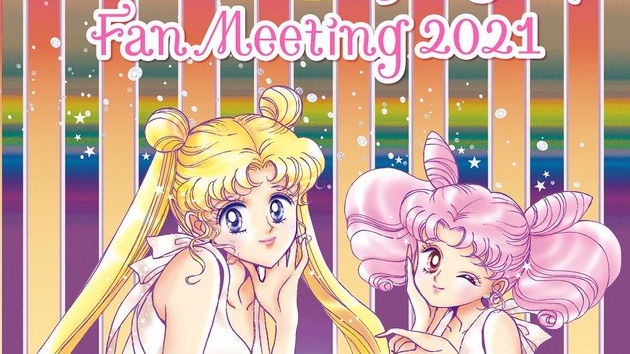 The official website for the Sailor Moon franchise has announced that "USAGI BIRTHDAY Memorial Pretty Guardian Sailor Moon Fan Meeting 2021" is set to be held online at 19:00 (JST) / 03:00 (PST) on June 26, 2021. The special event to celebrate the birthdays of Usagi Tsukino and Chibiusa can be viewed also from overseas. And a newly-drawn key visual for the event by the Sailor Moon original manga author Naoko Takeuchi is revealed.
There will be a talk section "Oshioki Chibi Radio" by Misato Fukuen (Eternal Sailor Chibi-Moon / Chibi-Usa in Pretty Guardian Sailor Moon Eternal The Movie) and Yukiyo Fujii (Eternal Sailor Saturn / Hotaru Tomoe), and a singing section by Akiko Kosaka, ANZA (Eternal The movie ED theme), and Yoko Ishida.
And, Riko Tanaka (Sailor Moon / Usagi Tsukino), Kanon Maekawa (Sailor Mercury / Ami Mizuno), Rei Kobayashi (Sailor Mars / Rei Hino), Kisara Matsumura (Sailor Jupiter / Makoto Kino), and Masuzu Aino (Sailor Venus / Mikoto Aino) from the forthcoming musical show "Kaguyahime no Koibito," which is scheduled to be performed in September 2021, will show off their performance. Also, a mini fashion show "Pretty Guardian Sailor Moon Wedding Dress Collection" is planned.
Tickets have been available on the digital ticket sales platform ZAIKO since June 2. The ticket price for general viewers is 2,000 yen (about 18.24 USD), and members of the official fan club "Pretty Guardians" can watch the event only with a system fee of 500 yen. If you join the club before 23:59 on June 18, the fan club price will be applied.
【更新】6/26(土)オンラインにてUSAGI BIRTHDAY記念「美少女戦士セーラームーン」ファンミーティング2021の開催が決定♪

チケットは本日より受付開始!
FC会員は無料(要手数料別途500円)
一般視聴チケットは2,000円。
海外からも視聴可能????
※FCは現在会員募集中ですhttps://t.co/ZeCA7PNoXC pic.twitter.com/XfwCIP6tmE

— セーラームーン25th公式 (@sailormoon_25th) June 2, 2021
---
Source: "Pretty Guardian Sailor Moon" official website / Twitter
©Naoko Takeuchi