If more than 300 sets are ordered, the release will be finalized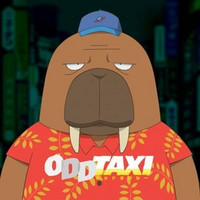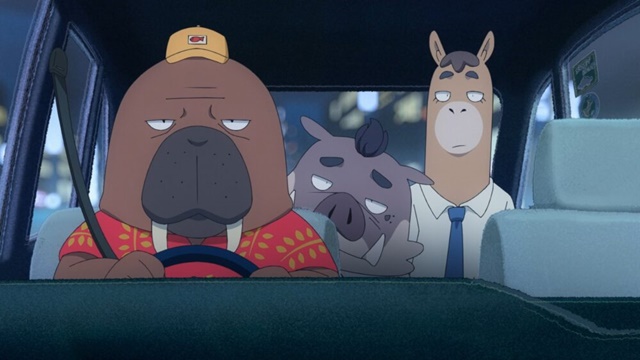 A special project has been launched for the release of the Blu-ray box of the TV anime ODDTAXI, named "Project ODD TAXI." Initially, there was no plan to release a Blu-ray box in light of the recent slump in sales of anime DVDs and Blu-rays, but after receiving requests from many people, the project has gotten the green light.
In this project, if a certain number of orders (300 sets) are received, the release of the Blu-ray BOX set will be finalized (If the order doesn't reach 300 sets, the release will be canceled). And the more orders are received, the more bonus items will be added. The price for the set is 27,500 yen (249 USD), and the orders will be received from June 29 to September 30, 2021. Shipping is scheduled to begin in March 2022.
Bonus Item Lineup:
For reaching 300 sets:
A box that can hold all four volumes of the "ODDTAXI" visual comic.
For Reaching 400 sets:
A newly drawn staff art book by the main staff members, including director Baku Kinoshita and character designer Hiromi Nakayama.
For reaching 500 sets:
"ODDTAXI Original Soundtrack Outtake CD" that contains about 15 songs that are not included in the soundtrack album.
For reaching 1,000 sets:
An original picture drama newly written by screenplay writer Kazuya Konomoto.
For reaching 1,500 sets:
A character song CD that contains two character songs, and "Mystery Kiss" sung by Suzuko Mimori, Moeka Koizumi, and Manatsu Murakami.
For reaching 2,000 sets:
For reaching 3,000 sets:
Otogawa figure that reproduces the cute form of Otogawa.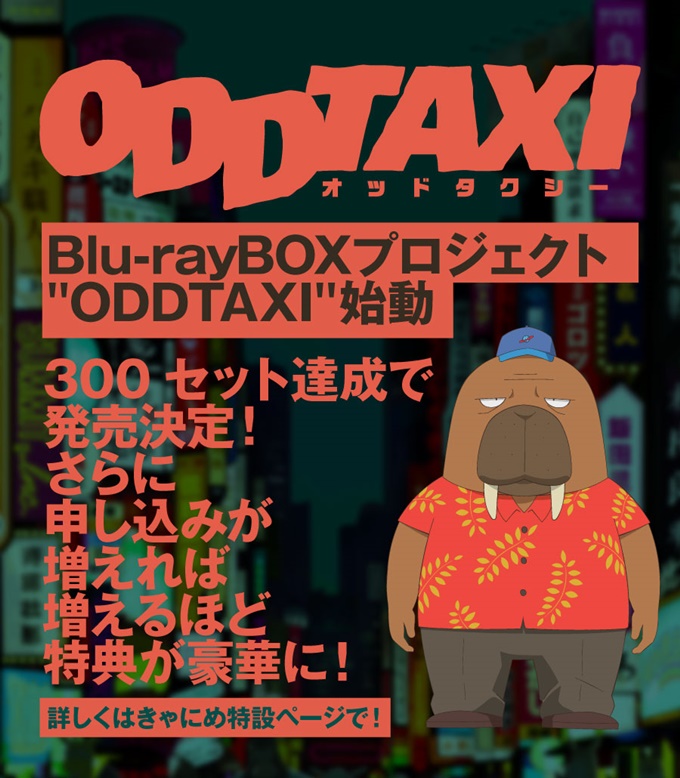 /
Blu-ray Box プロジェクト
"ODDTAXI"始動????????
\
BDBOX発売に向けた企画が始動します!
300セット以上申込みが集まると発売決定&申込み数に応じて仕様が豪華に。
ぜひ応援よろしくお願いいたします!!

☟詳細https://t.co/I6SMcHZOor#オッドタクシー pic.twitter.com/33MltSw3Dk

— アニメ「オッドタクシー」OFFICIAL (@oddtaxi_) June 28, 2021
---
The P.I.C.S and OLM's co-production original anime ODDTAXI was aired for 13 episodes from April to June 2021. All episodes are avaialble on Crunchyroll to its members in North America, Central America, South America, Europe, Africa, Oceania, the Middle East, and CIS.
Synopsis:
This town should look familiar, but suddenly, it's not. The taxi driver Odokawa lives a very mundane life. He has no family, doesn't really hang out with others, and he's an oddball who is narrow-minded and doesn't talk much. The only people he can call his friends are his doctor, Gouriki and his classmate from high school, Kakibana. All of his patrons seem to be slightly odd themselves. The college student who wants to be noticed online, Kabasawa. A nurse with secrets, Shirakawa. A comedy duo, the Homosapiens... All these mundane conversations somehow lead to a girl who's gone missing.
---
Source: Pony Canyon press release
© P.I.C.S./ODDTAXI partners