JAM Project's latest anime opening is now available to listen to on YouTube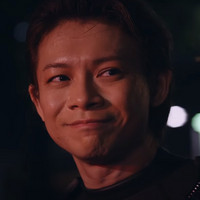 It's not easy being a hero, even if you've got the coolest mecha in town and a hot-blooded theme song backing you up. Anison supergroup JAM Project acknowledges that in the music video for their latest song, "Bloodlines ~Unmei no Ketto~" — the OP theme for this summer's Getter Robo Arc.
The theme, penned by group center Hironobu Kageyama, is set to a short film about two exhausted superheroes called on once more to defend the world. The pair are played by anison big hitters in their own rights: Shuhei Kita (themes for Battle Spirits Burning Soul and Natsume Yujin-cho) and Nami Tamaki (themes for Mobile Suit Gundam Seed and D.Gray-man). Both are coping with the constant call to battle in their own way, but the latest threat is too big to ignore.
Check out the MV, including JAM Project's powerful performance, Kita and Tamaki in cool super-suits, and an enormous on-fire skeleton monster:
JAM Project ("JAM" standing for "Japanese Animationsong Makers") was formed in 2000 by anison legend Ichiro Mizuki, and is currently comprised of Kageyama, Masaaki Endoh, Yoshiki Fukuyama, Hiroshi Kitadani, and Masami Okui, with other members coming and going over the years. While JAM Project has provided themes for many different anime, they tend toward giant robot anime, and are a mainstay of the Super Robot Wars video game series.
Getter Robo Arc, which adapts the final storyline of the late Ken Ishikawa's classic mecha manga, is currently streaming on HIDIVE.
Source: JAM Project Official Channel