Bonne nouvelle !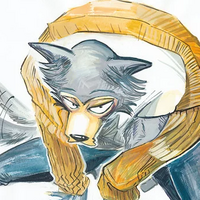 Alors que la saison 2 de l'anime Beastars est disponible en Occident depuis le 15 juillet via Netflix, le studio Orange nous dévoile une bonne nouvelle. On apprend que l'anime Beastars va avoir droit à un nouvel arc narratif. Le studio d'animation a tweeté à ce sujet, dévoilant par la même occasion une illustation de Paru Itagaki.
<Project Announcement>
BEASTARS Animated Series,
New Arc is confirmed!

Thanks to everyone who supports our show. Orange will continue to animate the show! Artwork provided to us by @itaparu99 ❤️https://t.co/8GlJ6nzWVO pic.twitter.com/z8GLhfJmtt

— Orange: Anime Studio (@CG_Orange_eng) July 20, 2021
La mangaka a par ailleurs remercié le studio Orange en postant un dessin de Beastars sur son compte Twitter :
BEASTARS(ビースターズ)アニメ
新章制作、感謝です!!
???????????????????????????? pic.twitter.com/75LbUe14UD

— 板垣巴留/Paru Itagaki (@itaparu99) July 20, 2021
En France, le manga Beastars de Paru Itagaki paraît chez les éditions Ki-oon.
Synopsis (éditeur) : À l'institut Cherryton, herbivores et carnivores vivent dans une harmonie orchestrée en détail. La consommation de viande est strictement interdite, et les dortoirs sont séparés en fonction des régimes alimentaires. Tout pourrait aller pour le mieux dans le meilleur des mondes… mais la culture ne peut étouffer tous les instincts. Quand le cadavre de l'alpaga Tem est retrouvé déchiqueté sur le campus, les méfiances ancestrales refont surface !
Legosi est la cible de toutes les suspicions. Parce qu'il était proche de Tem, parce qu'il est une des dernières personnes à avoir été vues en sa compagnie, et surtout… parce que c'est un loup. Pourtant, sensible et timide, il fait son possible pour réprimer ses instincts. Hélas, ses efforts sont vains face au vent de discrimination qui souffle sur le pensionnat…
Le seul qui pourra apaiser ce climat de terreur est le Beastar, le leader de l'école. Pour l'heure, les candidats se préparent, les élections approchent... Le favori n'est autre que le cerf Louis, étoile incontestée du club de théâtre auquel appartient Legosi. Bien décidé à remettre les carnivores à leur place, il fait mine de ne pas craindre les crocs acérés du loup gris. Mais peut-être serait-il mieux avisé de ne pas le sous-estimer !
Source : ANN