The ASMR-themed short anime will premiere in October 2021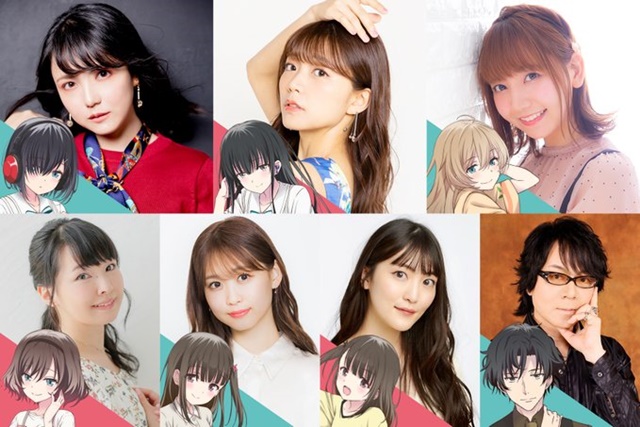 The official website for the forthcoming TV anime 180-Byou de Kimi no Mimi o Shiawase ni Dekiruka? (Can I Make Your Ears Happy in 180 Seconds?) announced its seven main voice members on August 23. The ASMR (Autonomous Sensory Meridian Response)-themed five-minute original short anime is set to premiere in Japan in October 2021.
Synopsis:
The protagonist is "you." When your childhood friend girl Gekkou-chan hears that you are into ASMR, she buys a "dummy head microphone" and starts researching ASMR. Then there are Akimizu-chan, who wants to be friends with Gekkou, Gekkou's older sister and mom, and your twin younger sisters. The seven characters around you are drawn to the appeal of ASMR. Three minutes = 180 seconds in which you can experience realistic sounds, including ear scratching, breathing, voices, touching squeezes, ice, water, typing, and other household sounds.
Key visual: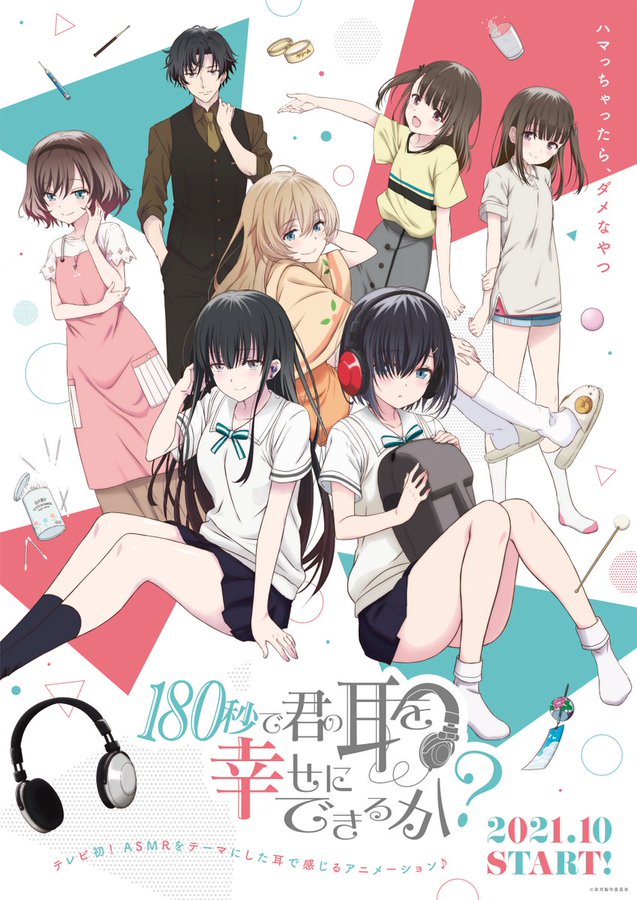 ---
Main voice cast:
Akari Sawake / Gekkou-chan: Shiori Mikami (Akari Akaza in Yuruyuri):
- A high school girl who is a childhood friend of "you".
"Gekko-chan's addiction to ASMR is sympathetic, so even ASMR beginners can easily get into this anime. Other characters with rich personalities will deliver lots of pleasant sounds, so I hope everyone is looking forward to it♪ This is the first time in the industry that ASMR and animation have been combined, so I myself am very excited to see how it will be broadcast!"
????澤家月光(ゲッコーちゃん)役#三上枝織 さんよりコメント到着!
━━━━━━━━━━━━━━━

「月光ちゃんのASMRにハマっていく姿に共感が持てて、ASMR初心者の方でも入りやすい作品となっています。」#君みみ 10月放送スタート????????https://t.co/aMXRU1QxK0@mikami_shiori pic.twitter.com/VPcydH0Ohu

— TVアニメ『180秒で君の耳を幸せにできるか?』公式 (@180Kimimimi) August 23, 2021
Shusui Kagami: Suzuko Mimori (Umi Sonoda in Love Live!)
- Gekkou-chan's classmate, nicknamed "Akimizu-chan"
"The character I play, Shusui, is a shy girl with dark personality, who doesn't have any friends, but she makes an effort to get to know Gekkou-chan through ASMR. I myself am a beginner at ASMR, so I hope to learn a lot along with Shusui."
????鏡 秋水(アキミズちゃん)役#三森すずこ さんよりコメント到着!
━━━━━━━━━━━━━━━

「私自身もASMRは初心者なので、秋水と共に色々学んで行けたらと思っています。」#君みみ 10月放送スタート????????https://t.co/aMXRU1QxK0@mimori_suzuko pic.twitter.com/DVL4xq9V6C

— TVアニメ『180秒で君の耳を幸せにできるか?』公式 (@180Kimimimi) August 23, 2021
Hikari Sawake: Azumi Waki (Nagisa Minase in Girlfriend, Girlfriend)
- Gekkou-chan's older sister, nicknamed "Youkou-san"
"Youkou-chan is a free and easy-going older sister, so you can relax and be healed by her pace, and sometimes she will play a little prank on your ears, giving you both excitement and comfort at the same time. I'll do my best to play Youkou onee-chan so that I can make everyone's ears happy!"
????澤家陽光(ヨーコーさん)役#和氣あず未 さんよりコメント到着!
━━━━━━━━━━━━━━━

「皆様のお耳を幸せにできるよう、精一杯陽光お姉ちゃんを演じます!」#君みみ 10月放送スタート????????https://t.co/aMXRU1yWSs@azumi_waki pic.twitter.com/cXdxIsNbTp

— TVアニメ『180秒で君の耳を幸せにできるか?』公式 (@180Kimimimi) August 23, 2021
Udoku Sawake: Kanae Ito (Nanami Nanase in Gundam Build Divers)
- Gekkou-chan and Youkou-san's mother
"When I read the script for the first time, my impression of Udoku-san was that she was a mother, but she had a very charming personality, and she was even smaller than me!... just a little bit. I wonder if my height is one of the factors that led to my being cast as Udoku-san? (laugh) I will play her with all my mischievousness and sweetness, so that everyone who listens to her voices will think, 'I'd love to have a mother like that around!'"
????澤家雨読 役#伊藤かな恵 さんよりコメント到着!
━━━━━━━━━━━━━━━

「聴いていただく皆さんに、こんなお母さんが近くにいたら最高だぜ!と思ってもらえるようにお茶目さと甘やかし全開で演じます!」#君みみ 10月放送スタート????????https://t.co/aMXRU1QxK0 pic.twitter.com/QAzA4izXsn

— TVアニメ『180秒で君の耳を幸せにできるか?』公式 (@180Kimimimi) August 23, 2021
Nanako: Yu Serizawa (Shera L. Greenwood in How Not to Summon a Demon Lord)
- Your sister
"Nanako-chan is full of love for her onii-chan! She is the kind of girl who would do anything for her onii-chan, even things that make her heart beat. I think both unreality and realism are important in ASMR, so I'll do my best to make you feel as if Nanako-chan has suddenly appeared in your daily life."
????ナナコ 役#芹澤優 さんよりコメント到着!
━━━━━━━━━━━━━━━

「聞いてくれた人の日常にナナコちゃんが突然現れたような気持ちになってもらえるように頑張りたいと思います!」#君みみ 10月放送スタート????????https://t.co/aMXRU1yWSs@iRis_s_yu pic.twitter.com/h7ljjl9ROI

— TVアニメ『180秒で君の耳を幸せにできるか?』公式 (@180Kimimimi) August 23, 2021
Kanako: Aoi Koga (Kaguya Shinomiya in Kaguya-sama: Love Is War)
- Your sister
"I'm Aoi Koga, and I'll be playing the role of Kanako. Kanako-chan is the twin sister of Nanako, played by Yu Serizawa-san, so I'll try to play the role in a fun way so that you can enjoy their 'twin-ness' as well as their differences as characters. They also have their own unique way of speaking, so please listen carefully...!"
????カナコ 役#古賀葵 さんよりコメント到着!
━━━━━━━━━━━━━━━

「カナコちゃんは芹澤さん演じるナナコちゃんと双子という関係なので、"双子らしさ"もたっぷり楽しんで頂ける様、楽しく演じようと思います。」#君みみ 10月放送スタート????????https://t.co/aMXRU1yWSs@824_aoi pic.twitter.com/q6f4kujwNW

— TVアニメ『180秒で君の耳を幸せにできるか?』公式 (@180Kimimimi) August 23, 2021
Jiro: Show Hayami (Ferdinand in Ascendance of a Bookworm)
- Akimizu-chan's father
"I wonder if Jiro Kagami is a wild and a little decadent character? I think he's different from the characters I've played in the past. I'm a little worried about how much I will be able to deliver the dialogue three-dimensionally by using a dummy head microphone (ASMR). And on the other hand, I'm not sure how everyone will perceive it, but I'm very motivated to give a good performance at the real recordings, so please look forward to it."
????二郎 役#速水奨 さんよりコメント到着!
━━━━━━━━━━━━━━━

「本番でいいパフォーマンスが出来る気満々ですので、是非、ご期待ください。」#君みみ 10月放送スタート????????https://t.co/aMXRU1QxK0@show_ism pic.twitter.com/PJPNA8O1t3

— TVアニメ『180秒で君の耳を幸せにできるか?』公式 (@180Kimimimi) August 23, 2021
---
Sources: TV anime "180-Byou de Kimi no Mimi o Shiawase ni Dekiruka?" official website / Twitter
© KimiKimi Production Committee