Yasuhiro Yoshiura (Time of Eve)-directed film will open in Japan on October 29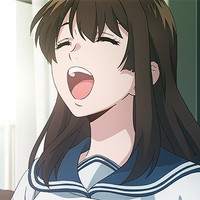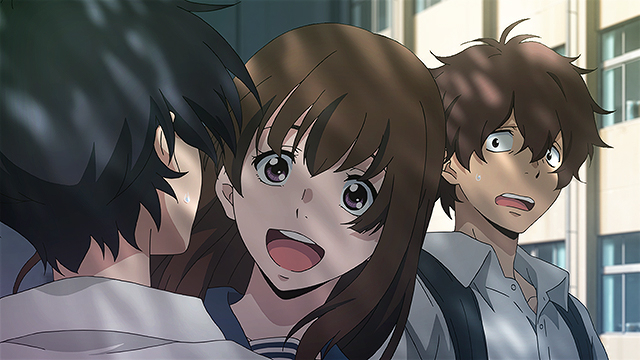 The official website for the upcoming original anime film Ai no Utagoe wo Kikasete (Sing a Bit of Harmony) has posted a 60-second second trailer featuring a new song by Tao Tsuchiya, "Umbrella."
Tsuchiya, known as Misao Makimachi in the Rurouni Kenshin live-action film series, voices Shion, a mysterious transfer student who is an AI under test. She suddenly starts singing in front of Satomi (Haruka Fukuhara), who is always alone in class, and tries to make her "happy" in an unexpected way. One day, however, the company that developed Shion retrieves her, and Satomi and her classmates try to see her again.
The Yasuhiro Yoshiura (Time of Eve, Patema Inverted)-directed film is set to be released in Japan on October 29, 2021.
2nd trailer:
Main character visuals:
/#アイの歌声を聴かせて
メインキャラクター
ビジュアル解禁????????????????
\#土屋太鳳 さん演じるシオンをはじめ
サトミ(cv.#福原遥)、トウマ(cv.#工藤阿須加)、ゴッちゃん(cv.#興津和幸)、アヤ(cv.#小松未可子)、サンダー(cv.#日野聡 )のキャラクタービジュアルが解禁????
要チェックです????✨#アイうた pic.twitter.com/v5IIxnUtfW

— 映画『アイの歌声を聴かせて』 10.29 ROADSHOW (@ainouta_movie) September 6, 2021
Main poster visual: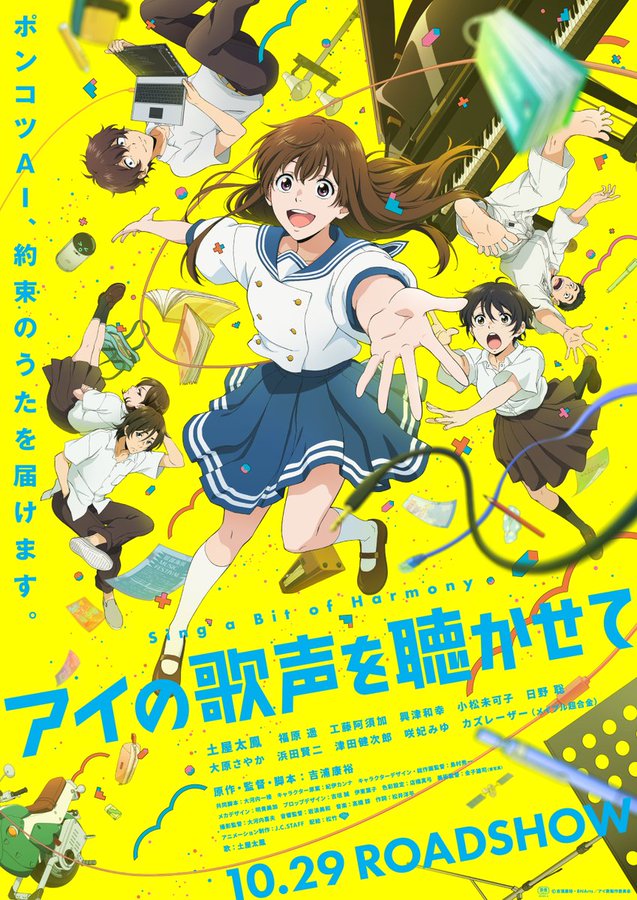 Synopsis:
One day, Shion transfers to Kagebe City High School. On her first day at the new school, she suddenly started to sing like a musical in front of Satomi, who is isolated in class, saying "I'll make you happy!" Shion's excellent grades, athletic ability, and cheerfulness make her a popular girl in the class. Even though Satomi asks her not to sing, Shion sings without hesitation, and her unexpected behavior causes a big commotion among her classmates.
Main VAs:
Main staff:
Original story writer/Director/Screenplay writer: Yasuhiro Yoshiura (Time of Eve, Patema Inverted)
Co-screenplay writer: Ichirou Ookouchi (Code Geass)
Original character designer: Kanna Kii (Umibe no Étranger mana author)
Chief animation director/Anime character designer: Hidekazu Shimamura (Nodame Cantabile)
Anime production: J.C.Staff
istributior in Japan: Shochiku
---
Source: "Ai no Utagoe wo Kikasete (Sing a Bit of Harmony)" official website / Twitter
© Yasuhiro Yoshiura, BNArts / AiUta Production Committee