Yoshihiko Aramaki and Takashi Fujii are cast as Kitaro and Nezumi Otoko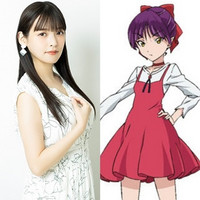 The official website for the upcoming stage play adaptation of Shigeru Mizuki's horror manga series GeGeGe no Kitaro announced its three main cast members today, including popular anime voice actress Sumire Uesaka (Hayase Nagatoro in DON'T TOY WITH ME, MISS NAGATORO) as the main heroine Neko Musume. Meanwhile, Yoshihiko Aramaki (Yamanbagiri Kunihiro in the Touken Ranbu stage plays) and Takashi Fujii (Japanese comedian) are cast as the protagonist Kitaro and Nezumi Otoko, respectively.
Uesaka says, "I am Sumire Uesaka, and I will be playing the role of Neko Musume in the stage play 'Gegege no Kitaro.' It is the first time in my life that I'm performing in a stage play, so I'm very, very nervous...! I am also very happy and excited to enter the world of Shigeru Mizuki-sensei's works, which I have been familiar with since I was a child. I'm going to do my best while watching the backs of the wonderful senior members of the cast! We appreciate your support!"
As part of the project to commemorate the 100th anniversary of the birth of Shigeru Mizuki, the stage play adaptation of his best-known series, GeGeGe no Kitaro, is scheduled to be performed at the Meijiza theater in Tokyo in the summer of 2022.
◤◢◤◢◤◢◤◢◤◢◤◢

舞台「ゲゲゲの鬼太郎」
第一弾 目玉キャスト解禁‼︎#ゲゲゲの鬼太郎 役????⚡️#荒牧慶彦 ( @ara_mackey )さん#ねこ娘 役????????#上坂すみれ ( @uesaka_official )さん#ねずみ男 役????????#藤井隆 ( @left_fujii )さん#ゲゲゲ目玉キャスト予想

◤◢◤◢◤◢◤◢◤◢◤◢ pic.twitter.com/grqI1lyKbz

— 舞台「ゲゲゲの鬼太郎」公式 (@gegege_stage) September 8, 2021
---
Source: "GeGeGe no Kitaro" stage play official website / Twitter
©Stage Play "GeGeGe no Kitaro" Production Committee
©Mizuki Production, Toei Animation