The ASMR-themed short anime is set to premiere on October 14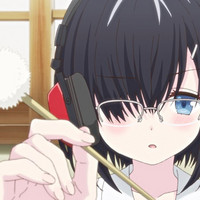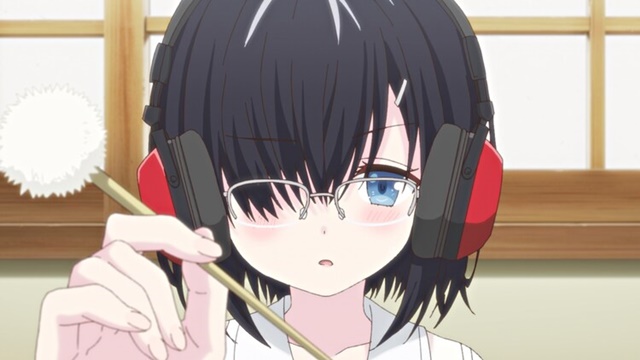 The official website for the forthcoming TV anime 180-Byou de Kimi no Mimi o Shiawase ni Dekiruka? (Can I Make Your Ears Happy in 180 Seconds?) has posted a 90-second PV that introduces the appeal of the AMSR sound used in the anime (The use of headphones is strongly encouraged!).
It is als oannounced that the ASMR (Autonomous Sensory Meridian Response)-themed five-minute original short anime is set to premiere on TOKYO MX at 25:00 on October 14, 2021 (JST).
PV introduction:
Gekkou-chan, a childhood friend of yours, learns that you are into ASMR and begins to research it. When she was scratching a dummy head's ear, she heard a rumbling sound. When she hears that throbbing sound, she can't help but say, "Oh, this is a good sound..." and begins to be attracted to the appeal of ASMR. There is also a scene where Gekkou-chan's classmate, Akimizu-chan, tries her hand at ear scratching, and the water and ice sound made by Gekkou-chan's sister, Youkou-san, who says, "Let's listen to the sound of ice a lot." In addition, Gekkou-chan's mother, your sisters, and Akimizu-chan's father also appear with their character voices.
PV:
♬•*¨*•.¸¸♪#180秒で君の耳を幸せにできるか?
   PV解禁&放送日決定!
           •*¨*•.¸¸♬•*¨

ハマっちゃったらダメなやつ☝️
※ヘッドフォンでの視聴をお薦めします????

10月14日より毎週木曜日25:00〜
TOKYO MXにて放送開始????????https://t.co/uo5Vrgaqu1 #きみ耳 #ASMR pic.twitter.com/7CNfowOHBy

— TVアニメ『180秒で君の耳を幸せにできるか?』公式 (@180Kimimimi) September 9, 2021
---
Synopsis:
The protagonist is "you." When your childhood friend girl Gekkou-chan hears that you are into ASMR, she buys a "dummy head microphone" and starts researching ASMR. Then there are Akimizu-chan, who wants to be friends with Gekkou, Gekkou's older sister and mom, and your twin younger sisters. The seven characters around you are drawn to the appeal of ASMR. Three minutes = 180 seconds in which you can experience realistic sounds, including ear scratching, breathing, voices, touching squeezes, ice, water, typing, and other household sounds.
Key visual: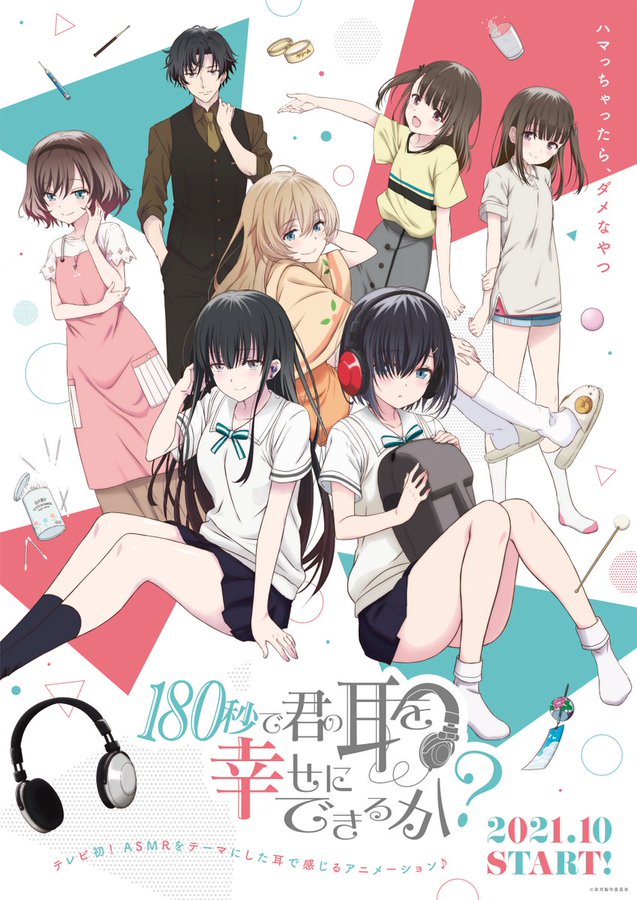 Main voice cast:
---
Sources: TV anime "180-Byou de Kimi no Mimi o Shiawase ni Dekiruka?" official website / Twitter
© KimiKimi Production Committee