The Shinkalion anime website has been changed to the Evangelion edition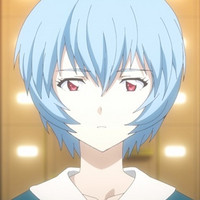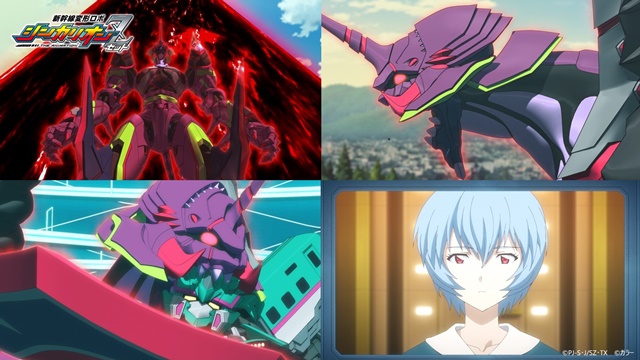 The official website for Shinkansen Henkei Robo Shinkalion Z, the second installment of the train transforming robot anime franchise Shinkalion, has announced that Rei Ayanami will appear in its forthcoming crossover episode with the Evengelion franchise to be aired in Japan on September 17, 2021.
As reported, Shinji Ikari to be voiced by his original voice cast Megumi Ogata has been also confirmed to appear in the episode. Ayanami previously made her guest appearance in the 31st episode of the first Shinkalion TV anime aired in August 2018, along with Soryu Asuka Langley. We don't know at this point if Asuka will also appear again, or if they'll have dialogue spoken by the original voice actresses.
The crossover episode will also feature "Oni Eva" (Demon Eva). It is a giant monster created from the statue of Eva-01 at the Toei Kyoto Studio Park by an unknown enemy named Teoti.
【情報解禁】

????9/17(金)放送????#エヴァンゲリオン シリーズとのコラボ回

✅「鬼エヴァ」登場!
第21話の敵は京都・太秦映画村の「エヴァンゲリオン初号機像」から生み出された巨大怪物体「鬼エヴァ」!

✅「綾波レイ」登場!
今回のコラボでも #綾波レイ の登場が決定!#シンカリオンZ pic.twitter.com/L39B5F7Pmn

— 新幹線変形ロボ シンカリオンZ(公式) (@shinkalion) September 10, 2021
And, the Shinkalion anime website has been changed to the "Evangelion" edition featuring Shinji Ikari and Shinkalion Z 500 TYPE EVA for a limited time from September 10 to 21.
【情報解禁】

本日20時より、#シンカリオンZ 公式HPに何かが起こる!!https://t.co/P5fx2649oT

<実施期間>
2021年9/10(金)20:00~9/21(火)12:00(予定)
※予告なく変更となる可能性がございます。#エヴァンゲリオン pic.twitter.com/2aFFhA8bnJ

— 新幹線変形ロボ シンカリオンZ(公式) (@shinkalion) September 10, 2021
【情報解禁】

「#エヴァンゲリオン新幹線」ことJR西日本「新幹線 500 TYPE EVA」が「シンカリオンZ 500 TYPE EVA」に変形!
さらに!初の私鉄在来線となる名鉄「エヴァンゲリオン特別仕様 #ミュースカイ」とZ合体!https://t.co/FXm37s0Dpc

続報をお楽しみに!#シンカリオンZ #エヴァンゲリオン pic.twitter.com/NyH4RGLjTc

— 新幹線変形ロボ シンカリオンZ(公式) (@shinkalion) August 13, 2021
"Shinkansen Henkei Robo Shinkalion Z" key visual: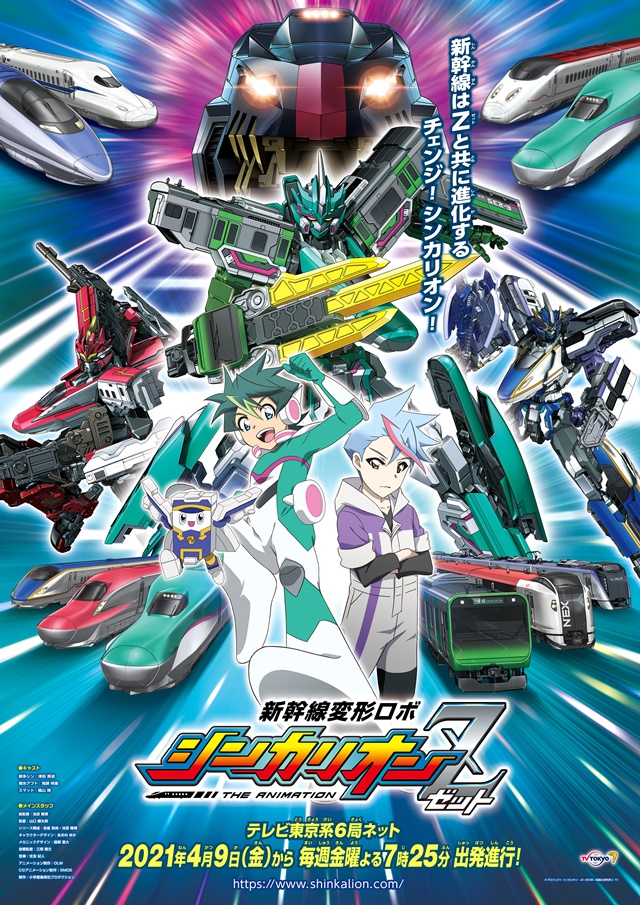 ---
Source: "Shinkalion" official website / Twitter
© Project Shinkalion, JR-HECWK/Ultra Evolution Institute Z, TX