The stage play's main cast members reprise their roles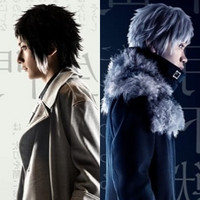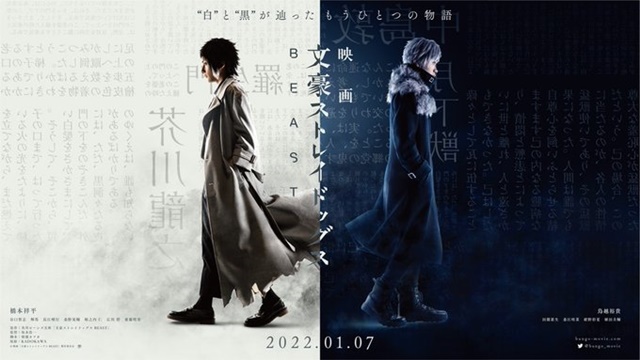 The official website for Bungo Stray Dogs the Movie BEAST, the first live-action film inspired by the Bungo Stray Dogs manga series created by Kafka Asagiri (story) and Sango Harukawa (arts), has posted a teaser visual and a 30-second teaser trailer to announce its release date of January 7, 2022.
The film is based on the series' spin-off manga illustrated by Shiwasu Hoshikawa, which is set in a parallel world where the main character, Atsushi Nakajima, and his nemesis, Ryunosuke Akutagawa, belong to opposite organizations. The first volume of its English edition was published by Yen Press on August 24, 2021. The publisher introduces its synopsis as below:
​In the world of Bungo Stray Dogs, Ryuunosuke Akutagawa is infamous for being one of the Port Mafia's most dangerous members. But what if his past had turned out differently...? When Dazai decides to pass on taking in an orphaned Akutagawa, the boy winds up being recruited by none other than the Armed Detective Agency! With his sister still in the Mafia's clutches, Akutagawa will stop at nothing to take her back. However, standing in his way is the Port Mafia's top enforcer—the White Reaper, Atsushi Nakajima. As darkness and light face off in a twisted mirror of what could have been, a new tale begins to take shape…
"Bungo Stray Dogs the Movie BEAST" teaser trailer:
All of the main cast members of the Bungo Stray Dogs stage play series, including Yuuki Torigoe as Atsushi Nakajima and Shohei Hashimoto as Ryunesuke Akutagawa, reprise their roles. As a new cast, Ayaka Konno, who is an exclusive model for the fashin magazine NON-NO and played Aura in the 20th Heisei Kamen Rider series Kamen Rider Zi-O, will be playing the role of Akutagawa Ryunosuke's younger sister, Gin.
Main cast:
Atsushi Nakajima: Yuuki Torigoe
Ryunosuke Akutagawa: Shohei Hashimoto
Gin: Ayaka Konno
Sakunosuke Oda: Kenshi Taniguchi
Doppo Kunikida: Teruma
Rampo Edogawa: Ryoki Nagae
Junichiro Tanizaki: Kosuke Kuwano
Kenji Miyazawa: Hitoshi Horinouchi
Akiko Yosano: Aoi Hirokawa
Naomi Tanizaki: Akari Saito
Osamu Dazai: Rui Tabuchi
Kyoka Izumi: Sakina Kuwae
Chuya Nakahara: Keisuke Ueda
Teaser visual: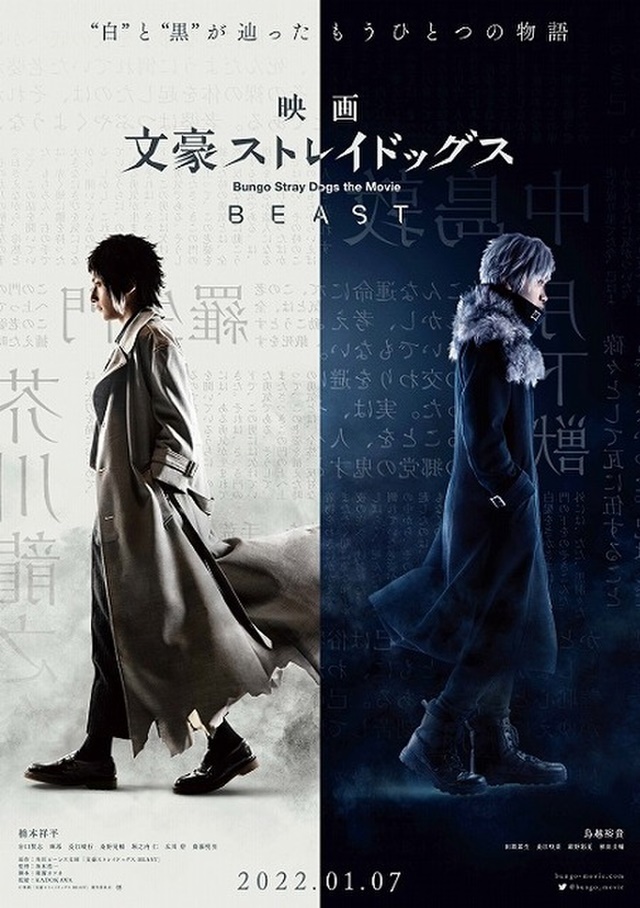 Advance ticket with a clear file will go on sale from today, September 18.
映画「文豪ストレイドッグス BEAST」
2022年1月7日(金)公開決定!

特典付き前売券(ムビチケ)は
9月18日(土)より発売開始です。

特典は、特製クリアファイル
「芥川龍之介&中島敦」
(※全1種 表裏、両面仕様)

▼詳細は公式サイトにてhttps://t.co/UJ3JBDNeKR#映画文スト pic.twitter.com/lOGm7J0YEW

— 「映画 文豪ストレイドッグス BEAST」公式 (@bungo_movie) September 17, 2021
---
Source: "Bungo Stray Dogs the Movie BEAST" official website / Twitter
©"Bungo Stray Dogs the Movie BEAST" Production Committee