Episode 76 of Hajime No Ippo: The Fighting! and Mashiba vs Kimura OVA go live at 3PM PT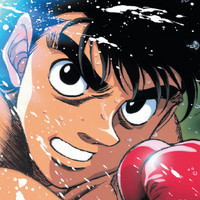 Crunchyroll is excited to announce the addition of more Hajime no Ippo anime to the site's expansive catalog! Following up on the addition of The Fighting! TV series and the Champion Road TV special earlier this year, Episode 76 and the fan favorite Mashiba vs Kimura OVA will premiere later this afternoon at 3PM PT for members in the US and Canada.
Ippo Makunouchi's gentle spirit and lack of confidence make him an easy target for the bullies at his high school. Rescued from a beating by Takamura, a professional boxer, Ippo aspires to learn the art of boxing, and attempts to join the Kamogawa Boxing Club. But, to find his fighter's spirit, Ippo must first spar with Miyata, an extraordinarily talented and skilled boxer. Can Ippo even survive the first round?!