Kiyoki Rikuta/Kerorira serves as the character designer & anime PV director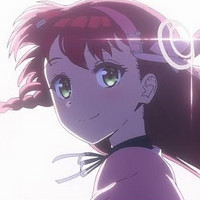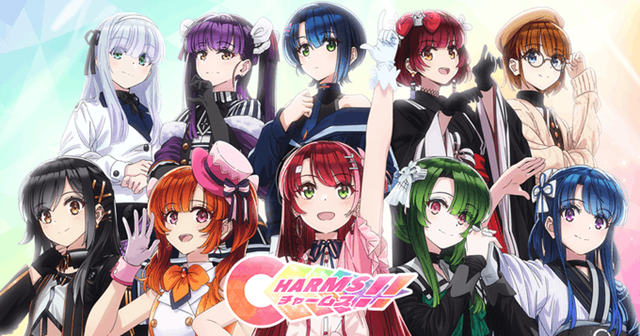 On November 22, MOVIC, a company in the Animate Group, announced the launch of its new idol-themed franchise CHARMS!!, which is introduced as "a new generation idol character project where the power of people's support and bonds takes shape and makes idols shine."
Synopsis:
One day, a special power called "CV (Charm Vision)," which can visualize, embody, and manipulate one's own charm and value has blossomed in a small percentage of humanity by the effect of a group of rainbow-colored meteorites called "CHARM" rained down on the earth.
The Uchoten Corporation, which has taken notice of this power, has gathered five buddy units consisting of a person with the ability and their partner, for a total of ten members. In order to form the idol project "CHARMS!!" that utilizes "CV," a year-long training program "GOING UP CHARMS!!" was launched.
The girls who were gathered in "Garage," a communal living facility, overcome various challenges and deepen their bond together with the support of their "supporters" (=fans). Will the girls be able to form "CHARMS!!"? What gives these girls the strength and charm to do their best is the power of nothing else but your support. --"Please let our lives shine!"
Under the name Kerorira, the first anime PV was directed by Kiyoki Rikuta, who also serves as the project's character designer. He has worked on various anime series as key animator, such as Wonder Egg Priority, The Aquatope on White Sand, and Sonny Boy.
1st animation PV:
キャラクターデザイン、アニメーションpvの監督をやってました、、、
手伝ってくださった方々本当にありがとうございました! https://t.co/GO76MWNLKg pic.twitter.com/mdIZHsEISE

— けろりら (@kerorira1) November 22, 2021
Key visual: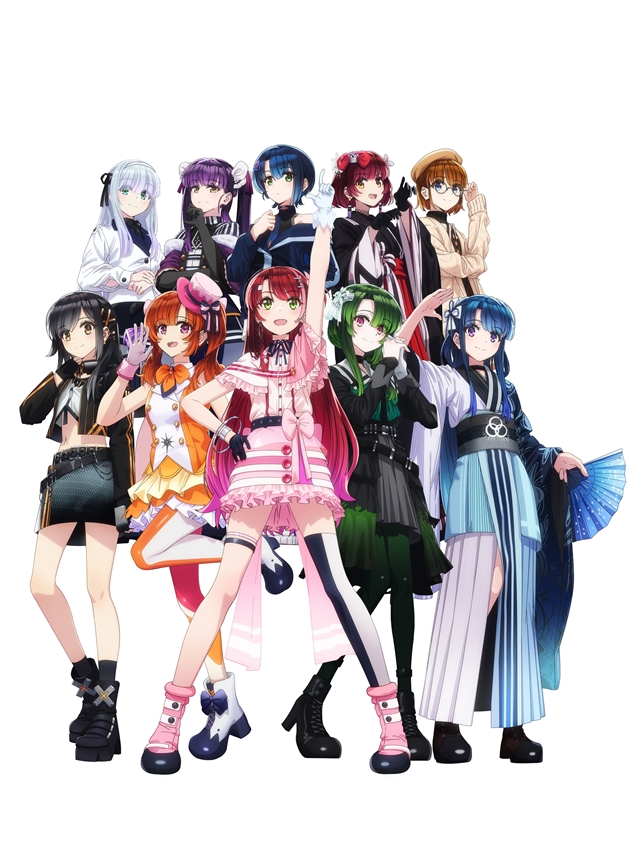 ---
Voice cast:
-STARINGSTARZ-
Hinata Ureshino: Saya Aizawa
Ryo Yuzuriha: Ruriko Aoki
-Pièce Montée-
Eri Hogaraka: Mikako Izawa
Zakuro Arimura: Shiori Izawa
-Sakura*Tear-
Kazue Sakuragi: Mayu Mineda
Sayo Yamada: Eri Suzuki
-Memento-
Mai Gondo: Ayaka Fukuhara
Chikage Ajimu: Masumi Tazawa
-Ghost Harmony-
Hotaru Myoden: Akari Kageyama
Yuyu Kurama: Nozomi Yamamoto
-Uchoten Corporation President-
Rivel Uchoten: Eriko Matsui
✨☆゚+「CHARMS!!」プロジェクトスタート+゚☆✨

地球へ降り注いだ謎の隕石により人類の一部に開花した自分の才能や価値・人との絆が形になる超能力「CV(チャームヴィジョン)」を駆使したアイドルキャラクタープロジェクト「CHARMS!!<チャームス>」が本日スタートです!

????https://t.co/vm0PXTZoOq pic.twitter.com/cjVggiqG1s

— CHARMS!!【公式】 (@CHARMS_info) November 22, 2021
---
Source: MOVIC press release
©︎CHARMS!!